So, for the past week and a half I have been playing Final Fantasy XIV: A Realm Reborn like crazy. It's the first MMO after WoW that has really captured my interest and made me addicted again. I have been toying around a bit with making characters and am currently levelling up 2 on 2 different servers. This because on one server I could log more often during the past week, there were many server issues, and some friends of mine are hanging out on the other server.
My first character is Sarella, a Miqo'te Conjurer who currently resides on Shiva EU at level 22 (as Conjurer) and who has just gotten her own little Chocobo! She aspires to be a White Mage in the future but for now enjoys exploring the world and all it has to offer. As far as professions go, she is currently a Botanist, Carpenter and Leatherworker, all low level.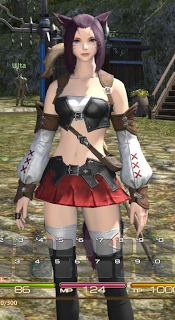 Here she was as a little level 1 Miqo'te in the Miqo'te starting outfit. Isn't she cute? I really loved levelling on her as Conjurer, it gives me many benefits (mostly instant queues for dungeons and duties) and I like the combination of spells I have making me an excellent Healer but also someone who is able to dish out some DPS. The only downside I am currently experiencing is that I find myself going oom quite fast in solo quests, making me struggle when there are big waves of mobs. Also as Conjurer you do not have much in the way of AOE spells so it can take quite long to get all your foes down… On the second picture you see my Conjurer as she is now, level 22 and on her little Chocobo called Cheri!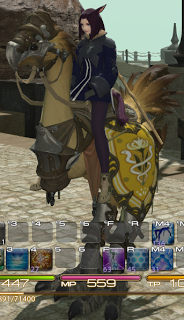 I really do love riding around on my mount. It makes it so much easier to go from place to place. Especially when moving to FATE's or when gathering with botanism it's nice to not have to walk everywhere.
The second character that I would like to introduce to you all is Kassandri, a Hyur Archer and my favourite race after Miqo'te (I think everyone loves the Miqo'te!). She's my newest char and situated on Phoenix EU. Type in Kassandri as first name and you'll find her when I'm logged on! To the left is a picture of her on level 1, the right picture is one on level 10 which is also the level I'm currently on.
So there you have it 🙂 My adventures in FFXIV. I'll be playing it a lot and maybe hope to see some familiar faces ingame!