Nostalgia!
After reinstalling Mickey's Castle of Illusion on Steam I was happy to find out that Steam actually saved my progress in the cloud! Which means I didn't have to work my way through the first world again and could immediatly dive into the second world (or act as it's called in game).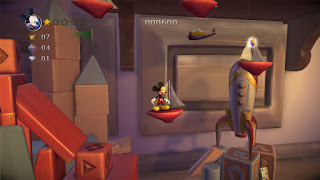 Act 2-1: Angry toys everywhere!
It was a blast from the past. I have actually played my way through Mickey and Donald on my old Sega (which also included toy like levels) and Mickey Mania, but never got Castle of Illusion. I'm so happy I picked up the remastered version during the Steam Summer Sale this year! It's taking me all the way back to when I first got my Sega Mega Drive when I was about 6 years old. Back then they had the better graphics compared to Nintendo and I remember a childhood filled with playing Sonic and Disney games. A feeling that this particular game brings back.
I love how they only remastered the sound and graphics and left the gameplay itself be. It's still damn hard at some points, just how I remember the old platformers.
This is one of those games of my gaming-to-do list that I'm happily tackling, because honestly it's just too much fun. I'll keep you updated as I progress through the game, but to give a little more info (and a feel of what I'm doing in there) I have added the official launch trailer below. If you like what you see, go get it via Steam!
The Grind
One of the goals I have set for myself is to get my Esoterics cap on FFXIV every week. This means having to do ex-roulette every day. Which, honestly, I kind of hate. There are only two dungeons available for this roulette currently, Neverreap and Fractal Continuum, and I'm not a fan of either. Fractal takes a bit longer and has more trash. Neverreap has the most godawful endboss that I've seen in a dungeon so far. It's safe to say I'm not really looking forward to doing this. Add in the horrible DPS queue times and you get a grumpy Sandy.
Next to this I'm rather frustrated with how my FFXIV raiding group has turned out. Ofcourse it's summer and holidays are in the way. But still, we aren't doing anything as group and grinding most content solo is boring as hell. It feels like a venture doomed to fail, especially since we have one more DPS spot to fill. Queue tremendous sigh.
I also wish I could show off more of the stuff I do from FF. But since I play on the PS4 it's actually kind of a hassle to get decent screenshots. I wish I could just somehow connect and copy/paste stuff but I'm being forced to use a USB stick, not the most elegant way. I'll try to add a bit more pictures, but don't pin me on it!
The WoW Thing
By now most people have seen (Activision)Blizzard's announcement about their financial Q2 and the tumble that the WoW subs took. Sitting on 5,6M currently it's a number that we haven't seen since Vanilla! All of which is due to the horrible lack of content that Blizzard provided with their latest expansion.
Queue some big names leaving in the past year or two aswell (Ghostcrawler and now Bashiok) and I wonder what is left of the old Blizzard core. Yes I do realize that those two had completely different roles within the organisation, but they were people that were out there in the community.
Everyone has had their opinions on WoW lately. I remember writing a post a few weeks ago that for me it was just done. I had my reasons. Cataclysm was the last really active expansion for me. I was an officer by the end of the xpac and the sole person keeping our tiny guild going, it drained me and the moment raiding didn't happen in MoP I decided to take my leave of the game entirely. I did not like the setting of Mists of Pandaria, was not enamoured with the Panda's as a playable race (I only made it to max level on a lvl 90 boosted Panda Monk) and the Daily grind for rep was… Horrible.
I came back every three to six months or so and started raiding again casually at the end of it, ready to come back fully for Warlords of Draenor which looked to be promising..
For the first few months it actually was. The leveling was much better in design than it had been since Wrath of the Lich King, there was enough content to keep you going for a while, the raids proved to be challenging enough. The only downsides for me were the horrible Garrison chores and the utter lack of decent PvP. Realizing that if I wanted to make gold or be self sufficient in any way would mean I had to run Garrisons on multiple characters was a nightmare and a huge turnoff in the end.
When patch 6.1 hit I was majorly disappointed. Instead of delivering more promising content we were stuck with a SELFIE camera, Twitter integration and a Garrison music box. Out of the three I think I've used the music box the most. I think I can count the amount of WoW selfies taken on one hand. Next to some newly added pets that was all the content we were going to get. And it sucked.
Queue 6.2 after barely logging in for a few weeks (we had killed Blackhand and had all done our Legendary quests) and again a huge disappointment. You got a second mission table, this time for ships, and an island that was even worse in design than the Timeless Isle. I hated doing the dailies the moment they appeared and haven't touched a single one of them solo. The few times I did do them were with a gaming buddy, but we both quickly grew wary of them. What grinded my gears even more is that Blizzard locked the Legendary profession behind your little ships table. A whole world of frustration that I can't even begin to describe right now. Let's just say I've lost enough epic ships to more or less want to shove the whole idea through the throat of the devs who came up with it.
So yeah. Blizzard dropping sub numbers like no tomorrow has come as no surprise to me. Ask my guildies, but I've been complaining about the lack of content since January. And Blizzard has done nothing about it. If they want to keep their game going steady, or want to get people to come back to the game they really need to do something special with the next expansion. Pump out way better and way more content. Listen to your playerbase. Communicate with them again. Otherwise I predict the giant that was once World of Warcraft to plummet down to f2p status. And I'm not sure if the game will survive that.