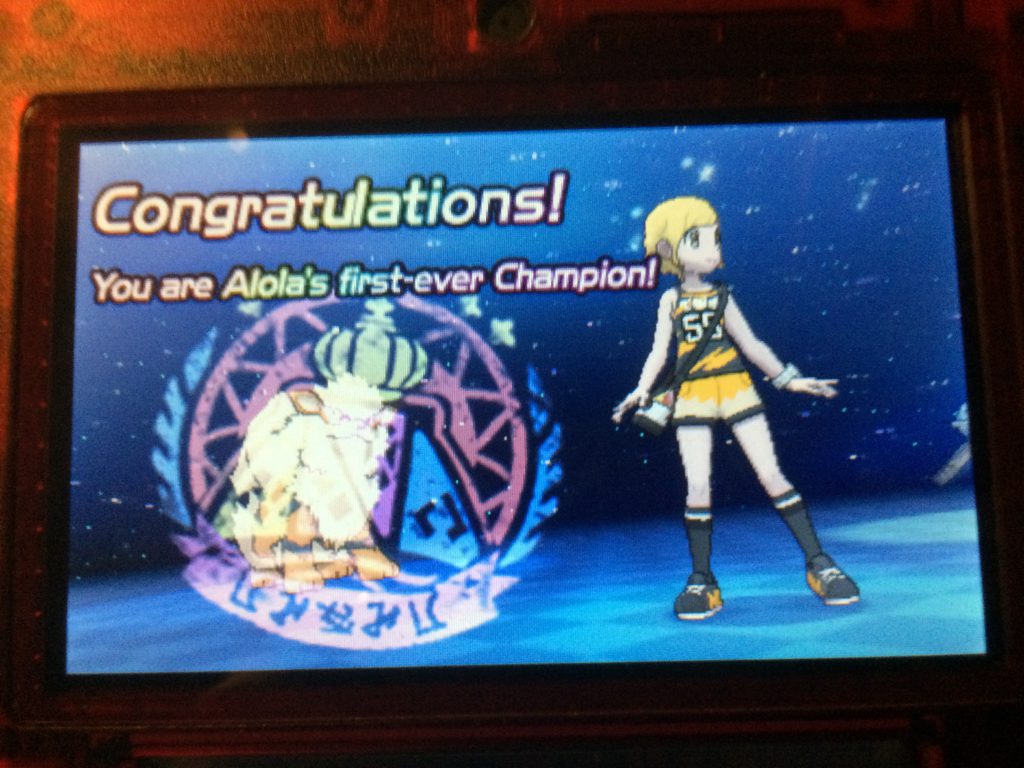 Apologies for the really bad picture but Pokémon Moon doesn't really do ingame screenshots and I wanted to share my epic achievement.
I have defeated the Pokémon League in Pokémon Moon and effectively "finished" the game. I've seen credits rolling and everything, celebrating me becoming the first ever champion of Alola. And I loved every minute of it. Next to being happy that I was finally able to finish another game in my backlog it's also the first Pokémon game from the 3DS generation that I've properly beaten. In both Pokémon X and Alpha Sapphire I've made quite some way into the game but never reached the Pokémon League before getting bored or switching over to a different game and forgetting about the game entirely. I do have to admit that this also kind of happened to Moon but last week I finally got the itch to play again and had set the goal for myself to beat it before my birthday so I could completely focus on Zelda.
This didn't really happen.
Instead I dedicated last night to finishing off the game as I was on the Elite Four's doorstep. My team at the end existed of Lunala, Decidueye, Arcanine, Magnezone, Marowak and Greninja. I almost lost out to professor Kukui but my team managed to pull through and I won.
Ofcourse beating the League doesn't mean I'm actually done with the game. I know there's quite a bit of postgame that I can still push through and, of course, there is this little matter of filling up my Pokédex. So far I've managed to catch Tapu Koko and picked up a lot of easy Pokémon that I was still missing like the two Fossil Pokémon and Type:Null. My Pokédex is currently on 105 out of 305 Pokémon caught so that's not really too bad either. I'm training up all the Pokémon that I've caught so far so that I can redistribute them over the boxes of my PC and so that I can slowly work my way towards the big Ultra Beast and Tapu hunt that is the postgame. Plus it's a nice break to just run around and level up Pokémon instead of having to beat a ton of hard to beat trainers and legendary Pokémon.
The one thing I'm kind of cranky about is that they didn't give Sun/Moon a national dex, basically making it so that I don't really feel the need to bring over Pokémon to those games just yet. I have Moon, X and Alpha Sapphire registered to Pokémon bank though and they have a national dex tied into that application so I can see how many Pokémon I actually own in total.
Anyway, I'm super happy that I've actually managed to finish this game within <6 months of buying it. It didn't take me super long (25 hours played) but I'm guessing by the time my Pokédex will be filled I will easily be on double that number. If not more.