So the battle for Azeroth is upon us in less than three weeks and I can slowly feel the hype building up towards a new expansion. With the Burning of Teldrassil event coming this Wednesday (I'm in Europe so we get it a day later) the real catalyst for the whole Horde versus Alliance War will start ingame. I have to say that due to reading "Before the Storm" I know that another major event happened before this one but I won't spoil. It just made things a lot more interesting on the Horde/Forsaken part of the deal.
Going into Battle for Azeroth I have decided to reroll to the Horde side of things. Most of my friends are currently playing over there and I really like having people to play with so it was only a natural choice to go to the Red side for this expac. My main will be my Paladin Fiorentin and I am planning to tank on her.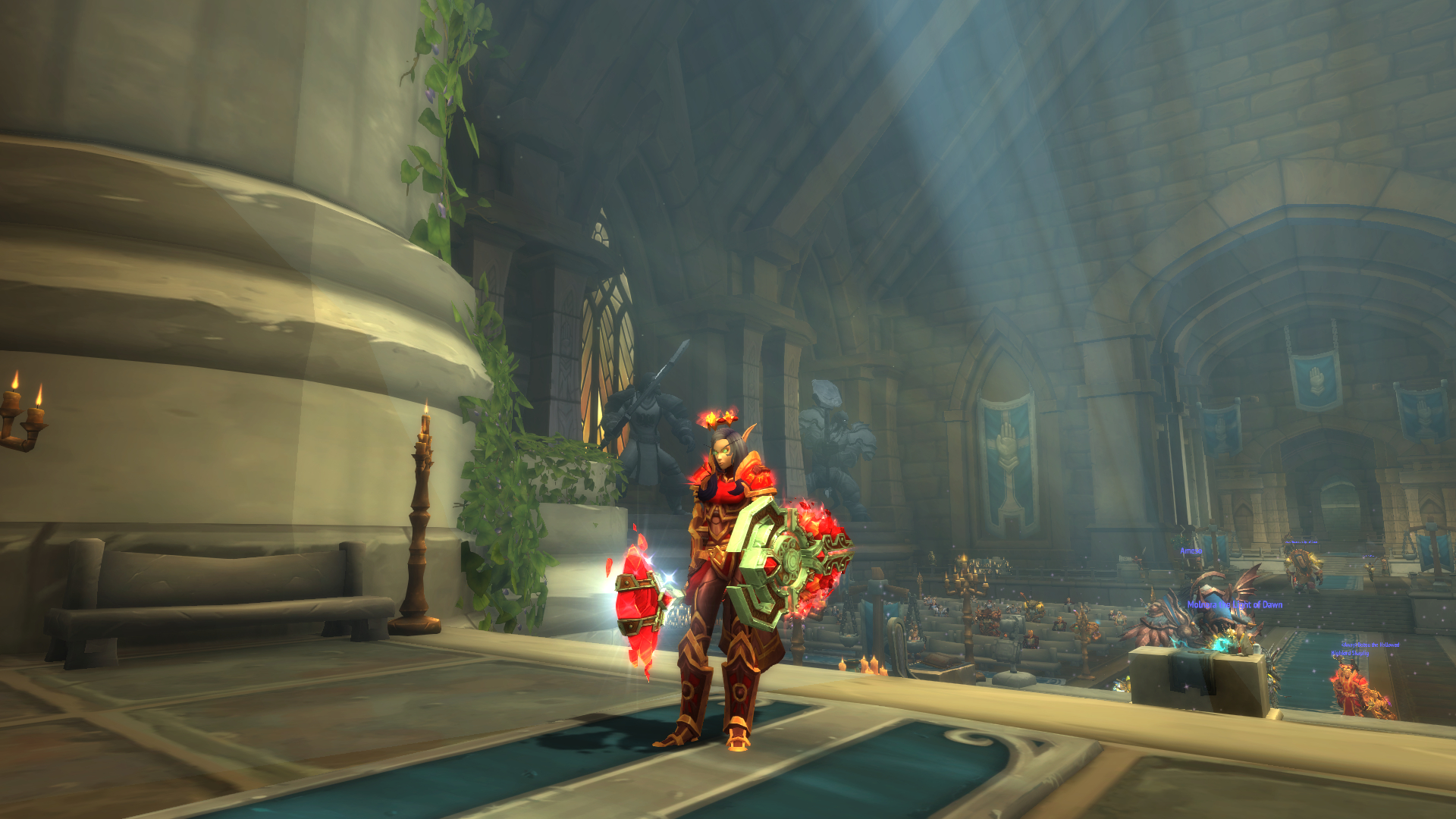 Doesn't she look badass? I'm quite happy with my decision and going protection means short queues and probably early Mythic + spots. I'm not really aiming to raid in BfA but if I can get into a PuG here or there I'm quite content. I do however want to try and push Mythic + a bit more for myself. I never quite got higher than M+13/14 or so and I do want to atleast get the +15 done, even if it's only to unlock an extra artifact colour.
Speaking of those, I am immensly sad to see them go. It's why I devoted almost all my gaming time into getting the Mage Towers done so I can have ALL the Artifact variations unlocked and ready for transmog. In the picture however I'm rocking the red version of the Hidden artifact appearance for Protection Paladin, mostly because it fits my transmog well.
Anyway, now that you all know what I'm going to main in BfA I also want to talk about what I want to do in the time leading up to release.
1 Class mounts! I still need class mounts on the following classes:
Shaman
Rogue
Mage
Warlock
Demon Hunter
Death Knight
I'm not sure if I can get all of them before BfA launch but I'm trying to tackle as much as I can during the evenings. I'm probably going to start with Rogue since I'm about to finish that Class campaign and this ties into it nicely.
2 Professions/Profession Quests. This mostly concerns my Paladin but I want to get her Legion Herbalism and Alchemy to 100/100 and clear out all the remaining profession quests that I have. I may look at some other characters aswell but for now it's just the Paladin.
3 Emissary WQ's and Honor grinding. I'm planning to do my daily Emissary quests still on Paladin and Warrior. Mostly because on Sandrian I have chances of getting the extra caches and on my Paladin I just want the extra rep and materials that can drop from these. Next to that I want to do as many Honor Worldquests as I can to up my Honor level. I'm currently sitting on 17 and the next reward is level 20. Because I know I won't have the time to do it all every day I'm planning to tie them in with my Emissaries on Paladin/Warrior and then tackle more during the weekends on my other characters.
4 The Chromie scenario. I've never paid much attention to this one but it seems like a nice filler. I'm probably going to do this on my Warrior given that I've already started on her and I'd like to see where this takes me.
5 Level an Allied Race. Even though I've already given myself plenty to do the coming few weeks I'd like to chill down a bit and start leveling an Allied race. For now I have my eyes set on a Nightborne Warlock, seeing as I only have one Warlock now and she's Alliance. It would be cool if I could get a few levels going but nothing too fancy. I know the level grind is rather slow these days so I'm not setting as goal to reach 110 before BfA hits.
There are a ton of other odds and ends that I can still do, but these are my main goals and guidance as we head into BfA. I hope things will go smoothly and faster than I think they will and I can just breeze through all of this. The only real returning grind is the WQ one since I'm quite far into my Profession Quests on my Paladin and the Class mounts should be doable quickly aswell. All in all I think I set some decent goals for myself that shouldn't be too hard to obtain. I hope to go into BfA with a nice sum of gold (I should be up to about 100k on Alliance side) and well prepared enough to get a few levels in on launch day.