Thanks to the COVID-19 virus I've been working at home for the past two weeks. Next week though I'll still be at home but not working.
I was looking forward to a four week vacation at the start of the year. Three of those weeks I would be spending traveling around Japan from Tokyo to Kyoto and then ending at Nagasaki. That vacation has obviously been cancelled due to everything going on in the world. However I felt that I needed some time off still since I've not had proper time off since last september. I'm quite exhausted and in severe need of some mental reset time, especially when it comes to work. My manager offered I could take two weeks off but since the country is as good as on lockdown it's no real use taking that much time off when I can't really go anywhere to enjoy it. So a week it is and I'm hoping that during this week I can get back to a bit more relaxed level and be ready to tackle work again for a while once the week is over.
I can honestly say though that the whole working from home thing has gotten to me. I feel crazy isolated, even more than normal. I managed to completely ruin my sleep schedule in a single week and I've been struggling with cooking healthy meals or eat at normal times. I'm trying to undo this damage now and atleast my food times have gone back to normal but I'm still battling major feelings of loneliness and depression right now.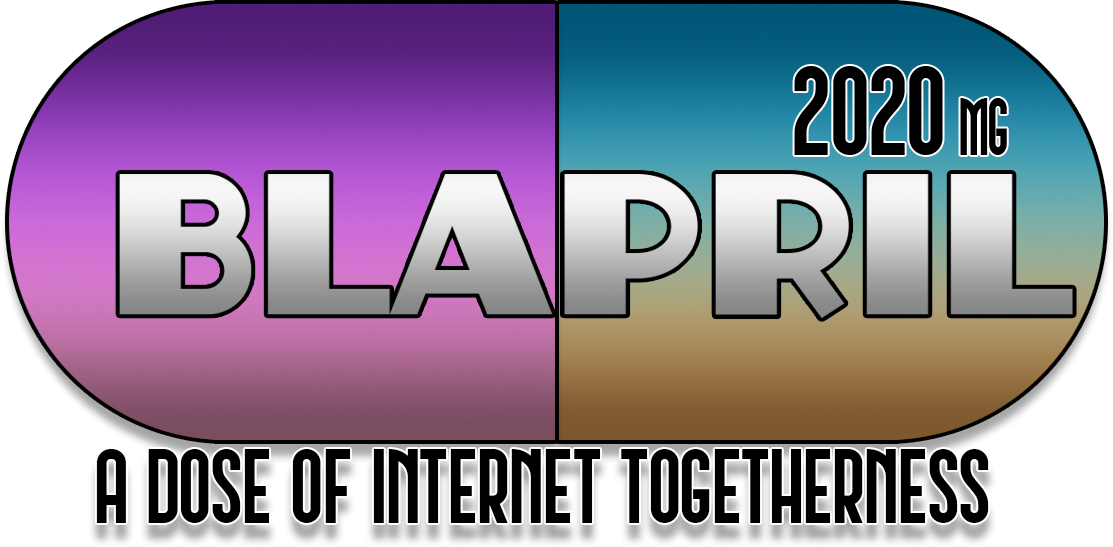 As you've undoubtedly seen on other people's blog this year we're not doing Blaugust but Blapril. Mostly to give people some social interactions during the very daunting month that is looming ahead of us. I think the idea is great but I'm still on the fence about participating. As I said I'm in a really bad headspace right now and I don't want to vent too much about it on here. I want to keep my blog a mostly positive space where I can write about what I'm up to in my gaming life and not all the anxiety that I'm experiencing on a daily basis right now. And I can't seem to write a post without exactly that seeping through, as this post is a good example off. So I will definitely participate as bystander and cheer people on from the sidelines but I doubt I'm going to commit to anything myself.
My mood may change though so I'm not going to pin myself on anything yet, but for now I'm happy to not add extra pressure on myself to maintain any kind of regular blogging schedule on top of trying to fix everything else that has gone awry for me in the past two to three weeks or so.
One of the things that has helped me get through the days has been Animal Crossing. It launched at exactly the right time for a lot of people and I'm one of them. I've had the pleasure to visit a few friends' islands and I've tried opening up my own island to people aswell but it seems like whenever I do no one is really online. Oh well.
I'm taking a very relaxed stance towards the game, playing for about an hour every day, sometimes two. I go around my island every day to dig up fossils and catch some fish and some bugs. I also make sure I always harvest all of my fruits and I've had my first bridge expansion done. Which also lead to three more villagers joining my island so now I have five goofy animals running around instead of just two. My villagers so far are Hamlet, Lydia, Alfonso, Pinky and Fauna. I enjoy all of them and I actually invited Pinky myself from the island I found her on.
Today the little tent that Tom Nook occupied finally got built into a visitor's centre whichs means I'll get Isabelle back on my island aswell. I can't wait!
From here I kind of want to start getting some of those surprise island tickets to see if I can get to the fabled tarantula island but mostly so I can get off my own little island for a bit.
All in all I'm enjoying myself and the game is helping me relax at the end of a busy day of work so that's always a good thing. Right?
Now for my week off I have a few specific things in mind that I want to get done. I've already gone through my clothes closet today and made a bag for donations which I will probably drop off in a special bin tomorrow. Next to that I took a ton of stuff with my from my dad's house that I couldn't really decide on whether I still used it or not. Seeing as most of the stuff has been in one of my drawers under my bed for almost a year now and I've not had to use any of it leadse me to think that I may aswell get rid of most of it because right now it's just taking up space. So that is exactly what I'm going to be doing this week. Get rid of stuff I don't use so I have space for other things that I do use or that are now sitting around in a bag somewhere waiting to be stored in a better place, like my christmas decorations.
I also have some plans when it comes to gaming. I'm still leveling my Void Elf Warlock, she just hit level 90 about two hours ago, and I want to get her up to level 120. And then maybe start on a new character after that. I also want to get back into FFXIV to tackle all the new content and do the Easter event. I'm not sure why I've bounced so hard from that game but for some reason I have and I want to get back into it and get my few remaining battle classes to level 80 and catch up on the story and tackle the new raids and dungeons.
Finally I'm going to finally take a decent shot at playing through either Final Fantasy XV or World of Final Fantasy as preparation for the Final Fantasy VII remake that is coming in about two weeks. Both games have been sitting on my shelf for a very long time and it's about time I start playing through them. I'll probably start anew because I have no idea where I left off in my last save game and I'm sure with an entire week off I have enough time to actually get a decent way into the story of either one of them.
For now though I'm going to back to leveling my Warlock the rest of the evening while half watching some League of Legends streams. What are you doing this weekend?