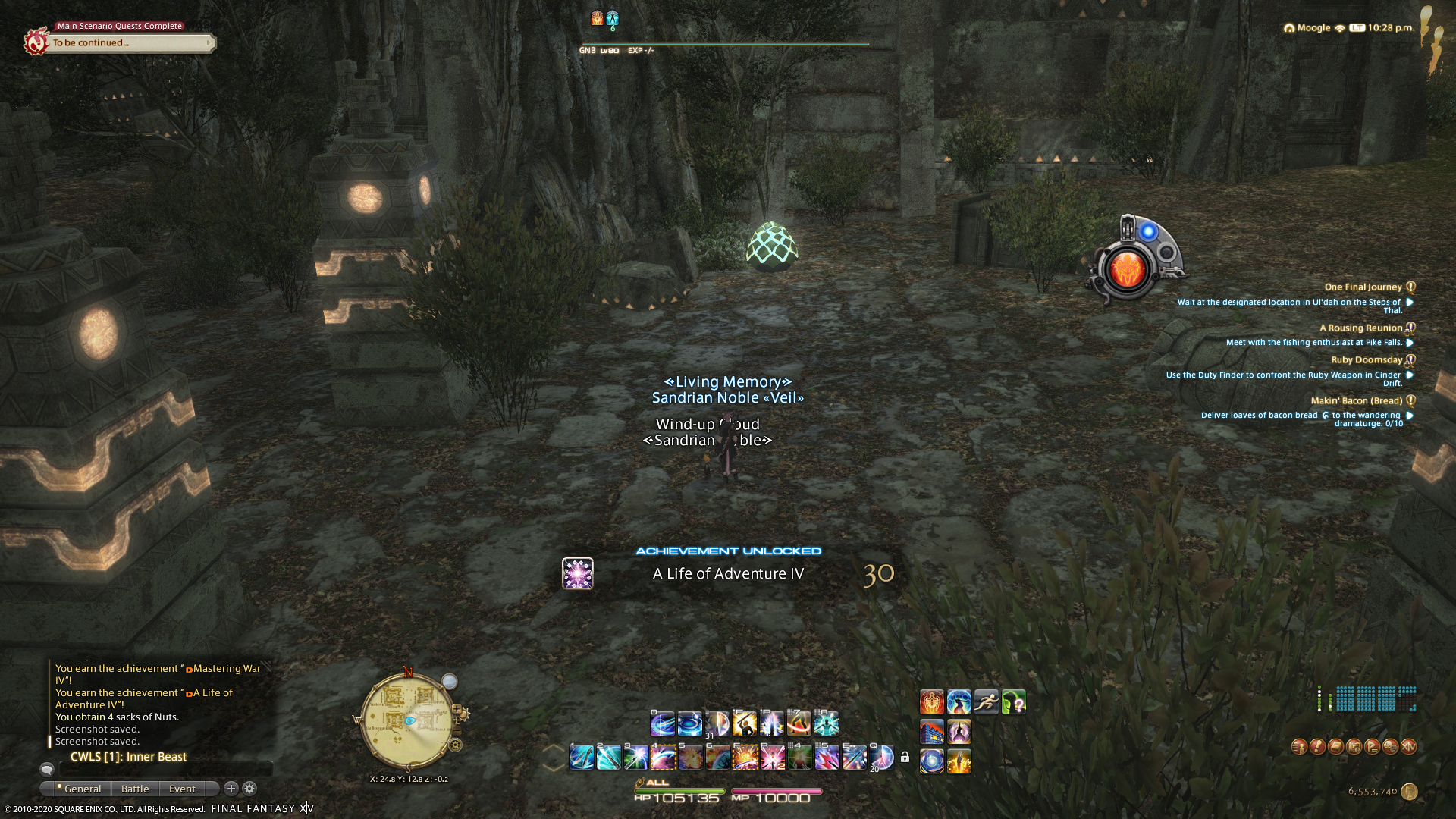 And another goal down.
I'm on a roll this week. Filled up my Pokédex, got my last battle job to 80 in Final Fantasy XIV. I knew it was coming this week but didn't realize both would happen on basically the same day. I'm thrilled though. Another big goal of the list. I guess it was easier getting all my battle jobs to 80 in this expansion since I had leveled everything to 70 in Stormblood and the only two that required more than 10 levels were the newly added Dancer and Gunbreaker class. So yeah.
After leveling everything now there are two clear favourite battle jobs for me: White Mage and Dancer. I've always liked the healing in FFXIV and White Mage is in an amazing spot this expansion. I love the renewed Lillies mechanic, the healing is strong and you can still do some decent dps aswell. I'm much more comfortable on this healer than any of the other two, with Scholar being an absolute lowpoint for me. Dancer has more or less replaced Bard, which was another favourite for a long time, and I think it will stay that way for now. I quite happily play almost all the classes in the game though, with exception to Scholar and Black Mage. I've never clicked with Scholar to begin with and Black Mage is just way too much of a static class for me to enjoyl. I know it gives the big booms but having to, ideally, stand still for an entire fight is just not really exciting to me. So I have leveled them and I have gotten the Shadowbringers Relic weapons for them but I don't actively play them
The real question is.. what's next? I'm still in a bit of Warcraft lull as we wait on the new expansion. I've spent a lot of time in Pokémon and as such I'm kind of done with that game for the time being aswell. In FFXIV I now no longer have to run a shit ton of roulettes every day to level up my jobs… So what's next on the horizon? I guess I have a few options…
First off, I still have to level up Blue Mage. I know that I could just ask a friend to party up with me and get boosted up, and maybe when I'm desperate enough I will, but for now I can just casually kill things and level up slowly that way. I don't really enjoy the whole Blue Mage shtick a lot but may aswell have something to do when I don't know what to do, right?
Secondly, I still have my crafters to level. Most of them are around level 70 right now, with the exception of Carpenter (80) and Weaver (79). I'm leveling them with the Dwarven Beast Tribe quests though, which means I only have to do those three daily quests and I'm good.
Finally, gear up my classes now that they're all max level. This will probably involve me running ex-roulette atleast every day. I also want to unlock Puppet's Bunker so I can run that on the weekly reset. Other than that I'm probably going to run level roulette on a tank every day, purely so I can work towards the tanking mounts that, eventually, come from that. First up will be Gunbreaker because I just really enjoy the class.
All of the above does mean less time spent in FFXIV grinding away, which is mostly what I'm aiming for. I'm available for friends if they want to do content aswell, I think we are aiming for floor 100 in Heaven on High at some point, but I do want to take a bit of a step back and breathe so I don't get too burned out on the game. I'm also aware that with the launch of Shadowlands next month I will probably spend less time in FFXIV anyway, so figuring out a "minimal" weekly routine early on is nice. All in all though I'm happy I got this out of the way so I can focus on the next big thing. Whatever that turns out to be.