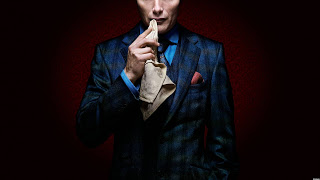 After writing my Gaming Goals list, I got inspired to look at other areas in my life and set "goals" for those aswell. I'm not a very big media consumer. I hardly watch TV… And if I do I prefer to watch a documentary of sorts or a football match while staying away from most shows and a lot of the brainless crap they seem to be enjoying on the telly nowadays. Every now and then though I get into a show and I feel like I should watch it untill the end… And seeing as there have been some seriously good shows the past year I feel like I can play catch up in 2016. And look forward to more series to come!
Lets start off with…
TV Shows
I've been an avid follower of some TV shows in the past. I think I've watched most of the Star Trek seasons of every generation except the original one. I'm pretty sure I've actually seen Voyager from start to end. I've watched all of Charmed, Buffy and Angel… Alias, Desperate Housewives and some Dutch series I was into. I also followed Grey's Anatomy religiously, untill they decided to kick the character Christina Yang and Derek Sheperd. In 2015 I've watched very little shows except for Hannibal season one and two and Les Revenants season one. I've also watched some Orange is the New Black and House of Cards and Daredevil on Netflix.
Looking at what I've seen, and what I haven't seen yet… I want to atleast watch the following shows in 2016:
Books
In the past I have been more of an avid reader and my favourite books were always of the fantasy kind. Lately though I've invested a lot in books about Psychology and Neurology which are two of my biggest passions. I didn't get a degree in Psychology for nothing and the human brain fascinates me to no end. So I'm planning to read atleast the books I bought about those. Next to that there's a fantasy series I wish to finish… Here's the list!
There's a few anime shows I have laying around but never gotten around to watch. Firstly there is
Elfen Lied
that is usually a bit too violent for my tastes but nevertheless I still really got hooked on the first episode. I want to watch the rest because I want to know how it ends… However it's been so long since I started that I'll probably start watching it from scratch. The same goes for
Ayashi no Ceres
which has been sitting around on my PC for years now. Never got around to watching it and I really want to so.
Anyway, I consider this to be my "entertainment" list for 2016. It's mostly catching up on shows, in the hopes that I can start watching the new seasons for atleast House of Cards and Orange is the New Black. I also still have the hope that there will be a fourth season of Hannibal… But let's not get too excited untill it is actually announced.
This will also be my last post of this year. There will be one more "goals" post to follow tomorrow which will focus more on my personal and real life goals. It looks like I'll be heading into a busy year next year… But I can't wait!