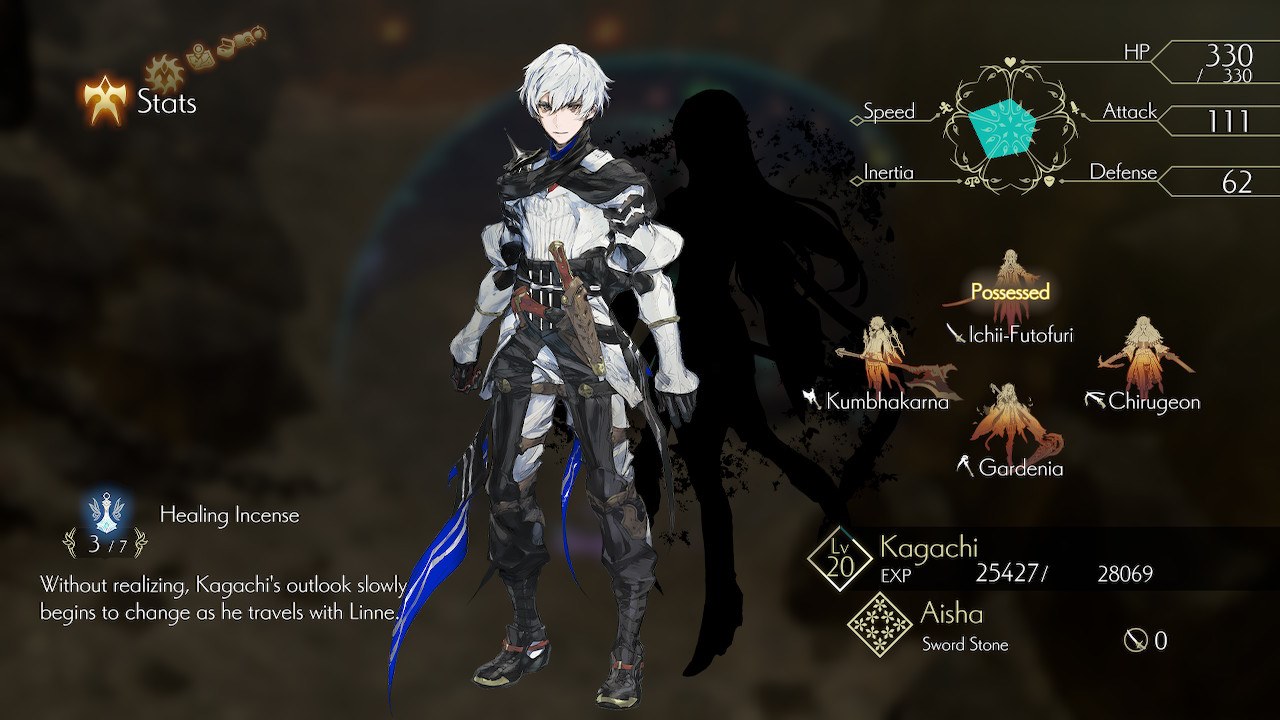 Oninaki is a game that I bought on a whim almost two weeks ago. I've been playing it a surprising amount since and have landed on the final chapter of the story.. Thus prompting me to write my review about the game. As sidenote, I haven't actually finished the game yet but I don't think I'm too far off. So without further ado my review of Oninaki on the Switch.
The Basics
Title: Oninaki
Genre: ARPG/JRPG
Developer: Tokyo RPG Factory
Publisher: Square Enix
Release Date: 22-08-2019
Platforms: Playstation 4, PC, Switch
The developer Tokyo RPG factory isn't a stranger on the scene anymore. As daughter company of Square Enix they are focused on renewing the old JRPG genre. Before Oninaki they've published "I am Setsuna" which I own and "Lost Sphear". This is their third title and the first true Action RPG they have developed. I picked up this game for €44,99 on release, normally I'd rather wait untill titles like these go on sale but I was so intrigued with it that I decided to just dip in and get it straight away.
The Story
The overarching plot is centered around Life, Death and Reincarnation. You play as Kagachi, a young Watcher who is tasked with protecting the realm and the Reincarnation cycle. Kagachi can travel from the normal realm to Beyond the Veil which is akin to limbo. When people die and have no regrets they are thought to be reincarnated. However when people have regrets they become Lost and can't reincarnate and become stuck Beyond the Veil instead as Lost Souls. Lost Souls who are stuck long enough eventually turn into Fallen, spirits consumed by negative emotion. As Kagachi you are tasked to help Lost Souls move on and battle the Fallen who also manifestate in the real world. There's cults, murderers, charm peddlers and all sorts of other folks causing trouble. I don't want to spoil too much of the story here but so far I'm hooked and can't wait untill I finish the ride. The only downside I would mention is that at some points the story seems to move a bit too fast for it to be believable. I think the game would have benefited from a bit more deepening of the plot or a bit slower storytelling at the start. However this isn't disruptive enough for me to stop playing it or not enjoy what I'm actually playing through.
Next to the mainstory there's also a lot of smaller sidestories to do although they don't really add to the overarching story a lot. They are fun to do though as a bit of a distraction from the main story when things get more intense.
The Gameplay
The game defines itself as an ARPG and if I have to compare it to something I guess I would compare it to a hack & slash when it comes to overworld fighting but with an actual story to the game. You fight groups of mobs and bosses in real time. Your weapons are Daemons, powerful Lost Souls that are bound to Kagachi. Each Daemon has a weapon of preference and can learn four skills which you can use in combat. Daemons have skill trees that are fueled by special stones. Luckily you don't have to do anything special for these stones except kill enemies. Kagachi levels up and so do the Daemons as you allocate more skills to their skill trees. Next to that, as I mentioned, all Daemons have a weapon of choice. This weapon is upgradeable and can have sockets for stones that enhance battle properties. There is an Alchemist where you can upgrade your weapons, craft new ones and socket stones. There is a satisfying loop where you go to a map, basically clear it of Fallen both in the real world and Beyond the Veil and then fight a big boss at the end. As you fight with your Daemon a gauge fills. When you hit 100% you can have your Daemon "manifest" and have all your combat stats boosted. This is really nice to clear big groups of mobs or bosses. All Daemons have their own specialty so some are better at damaging multiple targets, others are better at single target. You can have four Daemons "equipped" at a time and switch between them freely when you don't have one Manifested. I notice that when I'm playing longer sessions my fingers kind of get tired from mashing the buttons at some point but the gameplay itself is very addicting and the upgrading and rotating Daemons is actually really fun to do. As added perk you can unlock memories from your Daemons as you level them up which adds more story to the game. Right now I'm running with Aisha (see picture) who wields a Sword, Dia who is a dual Gun/Bow wielder, Treize who wields Chains and Rigan who wields a Dual Knife. Dia and Treize specialize in AoE whereas Aisha and Rigan are better suited for single target combat. Although I have currently maximized Aisha's rank so she's strong no matter what.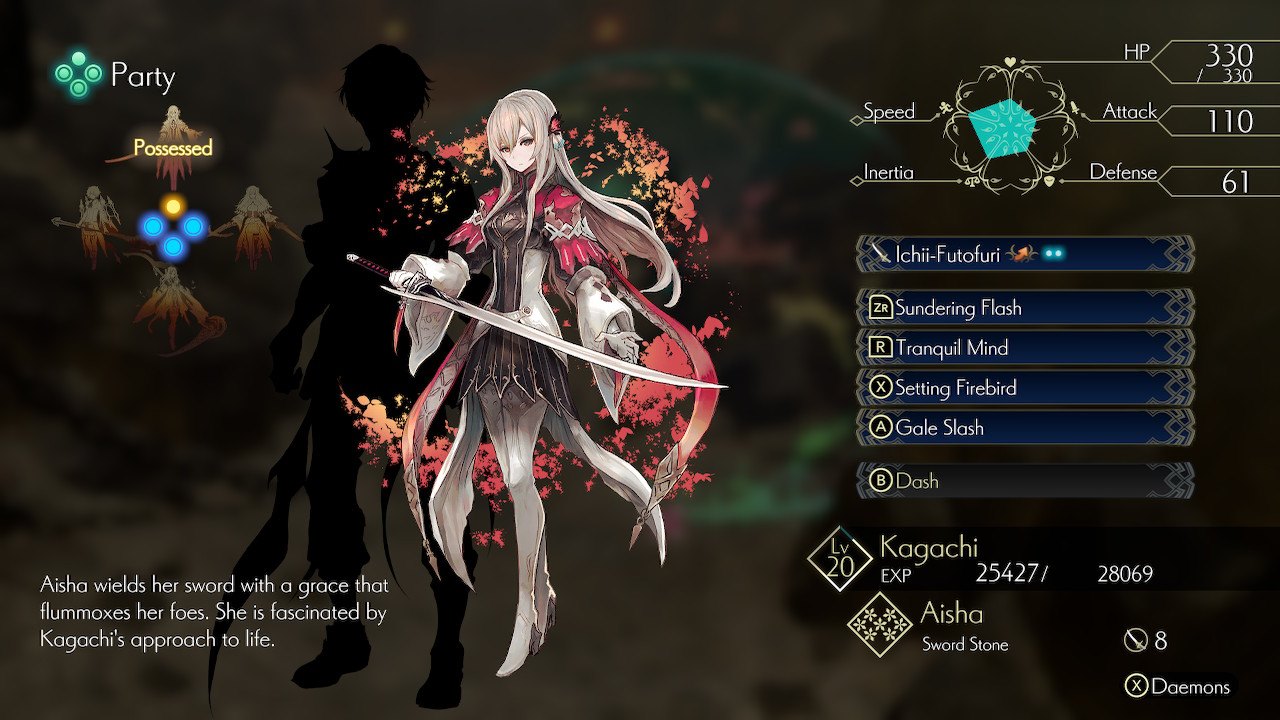 Sound, graphic and other technicals
Here is where I think platform begins to matter when it comes to choosing this game. I bought it on the Switch and have chosen the mobility of the console, I've been playing on my TV and handheld, over the performance on PC and Playstation 4. As such I have to say that the graphics aren't as beautiful as they probably could be on a different platform. The game suffers from FPS drops here and there, although never so bad that it becomes unplayable. The transition from gameplay to cutscenes isn't always optimal and the cutscenes are sometimes slightly pixelated for a second before snapping back into focus. A bit of a shame because I think it could have been optimized better for the Switch. As far as sounds and music goes I have no complaints. The battle music isn't annoying and every map has it's own unique background music. The sound effects are fine. If I have to name a downside it's that the game comes with only Japanese audio. I'm not too bothered by this but whenever something is said during battle it means I can't understand it. All the cutscenes are subtitled but some of the "banter" or battle shouts have no meaning for me because I don't speak the language. I probably would have played in Japanese regardless if there was an English option but having the choice would have been nice.
The final big downside is that the loading screens in this game are absurdly long. Sometimes I'm waiting for two minutes before I finally load back into the game after a cutscene. When starting up it takes a long time to get to the title screen to begin with and then there's a long loading screen from title screen to actual game. As such I've been just putting my Switch on rest mode with the game still running purely so I can skip having to start it up. Which is something you shouldn't have to do.
Final Verdict
Although the game has its flaws when it comes to story pacing and technical "issues" I've been hooked since picking it up. The gameplay loop is nice. I like the Daemon system and the fact that I can switch up my combinations a lot. The story has completely sucked me in and now that I've arrived at the final part I'm determined to see the ending by the end of the week. I've heard that there is postgame content and that the game contains multiple endings so I definitely want to see them all.
If you can look past the flaws and enjoy a hack & slash type of game with Japanese graphics this may be the game for you. It's not absurdly long and has a nice gameplay loop. Is it worth buying full price? Only if you're really a fan and think the game is interesting enough. On sale I definitely recommend picking this up and losing a few weeks of your gaming time on it.