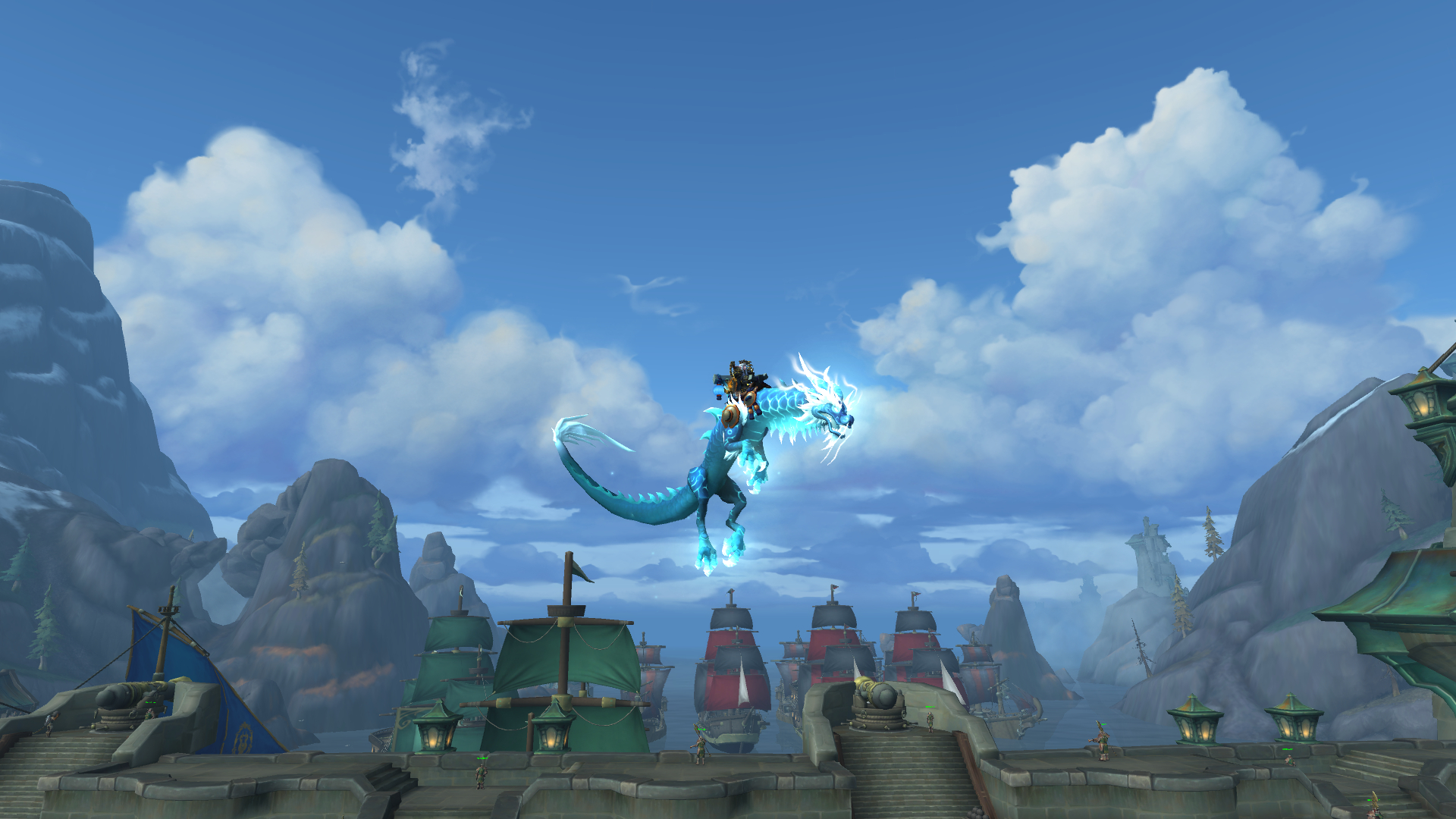 I really like taking screenshots of my mount collection. I have more than enough to show off and the one I'm using in this screenshot is the one you get for collecting 300 mounts so I guess you can see where I'm at with my collection. I didn't even make a concious effort to get to that 300 mark. It kind of happened naturally. I realized I was only three mounts short yesterday and bought them off the reputation vendors in Stormsong Valley, Drustvar and Tiragarde Sound. Of course I'm well away from the next two achievements for obtaining 350 and 400 mounts respectively. I don't think that will change anytime soon since hunting down mounts is not really high on my priority list right now.
What is high on my priority list is the fact that I need to find new goals in the World of Warcraft to tie me over untill the end of the month. I have actually completed almost all goals on my list I made at the start of the month. Mostly because I've been no-lifing on WoW way too much this past week and dropping whatever else I intended to play. It tends to happen that when I get back into "serious" MMO mode I get sucked into the game and then suddenly spend most of my waking hours outside of any real life obligations in said game. I guess there's worse ways to spend your time but it also means that my progress in Final Fantasy XIV and 7R has kind of stalled and I haven't touched my Animal Crossing island in about two weeks. Oops. Oh well. It is how it is. As such I need a few new goals to focus on so I don't get overwhelmed.
As of right now I have a few goals left that I'm still working on that I can't really speed up because they are mostly tied to doing dailies and/or World Quests. This mainly concerns the reputations that I still have left to do. Another is battling my questlog which I'm doing slowly but steadily. I've killed Rakhastan in LFR, completing the associated quest, and my guild as a whole managed to kill N'Zoth on heroic difficulty this week effectively having us "beat" the current raiding content. I got my achievement and mount and I could stripe off the final quest of the Black Empire campaign aswell. So when I look at my WoW goals list it kind of looks something like this now:
Get the following reputations to Exalted: Waveblade Ankoan/Rustbolt Resistance/Storm's Wake/Champions of Azeroth/Tortollan Seekers/Rajani/Uldum Accord
Finish all quests in Drustvar and Stormsong Valley
Kill Rakhastan and finish the associated quest
Level Blacksmithing to 175
Level Cooking to 175
Finish miscellaneous quests in my questlog
The reputations and quests will disappear organically. It's just a question of doing dailies, World Quests and the assaults in Uldum and Valley of Eternal Blossoms. Nothing new there and it will keep me on the daily cycle for a bit. Seeing as you can get 500 rep per day with Uldum Accord and Rajani for doing dailies, plus bonus rep for completing an assault. It's around 4-5k rep per week. I'm honored with both factions as of right now so I think I will hit revered by the end of the month. And then it will take me roughly another month to get to Exalted. It's a really slow burn. As for the Tortollan Seekers. I'm around 1k rep off hitting exalted with them and I'm pretty sure that if the double reputation buff is still up tomorrow I can hit Exalted from doing 3-4 World Quests for them. So yeah. That basically gives me a ton of "free" time apart from doing dailies. So to fill that up I want to add the following goals to my list:
Level up my Legendary cloak to rank 15
Obtain and rank up Essences for my Heart of Azeroth necklace
Yeah it's only these two. However these goals cover a bigger area than one might think. The Legendary cloak one is pretty straight forward and just involves me putting time into running Visions of N'Zoth. I'm currently able to solo 3 chest runs without masks and I hope I can get up to 4 chests now that my cloak has hit rank 15. Eventually I want to start doing runs with masks aswell but for now I'm not feeling that confident yet. Getting my cloak to rank 15 will be time consuming enough.
As far as the other goal goes. There are a lot of essences to obtain that one can slot into their Heart of Azeroth. I obtained a lot of them but not all. Especially the PvP related ones I've not bothered with yet but I would like to. Of the essences that I have obtained the majority is only rank 2. They become the most powerful once they hit rank 3 so I still have a bit to go to rank all of them up. Some again will come more naturally from doing Ny'alotha raids, Visions and Mythic+. I think I'm pretty close to unlocking the rank 3 from Island Expeditions one aswell. Others are harder to get. They require you to run dungeons, (outdated) raids or straight up grinding materials to obtain them. So yeah. It's actually a bit of a meta-goal and one I'm pretty happy to tackle.
This should also hold me over untill the end of the month and it should allow me to put more time into FFXIV and my single player games. I'm still leveling up my Machinist and I should be done with the Ahm Araeng FATES this week aswell. As for FF7R I'm still at chapter 8 and I know it's a bit of a freeroam chapter with a lot of side content and I really need to take some time to sit down and play through it properly. With a four day weekend coming up I think I will do just that and hopefully earn a bunch of trophies along the way. I'm still aiming to get the Platinum trophy for FF7R because I think it's an awesome game and deserves all the time I can sink into it but for now I just need to find a moment to just sit down and play.
Let's hope that happens next week.