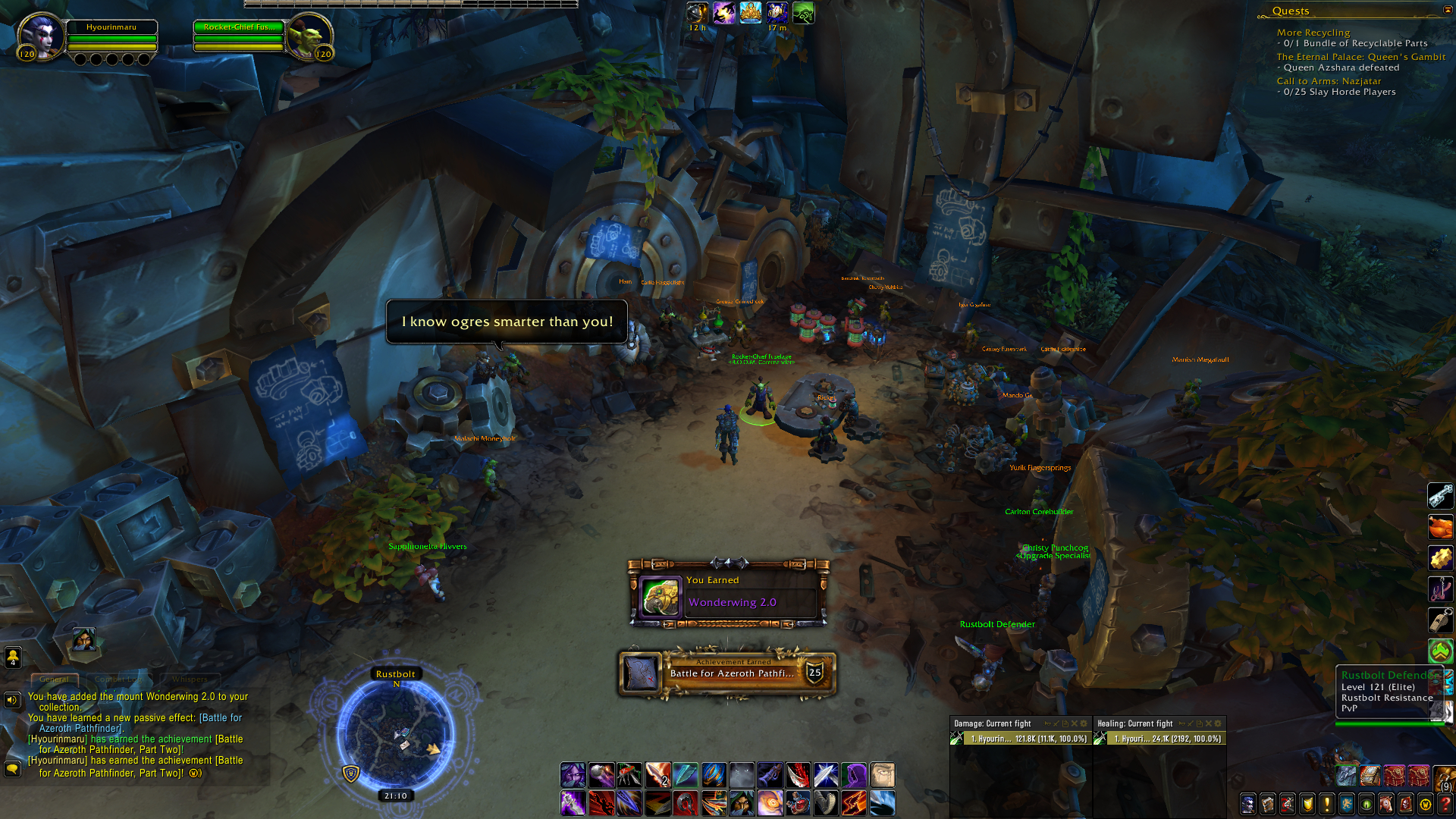 A day before I thought I would I unlocked flying once again for all my characters in the new expansion. This speeds up so many things in World of Warcraft, especially when it comes to doing quests and gathering. No longer will I have to do everything by ground mount while dodging half a zone worth of mobs, yes I'm looking at you Nazjatar. Honestly I'm still not sold on the whole "pathfinder" achievement and that flying is an unlock way later in the expansion than it's been since Mists of Pandaria. I do understand how it ties in to keeping people playing by not handing everyone stuff on a silver platter but still. I rather go back to the "buy this tome to unlock flying" and Blizzard actually use their resources to add more dungeons or other content than this silly content gating by achievement.
With this out of the way I can dial back my gameplay of WoW again, like I've done with Final Fantasy XIV, and maybe finally spend some time playing Final Fantasy 8. I've set up the game via Steam and played for an hour or so but other than that I haven't really touched the game, and I do want to start making progress there. I will probably also aim to get a few hours of Guild Wars 2 in while I'm at it and maybe during the weekend play Spider-man on my Playstation 4. I'm still determined to complete more goals on the list I set for myself this month but ticking off the whole WoW flying thing has been major for me. I'm also pretty chuffed with the mount you get as you unlock flying, a bright yellow mechanical parrot, and will probably use it as mount of choice on my Rogue for a bit as I delve into other content than just grinding out dailies. I have Mechagon to do as I've just unlocked the quest to go there and defeat the final boss with achieving Revered reputation. I want to do the Zuldazar and Aszhara raid and I want to work on leveling Engineering.
Was it worth gritting my teeth and grinding this out? Probably. Would I do it again like this? No. I rather just casually play and unlock flying in a more natural way than grinding for 2+ hours every day just to unlock it as soon as possible. This would probably be the case if I had kept playing the game instead of taking a break. Oh well. Lesson learned.