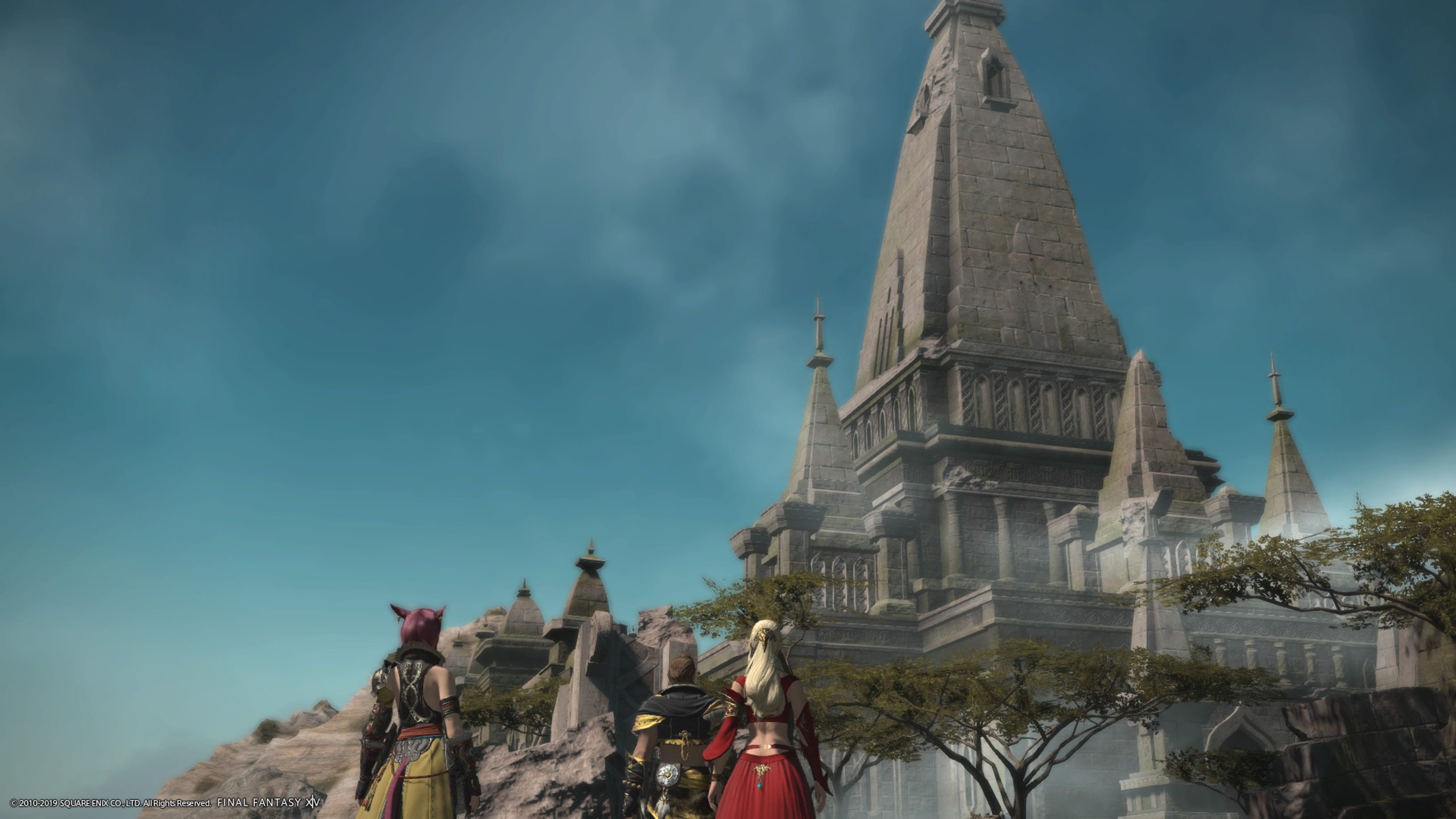 So. In a whim I've decided to shake up my monthly goal posts. Even though I really enjoy setting myself some longer term goals I feel like they're just summaries of all the things I didn't achieve lately. So instead I want to turn these monthly posts into "reviews" at the end of the month with a short focus on expectations for the coming month instead.
No more detailed goals, no more frustrations over me getting to the goals or not but instead a positive focus on all the things I did manage to accomplish. So let's start out shall we?
In Final Fantasy XIV…
I've had a very productive month. I've leveled my Blacksmith, Armorer and Leatherworker all up to level 70/71. This was helped by the crafting/gathering overhaul that patch 5.1 presented and I have decided to take my focus off crafting for the time being since I have achieved the goal that I wanted to at the start of the month. I've also completed all the associated job quests for these classes, allowing me to focus fully on those last ten levels when I feel like it.
In a moment of realization that levequests have also been boosted significantly experience wise I managed to take my Fisher from level 48 to 64 in a single hour by just buying fish off the Market Board and handing them in to the levequest people. I'm a bit stuck now though and instead am catching up on all the job quests that I've skipped. I'm sitting on the one for level 55 right now which I'm actually trying to complete on my own. I have unlocked Spearfishing aswell and I'm quite curious to see that in action once I've caught up on all the job quests.
On the battle jobs front I've taken my Monk and Paladin up to level 80 and my Samurai to 77. I've deviated from my original plan for this a bit but it has paid off in the end. I finished the last remaining class questchain in Shadowbringers, the Tank one, and opened up the final quest that ties all those class quests together. I've gone back and done the level 80 Monk, Paladin and Astrologian quests and enjoyed all the small stories they told.
I've also done all the new content that was added with patch 5.1, I unlocked the new deliveries (Kai-Shirr), did the Copied Factory and caught up to the Mainstory. I think the only thing I haven't properly touched is the Ishgard Restoration but that will probably come up once I turn my attention to crafting again. As for the Pixie dailies.. For all intents and purposes I've finished off their story. I am currently not exactly max rank yet but I have the achievement for finishing the "story" and I am the proud owner of a flying pig.
On my White Mage I've been slowly getting back into the habit of doing ex-roulettes again so I can start gearing up my other classes and I've finished another book for my Animus weapon.
I notice that I tend to play a lot of FFXIV on my days off because it's just very nice to sit down and get stuff done that way than when I'm tired during the evenings.
On my Nintendo Switch…
I have kind of abandoned Link's Awakening. I managed to get the key to the Angler's tunnel but I've not yet figured out how to get into the dungeon itself. This was around the time that Pokémon released so I shelved the game and instead turned my attention to Pokémon.
In Pokémon Sword I've made it past the third badge. My Pokémon are all between level 28-30 and I've been sent back into the Wild Area. I have a choice now to backtrack and catch any Pokémon that I missed previously or soldier on to the next town, Hammerlocke, and continue the story and challenge the fourth gym. This is kind of where I left off last week and I've not picked the game up yet because I've been busy with work and FFXIV.
I am immensly enjoying the game though, in spite of all the negativity surrounding it. I know a lot of hardcore Pokémon fans are really unhappy with a lot of things like a lack of national Pokédex or a very short post game story. Personally I'm just enjoying what the game does have on offer and I am tackling it on my own pace. I do want to aim to complete the Pokédex of this game in earnest so I know I will sink a lot of hours into it the coming months.
In my personal life…
I've had a really rough month. Work has been an absolute nightmare with me working a lot of overtime and experiencing a lot of stress due to things beyond my control. The only big positive thing was getting my new car last Friday which was everything I hoped for and more. I love the colour and the way it drives. Now I just need to plan a few longer trips so I can take it for a proper spin instead of just driving it around town.
I've been watching a lot of tv and reading books. I decided to re-read the Harry Potter series in tandem with the movies that have been showing here every Monday evening. I'm currently halfway through the final book and am rediscovering a lot of things that I had forgotten over time. So a lot of my evenings have revolved around being a couch potato and just staring at the tv, being too tired to really do anything else. I hope the worst has passed though and things will get better from here.
Looking ahead to December…
It will still be a busy month at work and we have holidays to boot. I don't really have a real vacation to speak off, but I did manage to get the two days off between New Year's Day and the weekend so there's that. My Christmas is already booked so I don't have to worry what I will be doing then and I think I'm going to spend New Year's Eve at home by myself to enjoy welcoming the new year in my own house for the first time.
I think I will still put the majority of my gaming time into FFXIV to level up more classes and slowly start to gear them up aswell. I really want to find some time to dedicate to World of Warcraft and their anniversary event and Guild Wars 2.
I will definitely have made progress in Pokémon Sword, I may have even defeated the champion if everything goes well.
Maybe the Kingdom Hearts 3 expansion will come out this month aswell and if it does I will set some time aside to buy it and play through whatever they added to the game, even if it only takes me an afternoon.
Other than this everything is up in the air. I realize that I want to blog a bit more often so I may start taking daily notes of what I've been up to and turn those into 2-3 weekly posts per week. I guess we'll see.