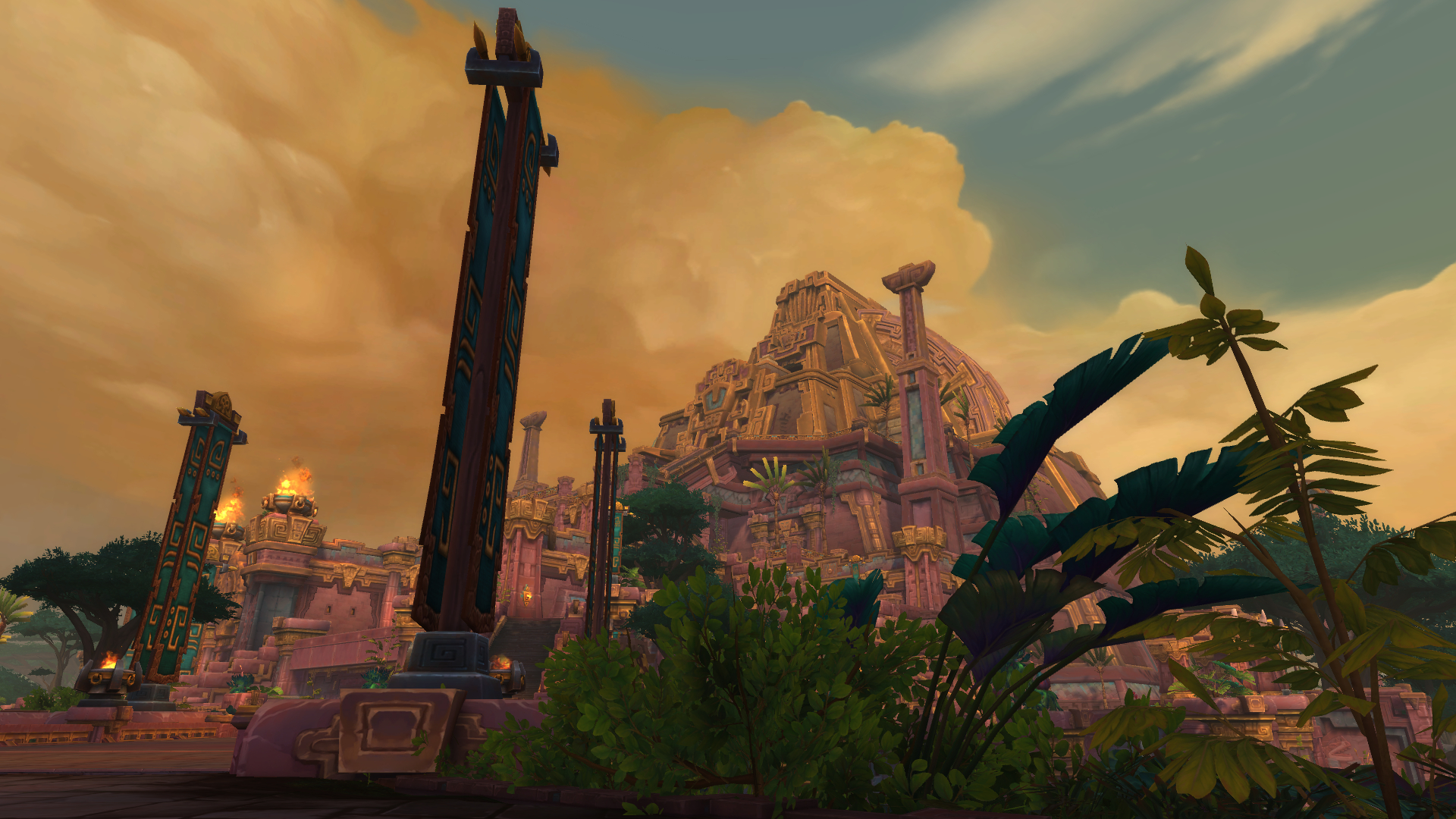 When taking my second Horde Character through Battle for Azeroth content I specifically decided to tackle Zuldazar first. It was the zone I had up last for my Paladin and therefore I never really finished it. I was 120, I wasn't that interested in the Horde side of the story and I felt the Horde zones all had to bow to Drustvar which, in my opinion, is the best zone in Battle for Azeroth so far. I still stand by that opinion, Drustvar is just perfect in zone story, atmosphere and level paths. It is by far the zone I enjoyed the most so far and if I could just do Drustvar only and get from 110 to 120 that way I would. Alas this is not an option and definitely not when you play Horde. So this time around I decided to pick up the zone I didn't get to finish last time and boy am I happy I did.
Zuldazar on it's own is a beautiful zone. I really enjoy the whole ancient Mayan thing Blizzard has decided to go for and even though Dazar'alor is a real tough cookie to navigate I think it's very pretty and perfectly designed when it comes to aesthetics. It really is the golden city and the views of the city and anywhere from the city are spectacular and all of them screenshot worthy. So since I'm not really paying attention to the quest text this time around I really opened my eyes to the zone that is Zuldazar and I'm enjoying the view. The dinosaurs, the jungle, the beaches. They're all extremely gorgeous and I can just run around for hours without getting bored. Unfortunately I finished off my final sidequest chain of the zone today so I will have to say goodbye to the exotic jungle and hello to the creepy swamp.
I sing praises to this zone but there's also a lot of issues with Zuldazar. It's a zone with a lot of vertical content, like Highmountain was in Legion. This means it's kind of annoying and hard to navigate. I think once flying becomes available this zone will be much easier to navigate and it will be much easier and much faster to level that way. This also goes for the troll capital itself which is very vertical and hard to navigate. Although the totems of Gonk, which give you movement speed, help a lot it's still a rather big pain in the butt.
I think Zuldazar is a perfect example of how much developers can do for an aging MMO. World of Warcraft may not be the best MMO looking out there, the underlying code is simply too old for that. Visual bugs are common and textures aren't as pretty as they are in say FFXIV. However the developers still craft amazing zones that you can completely lose yourself in if you want to. I really hope that the future patches that bring new zones are just as gorgeous as the initial BfA zones have turned out to be.
Next to poking about in World of Warcraft almost every weekend I'm ready and perched to watch the LEC and LCS which are the European and North American League of Legends leagues respectively. I've purchased tickets to go watch the Spring Split European Finals in Rotterdam with a friend and I hope it's as good as it was last time we went. We probably have a bit better seats this time and maybe we can meet up with some of the players and casters after the games, provided they don't go on for too long. I'm a huge League of Legends fan and even though I don't play the game myself I enjoy watching it and cheering for my favourite teams. This year it's Misfits for Europe and Team Liquid (I'm a Doublelift fangirl) for North America. With Europe getting better and better as region I really hope we have an even better chance the coming World Championship. But a lot can change in six months so who knows. It's a nice way to get through the weekend evenings though as I struggle sometimes with making my nights meaningful. These days I just make sure that I have League on and even though I may not actively watch it, it makes sure that I stay out of bed and engaged with something I enjoy. I get a lot of things done with League in the background and the games I want to see provide a nice break from whatever I'm doing at the time. So next to following my teams it also makes sure that my room is cleaned, that I make progress in games and that I relax where need be. It's basically the perfect distraction when I'm at home alone to make sure I get through the evenings in a good way and to make sure I don't sleep my time away instead.