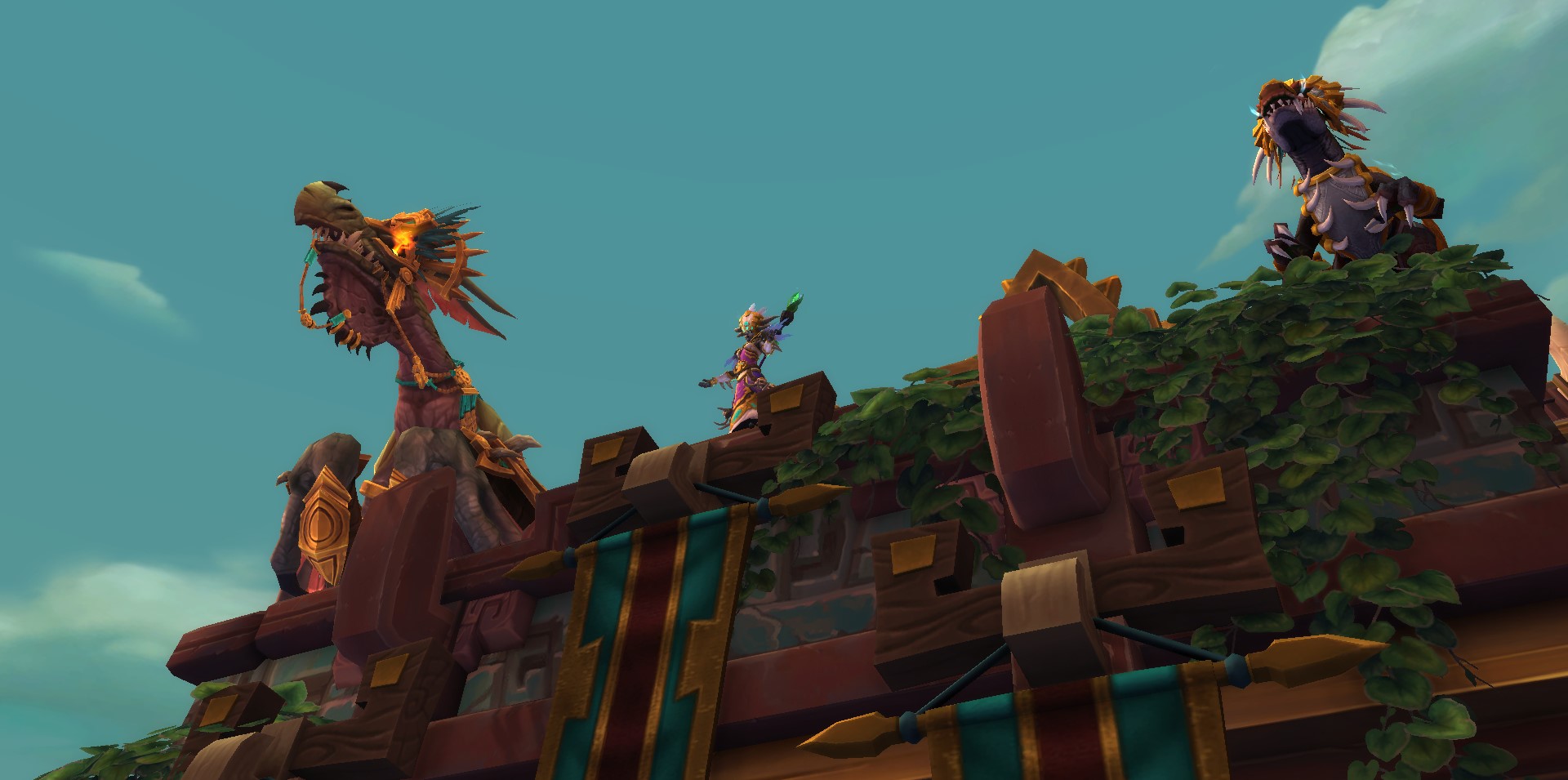 As the final 24 hours of my WoW sub are ticking down I'm faced with a bit of a dilemma. On one hand I'm fine with just sitting out these last two nights and then not touching WoW for a while. On the other hand I feel like I'm finally having fun in Azeroth again with people to talk to and goals to tackle. I've done the calculations and if I do buy another month there will be plenty time for me to play for the duration of that month. I've been weighing the pro's and cons and I've been talking to a friend about my motivations to purchase that one extra month anyway even though I told myself I wouldn't.
A few of the factors that are influencing my decision are the following:
– After I move in a little over four weeks (I want to get out by Easter) I won't have access to my PC for roughly a month. That's when my dining table/desk arrives. In the meantime since I don't want to sit on the floor I'm just going to count it as not being able to play WoW and FFXIV in that manner.
– I am slightly burned out on the grind in FFXIV. Getting my Carpenter to level 50 and doing a ton of hunts to get my speed books have really eaten up my mojo. WoW is essentially the game that I'm firing up in the evenings to relax and unwind. I'm not sure that if I let that drop now that my evenings will be very constructive. WoW is the only thing keeping me out of bed right now and it also leads me to sit down and write on this blog.
– One of the reasons to give up WoW was to maybe make more room for single player games. However I know myself, during the evenings I really don't have the time or energy to devote to a single player game. I just want something to play that doesn't require too much thought and that I can play for an hour or so and still feel like I've done something to make progress. Both WoW and FFXIV tick these needs.
– Social interactions. Right now I don't have much of it on FFXIV but I do have a ton of it on WoW. I really like chatting to people as I play and WoW is giving me this fix.
All in all it's causing me to come back on my earlier decision to let my sub run out now and instead I'm buying that one month untill I move out. I'm enjoying myself, I have people to talk to and it's keeping me from sleeping my evenings away for now. Plus it's giving me stuff to write about on here. Because the screenshot from the start of my post isn't just any screenshot but the ending cinematic to unlocking the Zandalari Troll race. I really enjoyed that unlock quest, even though it involved less travelling than the Kul Tirans one.
As Talanji prepares to undergo the ceremony to be crowned ruler of Zandalar you as player are asked to quell an uprising against her, instigated by a priestess of the Spider loa. Once you've completed this task you are to "help" Talanji get approval by the Loa's. The ensuing minigames are quite fun and once you get to Bwonsamdi things get interesting. You see I never finished the whole Voljin's urn questline so I'm a bit in the dark when it comes to that story in this expansion. I do however know that Bwonsamdi really really hates Sylvanas so he asks Talanji to bring her the head of said Warchief in exchange for being released from the deal Rastakhan made with him. She declines leaving Bwonsamdi unhappy but willing to bless her anyway. All of this has made me really curious what Sylvanas role in this expansion culminates to. I really hope we aren't being set up for Garrosh 2.0 but all the signs are unfortunately pointing that way.
After unlocking the race I immediatly set out to make my Zandalari Troll and I chose to roll a Warrior. I always loved my Warrior back when she was a Troll for a while so it's a nice bit of nostalgia/flashback to WotLK times to roll a Troll Warrior again. I'm not sure if I can find the time to level that particular character this month but atleast I have it ready to go once I do have access to my PC again.
With this 180 my original goals for March are back on the table again aswell. My Nightborne will probably ding 118 tonight and will be 120 by the weekend. I want to gear her up and get her to current content. I'm also going to spend some time on my Void Elf Hunter again and see how far I get on that before the end of the month. I want to see the Dazar'Alor raid and the mini raid that's coming in April. I also want to see all the available lore this time and make an effort to get my reputations to Exalted on Horde side.
All in all I will have enough to do and to fill my evenings with. I'll keep you guys updated on how it goes. For now I'm going to dive back into Azeroth for some more playtime before bed.