So today is officially the first day of my "new" schedule for Blaugust. I've roughly made up my mind and settled upon the following for weekdays after work.
17.30-18.00: Come home and wind down a bit. Maybe head over to the store for dinner or something else.
18.00-19.00: Dinner time! This spans cooking, eating and doing dishes
19.00-20.00: Blogging time. I've carved out an hour mostly so I can start a bit later if needed but mostly so I have enough time to sit down and write a proper post.
20.00-22.30: Activity for the night. This will mostly come down to gaming but I'm also planning to take more walks and get exercise so whatever goes really.
22.30: Shut down and get ready for bed.
By sticking to this time schedule I'll get enough time in to play the games I want, have time to cook/eat and still have time to blog and go to bed at a reasonable hour. Let's see if I can make this work!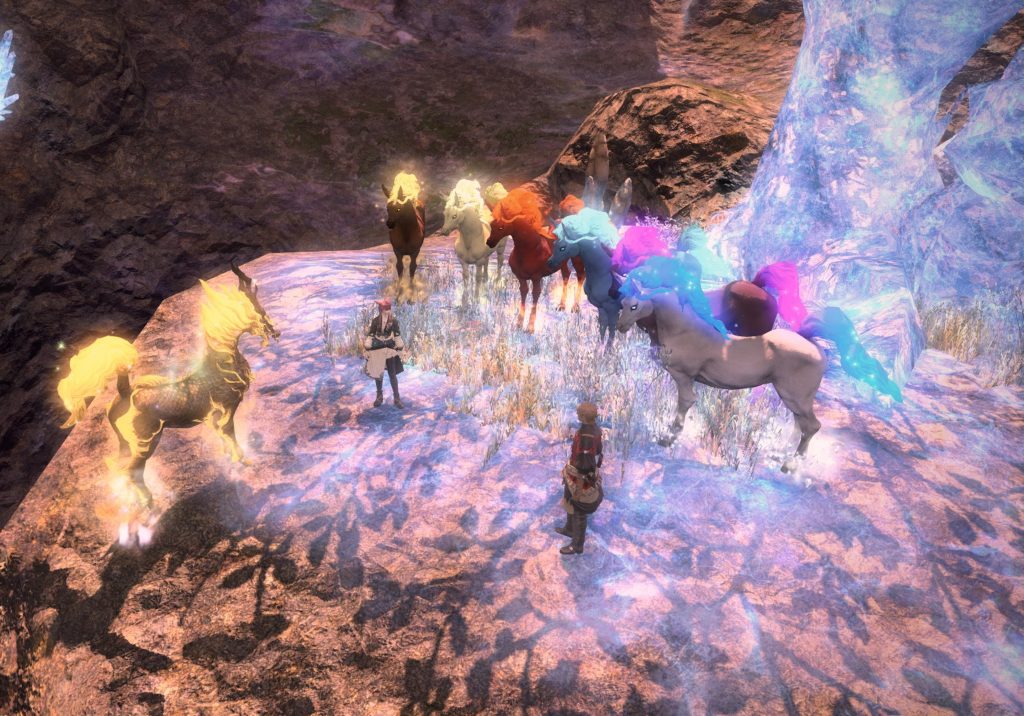 Throughout my years playing FFXIV I've never managed to get any of the primal mounts when it was current content. I was really happy to land in an FC that did a few farm nights leading up to Stormblood and I got a few ponies and birds then but never really pursued it any further. While I was doing my crafting dailies yesterday I figured that now that we are level 80, soloing the original primals in A Realm Reborn content should be a piece of cake now and seeing as I only needed the Shiva and Ramuh ones I decided to set an hour aside to farm those.
Shiva was peanuts for my Summoner. I barely took damage, especially with the shielding that the Titan egi provides and I managed to get the mount to drop there in two runs without dying. Ramuh was a bit trickier since he does the tankbuster move. Once I figured out how to survive that, it killed me two-three times, I managed to down him pretty easily and to my surprise the mount dropped from that first time I killed him.
This meant that I finally had all the ponies and could do the quest to obtain the Kirin mount, earning that achievement in the process. The quest itself was okay. You go to the Yoshida guy in Mor'Dhona who has a quest for you once you obtain all the primal mounts. He then gives you a whistle that only one worthy can blow and asks you to do this at an overlook so you can make pretty screenshots as Kirin appears before you. It was simple and short and you walk away with a badass looking mount in the end. I think the scene I captured above was one of the better ones I could get with all of the ponies gathered around.
I'm quite happy that I finally got all the mounts with all their awesome primal music. I think the Shiva one will be my go-to for a bit now since I absolutely adore the music from it, but really I could put all of those mounts on my favourite roulette and not be disappointed by whichever would come out.
The next step will be figuring out how many people you need to get the birds from the Heavensward fights. I've already obtained a few there but still need the ones of Bismarck, Sophia, Sepiroth and Nidhogg. If it's doable with two or three people I may just convince a few buddies to tackle those fights in the coming weeks.
Tonight I will probably turn my attention back to leveling though. My Black Mage hit level 74 yesterday and I want to get it to level 80 as soon as I possibly can, purely so I don't have to play it anymore. I honestly really don't enjoy myself on this job and I want to be done with it sooner than later. I just don't understand how I can fit in Flare and Freeze in my rotations, not now I've barely figured out how Blizzard and Fire 4 work. The numbers are pretty but I'm way to distracted with not letting Enochian fall off and having to move in the middle of my casts to really enjoy it. So I'm gonna just grind through the levels, do the 80 quest when I get there and then call it a day and start leveling my next job.