So when I said I hoped to get my Void Elf Warlock to 120 during my week off I thought the leveling wouldn't be as fast as it actually has been the past few days.
Where I mentioned yesterday that I had just hit level 90, I've now actually already hit level 110, 111 even as I'm writing this, and unlocked my heritage armor. Which looks absolutely freaking amazing. I love the Void Elf armor.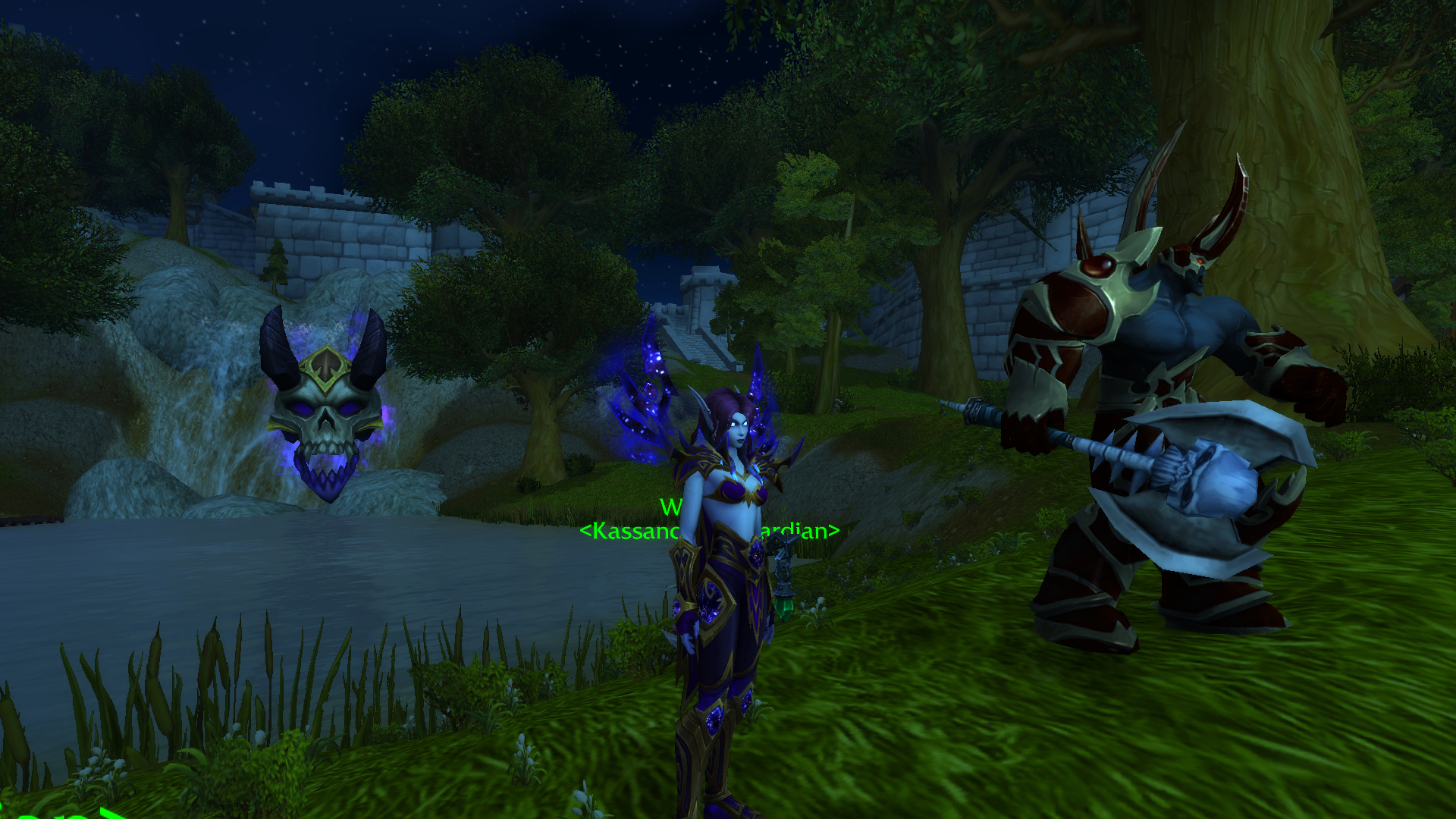 Look at those shiny sparkling shoulders of the night! I mean, who wouldn't love a set like this? Okay I may have a battle bra instead of a proper chestpiece but as Warlock I don't expect to take much damage anyway, I have my demons to take the hits for me.
Speaking of Warlock. I've really been enjoying playing as Demonology for the leveling phase so far. Summoning armies of Imps is hilarious, especially when I manage to go up to 12-13 running around me at a time. I have my personal tank in my Felguard plus I summon Dreadstalkers on command. Next to that I have a chance to randomly summon extra demons aswell as a Demonic Tyrant which extends the duration and buffs the damage of all my active demons. I've not really looked into the "endgame" spec yet for Demonology but I hope it's atleast as much fun as the leveling variant seems to be.
All in all it feels like everything is going on lightning speed. It doesn't actually matter if you take the questing or dungeon running route, every level up to 110 takes max 20 minutes to do. I think the absolute fastest I've been was in Warlords of Draenor and Legion thanks to the bonus quest system giving me a seriously humongous amount of experience for completing a single quest. Like almost half a level worth. It helped me fly through the zones, literally because I have flying unlocked, and on the doorstep for Battle for Azeroth in no time at all. I've chosen to tackle Stormsong Valley this time around and hope I will be level 120 once I'm done with that zone. Then I can turn my attention to gearing up and tackling Mythic+ dungeons, something I've been meaning to do all expansion.
I've also tentatively logged into Final Fantasy XIV again. Mostly to save my house, Square Enix has done something with the demolition timers and now everyone's house seems to be flagged for demolition, but also to get myself used to playing on my PS4 again. The controller feels kind of weird in my hands after not using it for a long while because I've been glued to my Switch Lite and Animal Crossing instead. My Bard is now sitting at level 78 and the plan is to do Pixie dailies and Trial roulette for the most part with some Trust Dungeon shoved in the mix aswell. Once I finish Bard I will probably move on to Machinist so I can stuff away all the redundant aiming gear and am only left with tanks to level.
It's kind of weird playing two MMO's at once again but seeing as I have the week off I may aswell combine them to get some stuff done in both. For now though have another picture of my lovely Void Elf with a starry sky and desert oasis as backdrop. Laters!