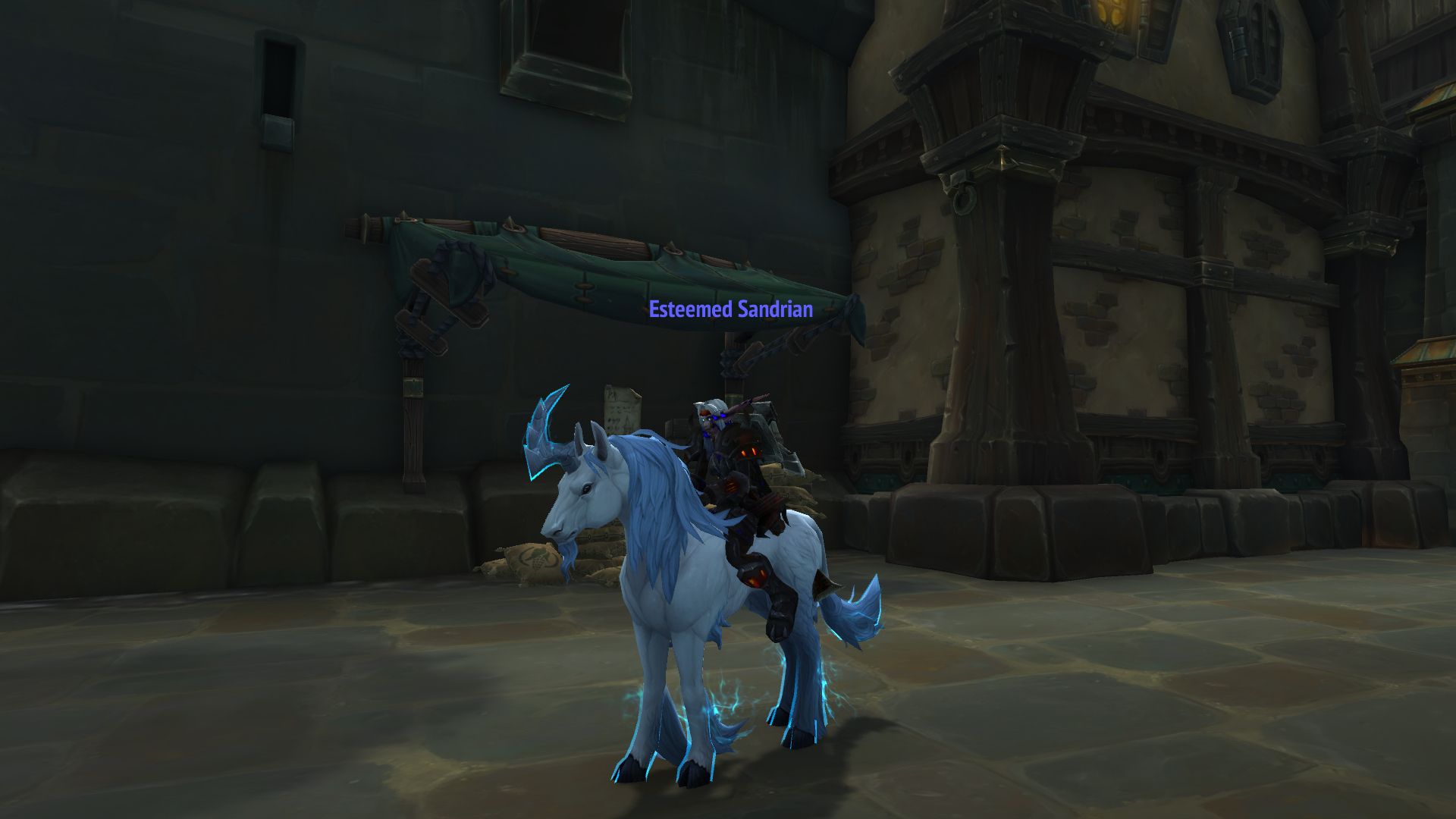 I've alluded to it multiple times but I feel like I've done pretty much everything I wanted to do in the World of Warcraft. As such I've been trying to come up with new things to keep me occupied in the game, rather than taking an (extended) break. So when all else fails, or better when I don't want to do challenging group content, I return to my completionist roots and start working away on earning achievements again. One of the more notable ones that I was close to was to get 100 reputations to Exalted. I think I only needed 5 more before the weekend. I found out that I could get two "free" reputations to Exalted by going back to Desolace and finish a, for some reason, resetted questline involving two centaur clans. After completing said questchain I got awarded with both their reputations being set to Exalted. The next reputation that I managed to get up, with the help of Timewalking, was the Sha'tari Defense reputation from Warlords of Draenor. For some reason though that one didn't count towards my 100 so I had to think of other reputations to grind.
And that's how I spent two to three hours of my Sunday grinding out Gadgetzan, Ratchet and Everlook reputation by committing pirate genocide in Tanaris. I got lucky with another player seeking to do the same and we grouped up, making the farm twice as fast. At the end of that grind I walked away with all those reps to Exalted, the achievement completed and a mount and title earned. There's not many reputations that I've not touched now. I think three PvP ones are most notable, Silverwing Sentinels from Warsong Gulch, League of Arathor from Arathi Basin and Wrynns Vanguard from Ashran. I doubt I'll ever get those to Exalted since I've not been interested in running battlegrounds for a long time now.
As far as PvE reptutations go… I still have Ravenholdt on Neutral and if I really wanted to I guess I could go for Insane in the Membrane, but I'm not that crazy yet. There's Chromie rep to get and a variety of fishing reputations aswell as Draenor Garrisson bodyguard stuff. Nothing that is very appealing to me right now. I'm also still steadily working away on getting Exalted with the Rajani, I'm done with Uldum Accord, but that rep is limited to the assaults and dailies that I can do. I'm currently sitting around 17.5/21k though so I think I should be done with them around the weekend.
I've also started to do achievements that are specifically tied to Battle for Azeroth. Killing all rares in the various zones. Finding all treasures. Read scrolls and ride rickety planks or find grey items that are hidden in plain sight, if you know where to look. Eventually I'll get to the harder to get ones and back to Nazjatar and Mechagon meta achievements, if I can keep interested until that.
There's also some older "group" achievements that I'm eyeing to do. They mostly evolve around raid/dungeon achievements that also give a mount and I see that I've basically stopped doing them around Mists of Pandaria. Since that is all outdated content now I'm going to try to do as much as I can on my own and maybe ask a friend or two to assist me with the rest. That should keep me busy for a while atleast.
I'm also maybe planning to casually level up some Allied Race toons, if only to unlock their respective heritage armours and get those achievements out of the way aswell. Leveling is pretty braindead right now and fast enough to keep me entertained while also getting reasonable progress when I play for an hour or so. I've been poking around on a Lightforged Draenei Paladin and a Zandalari Troll Monk. Seeing as how I play tank and healer respectively I get pretty fast dungeon queues and when I don't feel like doing dungeons I can just switch to a dps spec and quest my way up. By no means is this a big time consumption for me and I'm not going to make it some sort of "must do" goal but it's nice to sometimes play a lower level toon and not have to think about too much.
Anyway, before this post turns even more rambly that's what I'm mostly up to in WoW these days and I don't see it changing anytime soon. I'm also still playing FFXIV and leveling my Dark Knight there now, but that also limits itself to doing the pixie dailies and a random dungeon when I feel like it. I feel like summer is kind of taking away my will to game and instead I'm trying to be more outside. Be it in an active way or just lounging on my balcony while reading a book, it feels good to be in the fresh air and about instead of staying cooped up in my apartment the entire day. Especially now that my vacation is over and I'm back to work I feel like I need to make use of my free time to get away from my house, before the walls start closing in on me.
And inbetween that I'm satisfying my completionist urges. Let's hope those can tie me over untill the Shadowlands prepatch.