I've been thinking a lot about wanting a fresh start on World of Warcraft for Warlords of Draenor. I want to raid again but I feel like I can't really leave Aeternus without hard feelings so I decided to take part in a reroll project that currently is taking place on the Stormrage EU server. A lot of people were enthusiastic about the idea and we already have about 40 members in the guild. The project took of on Thursday evening at 19.30 server time and from then untill I logged off today I managed to get my baby Hunter up to lvl 30 without any help from RAF or looms.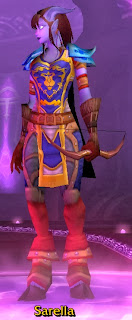 As I just said I decided to roll a Hunter. I already said before that I love the class and it comes naturally to me so it was kind of the only option to go with in my opinion. Her name is Sarella since Sandrian was already taken (curse you random Stormrage player that took my name!) and she's a little Draenei. I really didn't want to roll another Night Elf, since I already have Aylanna who I still play aswell, and I feel that Worgen don't look so good in a lot of gear, same goes for Pandaren. Since Draenei have the +1% hit passive it was actually only a toss up between that or the +1% crit from Worgen. And for me aesthetics win out then and I went with Draenei. As far as professions go I went the same route I did on all my Hunters: Skinning and Leatherworking. Might not be ideal for raiding, but the critical strike buff that Skinning provides is very nice as Hunter and when you start over on a new server it's kind of annoying if you have to pick up two crafting professions from the start.
So far I'm loving the atmosphere in my "new" guild. Everyone is friendly, we have a Mumble server up and running, a guild website and an IRC. The only thing that I'm pretty sad about is that a lot of people have opted to run with Recruit-A-Friend, giving them a huge headstart over people who do not want (or have) to spend money on a new account solely for the levelling boost. I did this in Wrath of the Lich King to level a Druid and lightning speed, and a Shaman, but I really do not want to spend money that I barely have on something that is hardly necessary. Then there were the people who transferred over their main characters so they could level up with heirlooms, and they are quite a lot ahead of the rest aswell.
I decided that I'm mostly fine with levelling up the "oldschool" way. I can more or less level up my professions simultaneously and I don't feel rushed or burned out. I'm actually managing to keep my Leatherworking more or less up with my level (I think I'm currenlty about 5 levels behind with what I can craft and the level I am) and Skinning isn't an issue at all.
I'm really curious to see how this little project will develop. I wonder who will stick around to raid and who will leave, so far there has been a plummet in numbers a bit already with 30-35 people online on Thursday night when we started off to about 20 people online now. I hope we can stay stable and keep the guild together long enough for Warlords of Draenor to hit the live servers so we can level up together and raid. Untill then I still have a long way to go to lvl 90 (60 levels to be exact) and it's keeping me quite busy. I really had to decide to not level for more than X hours otherwise I would probably go insane.
I'll keep you updated how things go with little Sarella but my next post will probably be about the Lightning event on FFXIV!