This week Wildstar went Free To Play. A huge turnover for any game. Sometimes it works out (looking at SWTOR), sometimes it doesn't.
Personally I'm happy with this change. I'm not too comfortable when it comes to finances and maintaining more than two subs a month is not really doable for me. I have let my FFXIV sub run out because of this reason aswell. I was simply not playing the game and it's a waste of money to resub then… When you don't know when you'll be coming back to the game.
A Fresh Start
So with this reboot I decided I needed a fresh start. I never really got to endgame on Wildstar, mostly because I was way too busy playing other games and working and going to school… So I don't really have any far developed characters yet. I made an Aurin Spellslinger on Jabbit (shown in the pictures), a class I had a brief flirtation with, but never played seriously.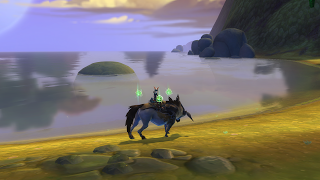 The water in Wildstar is still amazing…
As far as launches go, I think this was one of the more "troublesome" ones. The megaservers weren't used to the huge influx of players coming their way I guess so there has been a lot of emergency maintenance… Jabbit still remains somewhat unplayable 3 days later (lagg issues are persisting) but Entity seems to be playable for me since I play during off hours on that. Oh yeah, I mentioned it on Twitter already but the regional restrictions have been lifted so everyone is free to play on whatever region they want! I didn't know this or I would've made my Spellslinger on Entity. Instead I chose to go with an Engineer there.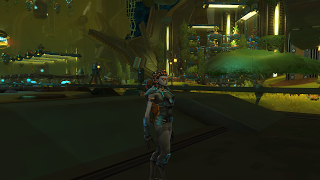 I really do love the Mordesh ladies!
For now I've been switching between the two servers. I chose to go the Everstar Grove > Celestion rout on my Spellslinger whereas I sent my Engineer to Northern Wilds. They both made it out of the starting area, lagging all the way through. Right now I'm mostly fiddling around with my skillsets. I know Engineers have the ability to be tanks and I have received a quest to actually train me as one… I'm just not sure if I want to go that route. I know absolutely nothing about Engineers, except that they use robot and electrocute people. I don't know if DPS Engineer is viable at all or if I am better off going tank.
Right now I just want to focus on leveling up, working my way through zones beyond level 20 and enjoy the scenery and lore. I'm absolutely not worried about crafting or housing stuff yet. I just want to see the game first.
The Hype Has Started!
Today is also the start to the League of Legends 2015 World Championship. The show has literally started a few minutes ago and I'm so very happy it has kicked off again. This is probably on the same level as the World Championship Football for me. And as a Dutch person this says a lot. So I think I will be gaming very little the coming days. Or atleast not very focused and there will be a LoL stream in the background constantly.
Now if you'll excuse me. It's time to start cheering!