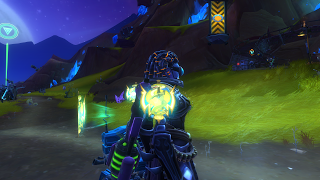 As I was going about leveling my Engineer yesterday I suddenly noticed the crazy amount of detail that has gone into the little holograms that accompany my character. At first I thought this was an Engineer only thing… Untill the lovely Chestnut informed me that this was our Guild crest. It looks ridiculously good and I also instantly made the connection why I had never seen it before on any of my characters: This is the first time I've ever been in a Guild on Wildstar. And I think I picked a really great one.
It's finding out little things like these, and getting back into the crazy combat system, that made me realize why I picked up this game when it came out. After a lot of ups and downs I think Carbine has produced a great game and I'm more than willing to invest my time in it.
It seems like other people have had the same idea. The influx of new and returning players is huge and they have had to open additional servers to be able to handle it all. I really hope people can get past the inital laggyness and queue times. I'd love for this game to have a strong, big community.
Right now I'm mostly jumping about on my Engineer. Jabbit lagg is still fairly high and Entity seems to be nice and quiet during the day. It's also giving me a chance to discover this class, that relies on pets instead of dealing direct damage. I have to say, being followed around by a little robot is insanely cute, especially since it's main job is to help me destroy my enemies. And then there's the thing that I can electrocute stuff… Which I find hilarious.
I think that after I'm settled on that Engineer and I'm comfortable enough to play it without having to think too much about what I have to do I'll start tweaking my UI. Right now I'm just running with the standard stuff that Carbine provides with the game, but I'm already annoyed at how my quests are displayed and I feel the UI is very cluttered overall.
Luckily I have installed Curse Client so fiddling around with various addons should not be an issue.
That Other MMO
In the meantime I'm still working on getting my reputations Exalted on WoW. As Shadowpriest I've noticed that I can fairly easily solo a lot of rares. Getting my T18 2set is helping me with that since I can summon my Shadowfiend much more often now. Pair that up with Fade having a relatively short cooldown and I have a nice little creature to tank stuff for me so I can heal back up or just unload damage.
As I was working through soloing the weekly Fangri'la quest I suddenly got company from a Deathknight who had one of the best looking Transmogs I've seen so far. I complimented him/her on it and couldn't resist snapping a picture.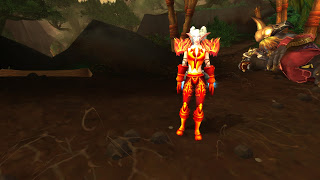 Thanks for the help AND the transmog inspiration my DK friend!
My own Priest is currently dressed up as official Karabor Priest. You could buy the box that holds the entire attire from Hand of the Prophet the moment you get revered with them. It's a really plain look, but I like it so far. I'm not of the sexy transmogs for my Priest. Mostly because I don't think it fits the class archetype but also because I'm too lazy to farm the components I would need. So for now I'll just go with what I have.