This week I once again vented my frustrations on Twitter over living on the wrong side of the globe. It feels like Europe is being regarded as a second or third class continent when it comes to games and gaming merchandise.
I'd love to get my hands on some of the stuff from the Blizzard Gear store, however since they have removed the EU version of the store I have lost all interest. All products are bought from the US which means paying a shitload of import costs that are often more than the item I'd want to buy. It's seriously ridiculous.
Not to mention that a lot of the toys and merchandise that is more or less easily available in the US as a whole through certain shops is almost impossible to get here. I'm in an extra dire situation since Amazon offers a lot of stuff that I would want… But we don't have a Dutch version of it. Leaving me to import via England or Germany which brings troubles of it's own. Sometimes I'm able to find merchandise via obscure game shops but mainstream toystores don't really sell anything interesting. Hell even Funko! Pop figures are hard to come by here. I have one on order in my usual game store, but when it will arrive is a mystery.
It's not just Blizzard that does this. It feels like all major gaming companies have their focus first on the US market… While the EU gaming market is atleast equally as big. Riot Games has tried to appeal to their EU customers by offering all their merch in Europe aswell as the US but they are one of the few and also hella expensive. I'm not gonna pay €25 for a figurine that's the size of a mystery mini from Funko that costs €10.
It's also not just the merchandise that seems to be US focused. Apart from Gamescom in Germany all the big gaming events take place in the US. Look at the various PAX get togethers, Blizzcon and a ton of other Con events that happen over there where there is no EU equivalent for. It's frustrating and saddening for someone who would love to go to one of these things but will never be able to afford doing so. I feel like Europeans, and especially the Dutch since we have hardly any gaming related stuff going on, are just getting screwed over left and right. It's making me grumpy and resentful towards the companies that I'm supposed to support. Ofcourse there are the IEM events that are held in Europe and you see a bit more things come to life with the growing Hearthstone, Heroes of the Storm and League of Legends scenes. But it still feels like we're running behind. And that sucks.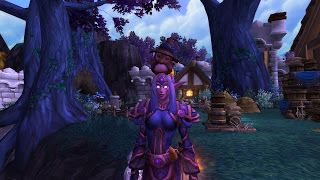 Hallow's End, Shade's Eve and various other stuff.
In World of Warcraft the event for Halloween (Hallow's end) has officially begun with some new stuff to get this year. I managed to find Pepe in his scarecrow costume and was promptly rewarded with an item to make him appear like that on my head. It's seriously cute as hell. I've never looked into Pepe before, but I'm happy to have the little birdie tagging along for now.
As for the rewards for Hallow's End this year… There are three new pets and two new toys to get. I've already obtained the item to spawn the pets, now I just need the toys. One of them can drop from a spectral spider that patrols your garrison after you use the appropriate decoration to summon it. The other one is a random drop of the skeleton mobs that you have to kill for your dailies. Neither toy has dropped for me yet, but I still have a while to get them.
At the same time the Halloween event for Wildstar is going on and I'm quite curious about this one. I've never seen any ingame event for Wildstar so I don't know what to expect, but I guess I'll find out over the coming weeks. I hope it may reward us with a new costume to use in the Holo Wardrobe or maybe a mini pet. That would be the coolest rewards anyway.
I haven't seen any announcement for FFXIV and their Halloween event yet, but I'm sure they won't stay behind.
Speaking of mini pets… I managed to acquire Terky the Murloc today. Apparently Blizzard has hidden his egg in Borean Tundra with the latest patch. As I went down there to gather it I was certainly not alone, the cave where you can find it was crowding with people. If you want to know how to get this pet, head on over to MMO-Champion, seeing as it is on the front page. For now I have another murloc friend atleast!