Today kicked off my vacation and it couldn't get off to a better start. I went to the gym first thing in the morning and have been feeling energetic all day. I played some WoW, some FFXIV and Pokémon X aswell as watch the last few episodes of Gotham I had left, which means I have finished the first season.
I haven't felt this relaxed in a very long time and very motivated to game again. Funnily enough I decided to spend a lot of time on World of Warcraft yesterday evening and tonight. I have made some goals for WoW this month and I'm happy to report I achieved one of them today already! With a small stroke of luck I had gotten an Elixir of Rapid Experience and two Champion's Honor's from my missions. I sold all of those combined for about 20-25k gold and I broke the 100k gold barrier once again. I've been flooding the markets with a lot of other stuff I still have on my various toons (mostly crafting mats) and I've been raking in a lot of money. As of now I'm looking forward to getting another 800 gold just from selling Savage Bloods. It really proves that the economy on my server isn't as dead as I thought it was. It's certainly alive enough for me to make a nice bit of gold atleast!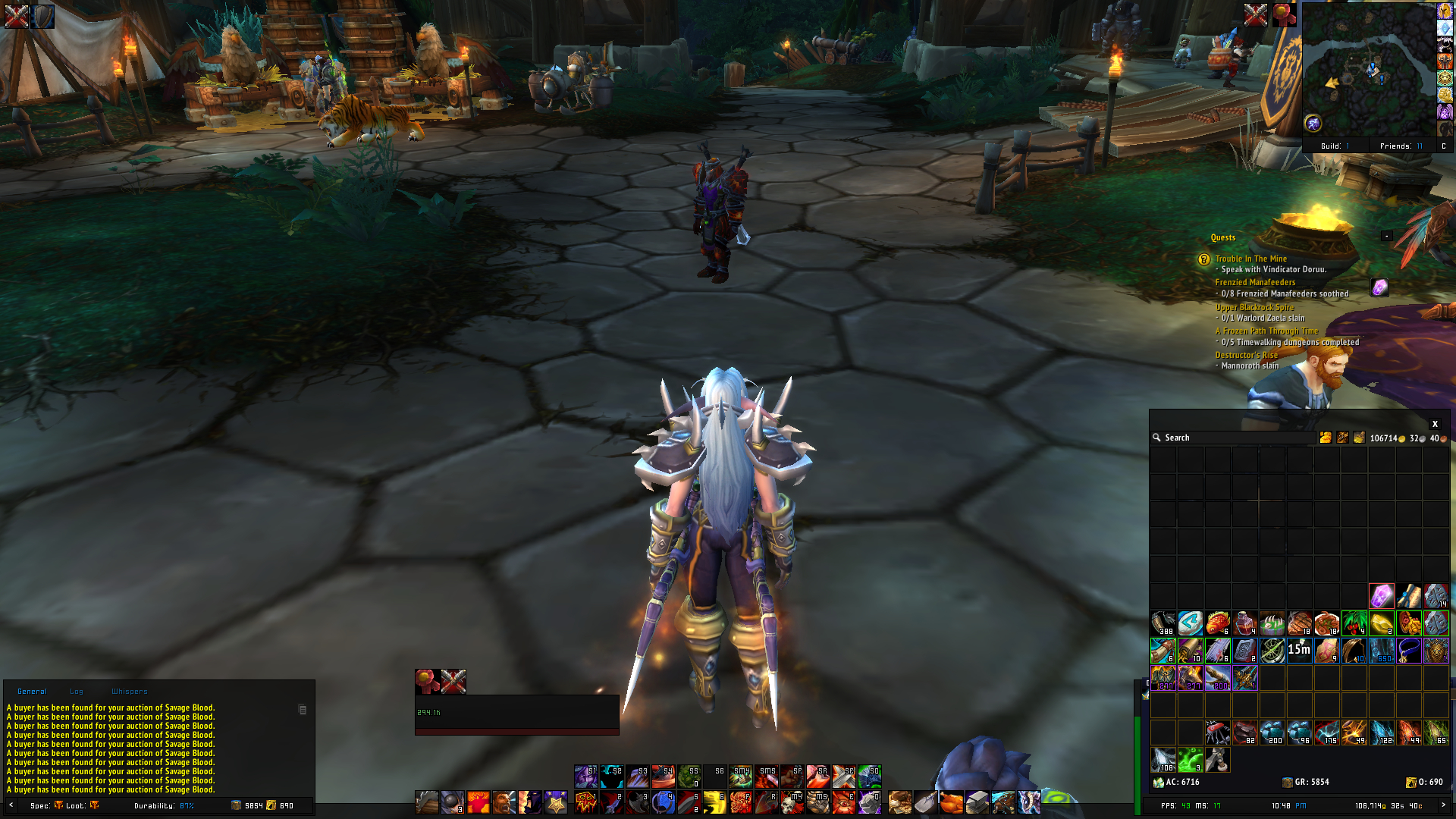 For now I've mostly sent all the gold from my inactive alts to my Warrior, only really using my Priest and Paladin to generate even more revenue since they both have level 3 Garrisons and a lot of gold missions aswell as missions that give me more stuff to sell on the AH. All in all the gold flow is nice and I'm building up a nice little fortune before Legion launches.
Next to churning out gold I've also been doing some other things WoW related. I caught the rumour that Blizzard will be putting the Brawler's guild on hiatus sometime before Legion launches so right now is the perfect time to start getting involved. As I'm typing up this post my Warrior is sitting on rank 5, which isn't really that impressive. I aim to get to rank 8 in a considerable amount of time and also to complete the special brawls that I've unlocked by finding items throughout the game.  I really like the Brawler's Guild so far because it makes you think about how you want to kill the bosses you're faced with. Although some you can mostly get through with using brute force, others are a little bit more difficult and take more strategy to take down. As an added bonus when you reach rank 8 you can buy a nice Mushan Beast as mount for only 1.2k gold. Being the collector I am I obviously really want that mount so I will continue to grind on this as the month passes.
FFXIV and Pokémon X have gotten some love aswell with my MCH dinging 47 earlier today and I've reached the city for the second Pokémon Gym, so I should be able to cross two more goals off my list for June very soon. I'm unsure why but I'm really enjoying Pokémon X again over Blue and Alpha Sapphire. Maybe it's because I've never actually finished the game so the story is fresh to me, maybe it's because I like the setting and all the little quirks they put into the game. There are so many events and places outside of the regular "beat 8 Gyms and the Elite Four" story… You can really notice Nintendo and Game Freak wanted to show off this game as the first 3DS Pokémon game. I hope I can get to beating the second Gym and then continue on because I've never really gotten past it in my previous playthroughs so the game is mostly new to me anyway. It looks like I will though because I'm slightly hooked to my 3DS lately and it's the only thing I've been playing outside of Blizzard games and FFXIV.