These past two weeks have been magical. Truely and wonderfully magical. Do you want to know why? I think my inner child cried of joy after some awesome announcements that have popped up in the big bad world of gaming.
Let's start with the most important one….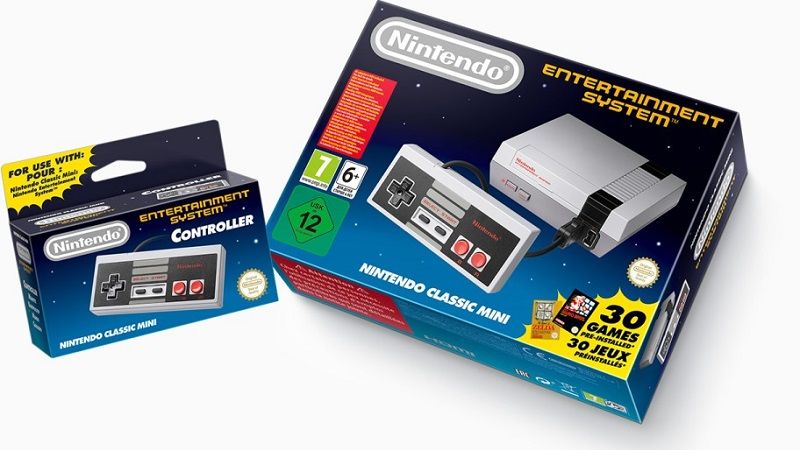 The Nintendo Classic Mini NES.
The moment I heard this console was coming out I nearly peed myself with excitement. I've never had a NES growing up, I was in the Sega Mega Drive (or Genesis) camp. My uncle did have an old NES but we went there only one or two times a year and I had to share the thing with atleast 5 cousins so actually playing never really happened. Imagine my surprise and excitement that Nintendo announced a special Mini NES containing 30 games out of the blue. Ofcourse I immediatly needed to have this and as we speak it's on pre-order at my favourite gaming store. For €60 only this little console is very very cheap. Due to it also being tiny I can imagine myself dragging it along to friends to play with. I just need to get my hands on that separate second controller, which for some reason wasn't in the system yet. I am super happy that I'll get to experience a lot of games that I've only seen glimpses of and finally will be able to mesh with the "oldschool" Nintendo gaming crowd. It's also nice to see how games have evolved from the NES to the SNES since I've been buying some of those on my 3DS on release (DKC 3, Megaman 7/X). Don't even get me started on the fact that I seriously love small, simple controllers and that I will be able to use this new NES controller with my WiiU aswell. If only I would've known earlier, I wouldn't have bought my WiiU Pro controller. But alas.
I really hope Nintendo doesn't screw this up like SEGA has with some re-releases of the Mega Drive including 80 games. I've read horrible reviews on that…
Speaking of SEGA. They have made a few announcements of their own! Seeing as it's Sonic's 25th anniversary they have been working hard on some new releases in the franchise which includes a trip back to the famous 2D platformer where it all started.
Sonic Mania! Just from seeing the trailer I feel like I'm 6 years old again and starting up my Mega Drive for the first time. My mum and dad had a go at playing themselves aswell and we all thought the system was amazing and gorgeous for it's time. For SEGA to release a major throwback like this just warms my heart and I can't wait to get the game on either my PC or PS4. Even when rewatching the Youtube announcement while writing this post the trailer gives me a real dose of nostalgia and memories of good times.
But wait… There is more!
Hello Project Sonic 2017. Although the trailer doesn't give away much it does hint to being able to play with other people. I don't know if this is online or not or if this some kind of MMO or not but man… Doesn't this look awesome? Also mark the fact that at the end of the trailer it says it will be released on the Nintendo NX aswell. Which means this is the second big gaming franchise, after the Legend of Zelda, who has a game confirmed for the NX. I know the game won't come out untill Christmas next year but atleast I will have something to majorly look forward to.
Sonic for me is just flashbacks to my childhood when it was very popular on TV, next to being an immense hit as a game and basically the answer to Super Mario at the time. Although SEGA may have left the competition when it comes to consoles, they have one of the best franchises to their name. And although not all Sonic games have been amazing it's nice to see them still doing so well after all these years.
All in all an amazing time to be a gamer. The only thing that could top this is Naughty Dog announcing they're doing a new Crash Bandicoot game for the PS4. If or when that happens I think I'll be one of the happiest gamers on the planet.