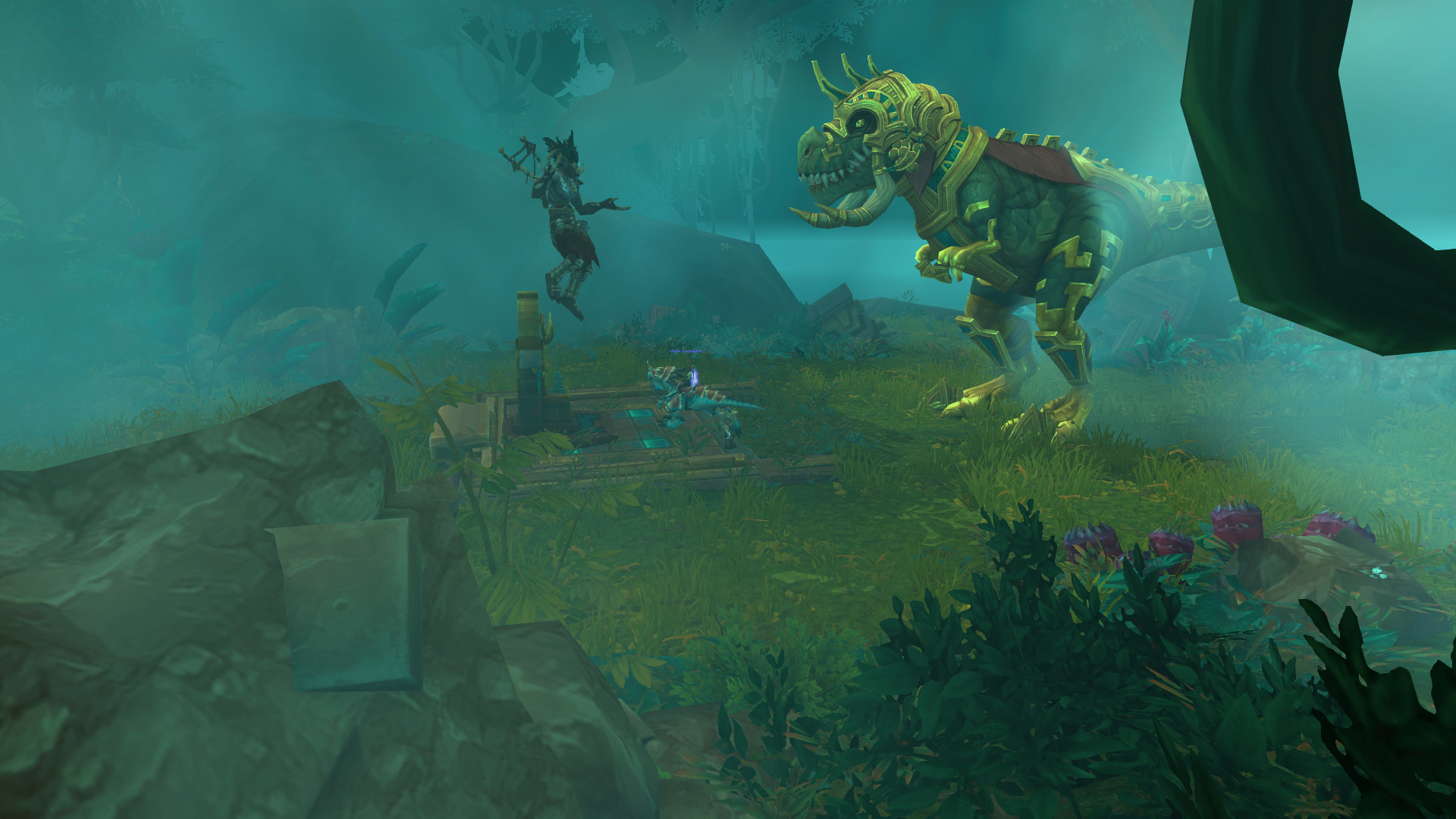 With Battle for Azeroth out for a few weeks now I figured it's time to start writing down my thoughts on the expansion so far when it comes to the things I have experienced, what I like and what I dislike. I could write an entire essay about this but for now I want to focus on three points. The best thing of the expansion, the okay/good stuff and the major disappointment so far.
From what I see around me the general opinion of Battle for Azeroth seems to be a mixed bag, as is usual the case with newly released content. People either seemed to love it or hate it from the get go but as time goes on opinions get more nuanced and as hyped up as people may or may not have been there are most definitely elements that are done good and bad in the game. So let us start with what in my opinion is the selling piece of this expansion launch:
The Lore
For me the story of the expansion so far has been overwhelmingly positive. I like how Alliance and Horde get their own continent and their own stories. It encourages people to take a look "over the fence" to see how the other faction fares because if you don't you'll miss out on roughly half of what Blizzards' lore team has created so far. Obviously some things could have been done better, like the dungeon introductions for opposite factions. So far though the zones have been great with Drustvar as the big standout to me. That was just the perfect zone story with the perfect zone vibe. The only one coming close is Nazmir but it just misses this bit of oomph that Drustvar has for me. The only zone I feel is a bit disconnected in a way is Zuldazar, but that has more to do with not really following a "road" through the zone but instead getting sent all over the place.
As far as the whole Horde vs Alliance narrative goes, it's less present than I thought it would be. Then again I opt to play with Warmode turned off. The War Campaign itself is rather interesting, especially since we get to team up with some people that deserved more spotlight like Lilian Voss and Shandris Feathermoon. All in all I'm liking where that story is headed aswell so the lore is the one aspect I'm absolutely positive about.
The okay
So Blizzard opted to take a few things from Legion and implement it in BfA. I'm okay with most of it. I prefer doing World Quests over dailies and the Mythic+ system is really nice aswell so I'm happy they have brought this along. There are still some tweaks to make here and there, like also implementing the paragon reputations again, but overall I'm happy that these elements remained in the game.
I'm also quite pleased with how the dungeons look. Even though some are a bit more hectic than others, Blizzard undeniably succeeded in making some dungeons to remember, again. One of the best ones in my opinion is Freehold, simply because one of the bossfight encounters starts out with having to catch a greasy pig and it's hilarious. Underrot is at the bottom of the barrel for me, but that's mostly because of the aesthetics of the dungeon itself. I can't comment on the raid yet because I've not stepped foot in it, but I will definitely poke my head into LFR as it comes out just to experience the story.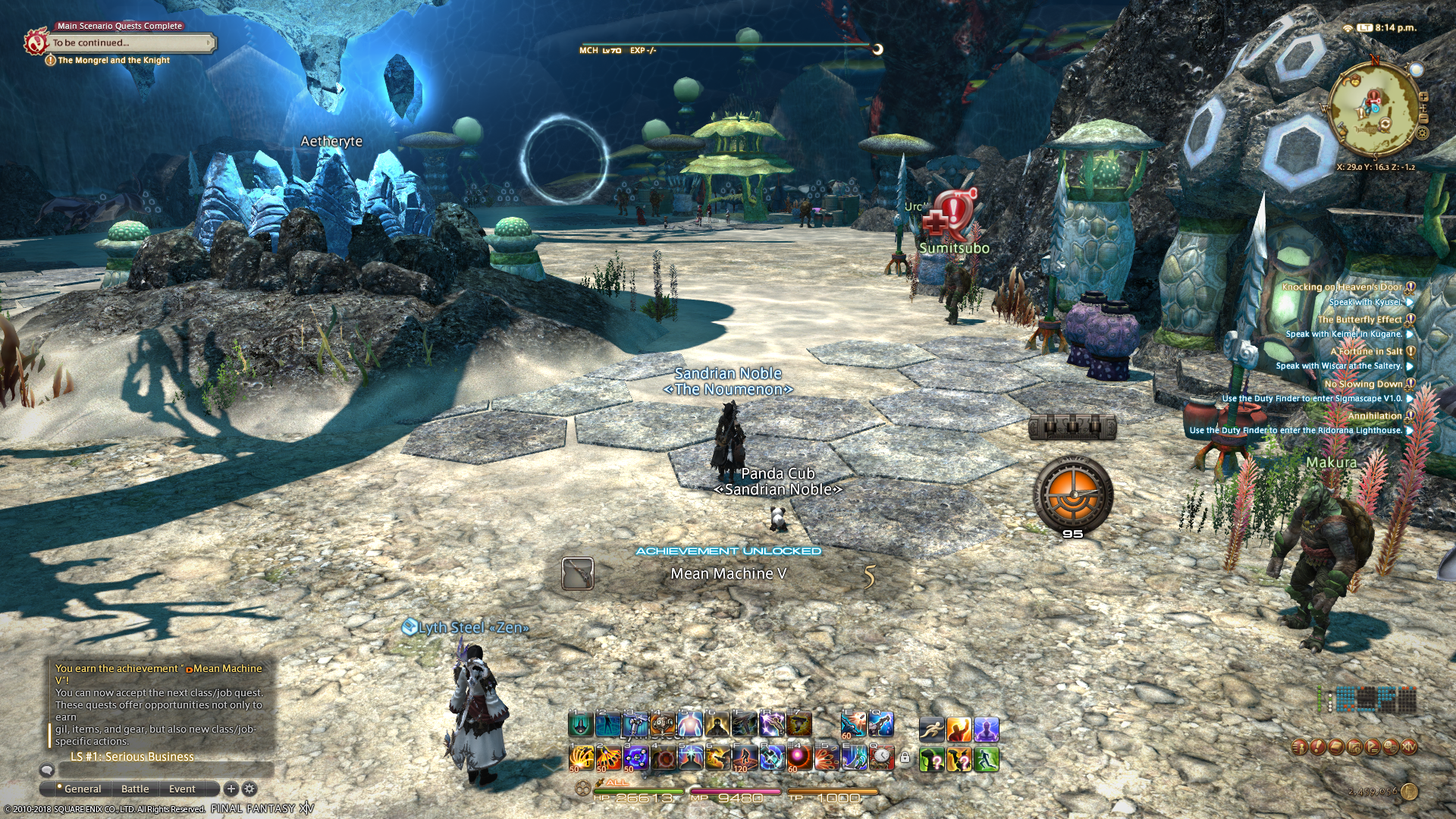 I've purposely inserted a picture of me getting my Machinist to level 70 in a post about WoW? Why? Because I'm going to discuss the final point I mentioned earlier: the big disappointment.
Alting
I could have picked numerous things here because I'm also disappointed with Island Expeditions and the Warfront stuff but my biggest disappointment of the expansion is once again how people who like to play multiple characters are treated. The biggest selling point FFXIV had for me was that I could play every available job and have every available crafting and gathering profession on one character. In WoW this means having to level alts. And where in Legion there was an incentive to level alts, because of the Order Hall stories, Class Mounts and Mage Tower challenges, in BfA I've already found out that I don't feel like leveling anything besides the two characters I have at level 120 right now. Even though I miss my Warrior and miss my Hunter and even want to poke my head back onto a Demon Hunter, the idea of having to work my way through the zones again and then stall out on the same World Quests I'm already doing with the same endgame grind to get gear and to get your Heart of Azeroth leveled up is just the biggest turnoff ever. And I do realize it's only a few weeks into the expansion and I will probably level something up at some point when I've done the big "start of expansion" grind it just feels so lackluster compared to Legion it's not even funny.
I sincerely hope Blizzard will implement something that will want to make me level more than the one Horde and Alliance toon I have right now, besides Allied races and their associated achievements, or I will see myself walking away from WoW again sooner rather than later.
As I said at the start there are more things I want to nitpick on than just the stuff I mentioned here. Warfronts, Island Expeditions, Azerite Gear. It's all things I think could be improved one way or another. Even though the faction fantasy is okay I miss the class fantasy from Legion and I miss my Artifact weapons and the quests associated with them. All in all though I'm still having more fun than frustrations so I will keep on playing for a while to come.
What do you guys thing about Battle of Azeroth so far?