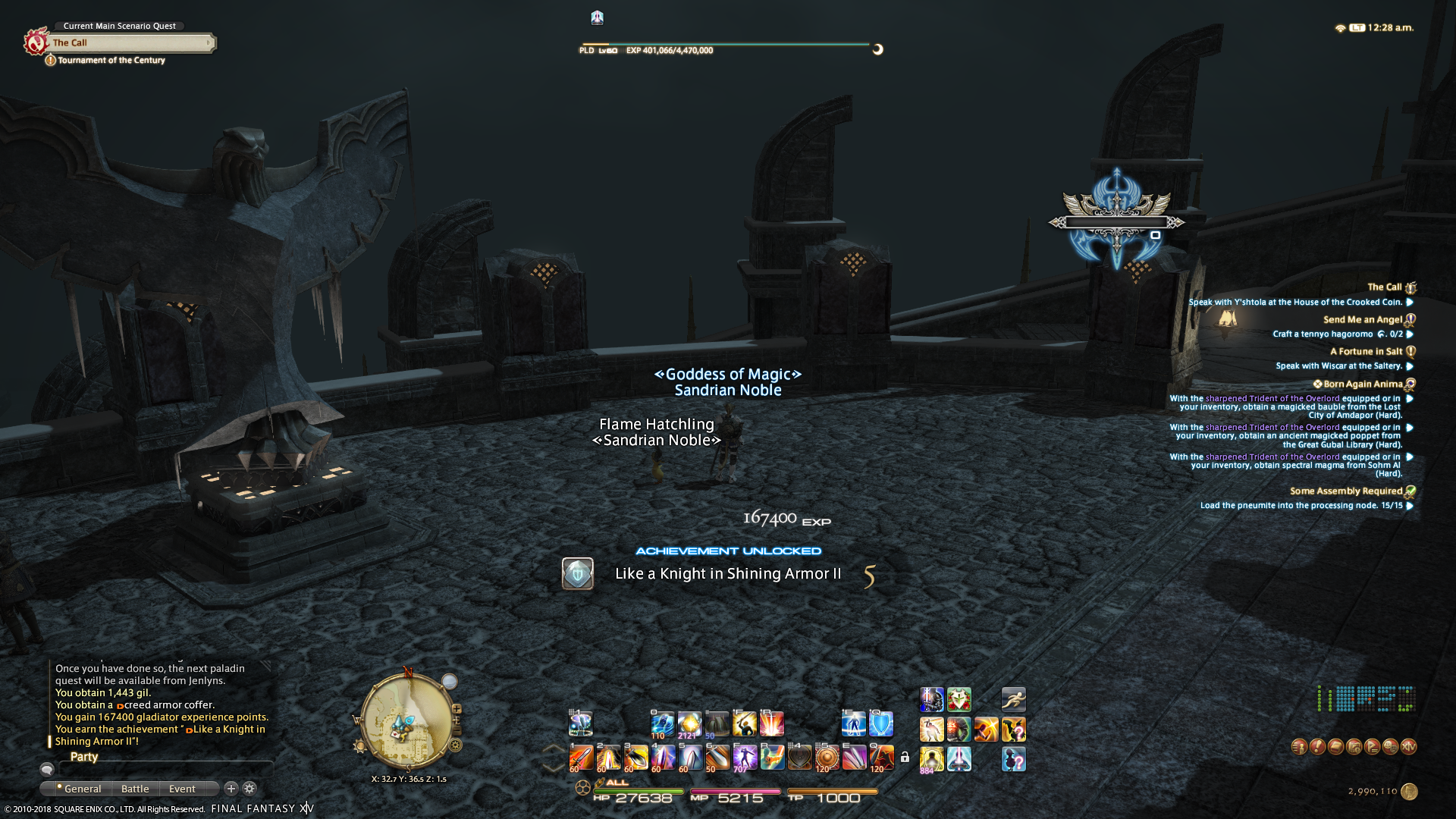 It's been an odd week for me. Pokémon LetsGO finally got released and I picked that up yesterday evening. I've been leveling my Paladin, although I've allowed myself to take a night or two off from that aswell and I've started watching the Chilling Adventures of Sabrina on Netflix.
With the new expansion announcement of FFXIV, Shadowbringers, I realize I've taken the decision to work on leveling my classes on just the right time. Blue mage is coming in patch 4.5, which probably means somewhere in Q1-Q2 of next year, and if all goes right I should be up for leveling a battle class again by then. Even though Square announced that the newly announced class will work a little differently.
I wasn't surprised at all to find out that we were going to Garlemald, the current expansion has done it's best to set up that premise. I'm also not too surprised that Yoshi P. hinted at Viera as the next race and I'm quite curious to see how they look. What did surprise me is the announcement of a "New Game +" mode. I may actually be quite interested in that, assuming it's done properly. I also really hope that they've learned of the mistake that is Eureka and bring back the relic weapon in a more traditional way in the new expansion. All in all there is a lot to look forward to concering this new expansion and if all goes well I'll be playing it at my own house when it comes out.
On the leveling front in FFXIV there's not that much progress to mention. My Paladin sits at level 65 and thus is only 5 levels away from reaching the cap. With near instant queues for almost all roulettes and the ability to queue up for on-level dungeons this has got to be the fastest class to level up together with Dark Knight and Warrior. I've also diverted some of my time this week to take a stab at leveling my crafting professions and working a bit on the Heavensward Relic for Dragoon.
As mentioned before I picked up Pokémon LetsGO (Eevee) edition last night and so far I'm really enjoying the game. It's really rather casual to play and even though I was a bit sceptical at first I actually really enjoy the new gameplay mechanics. Not having to wander through tall grass hoping this or that random encounter turns into the right Pokémon to catch is really refreshing and the interaction between your character and your partner Pokémon is just straight up adorable. It's a game that you can easily pick up and play for an hour or so and it doesn't really require much thought to play. I'm hoping that for once I can atleast complete the Pokédex on here, next to beating all the Master Trainers that are in the game.
Finally I've started watching a new show on Netflix: The Chilling Adventures of Sabrina. It's basically a more adult retelling of Sabrina the Teenage Witch, a show that was a big part of my childhood/teenage years. It's a bit more gory and horror like but so far no real scares. I'm about halfway through, I think episode 6 out of 10 and I'm probably going to finish watching it next week. After which I'll have to find yet another new show to watch, but that is a decision for future me.