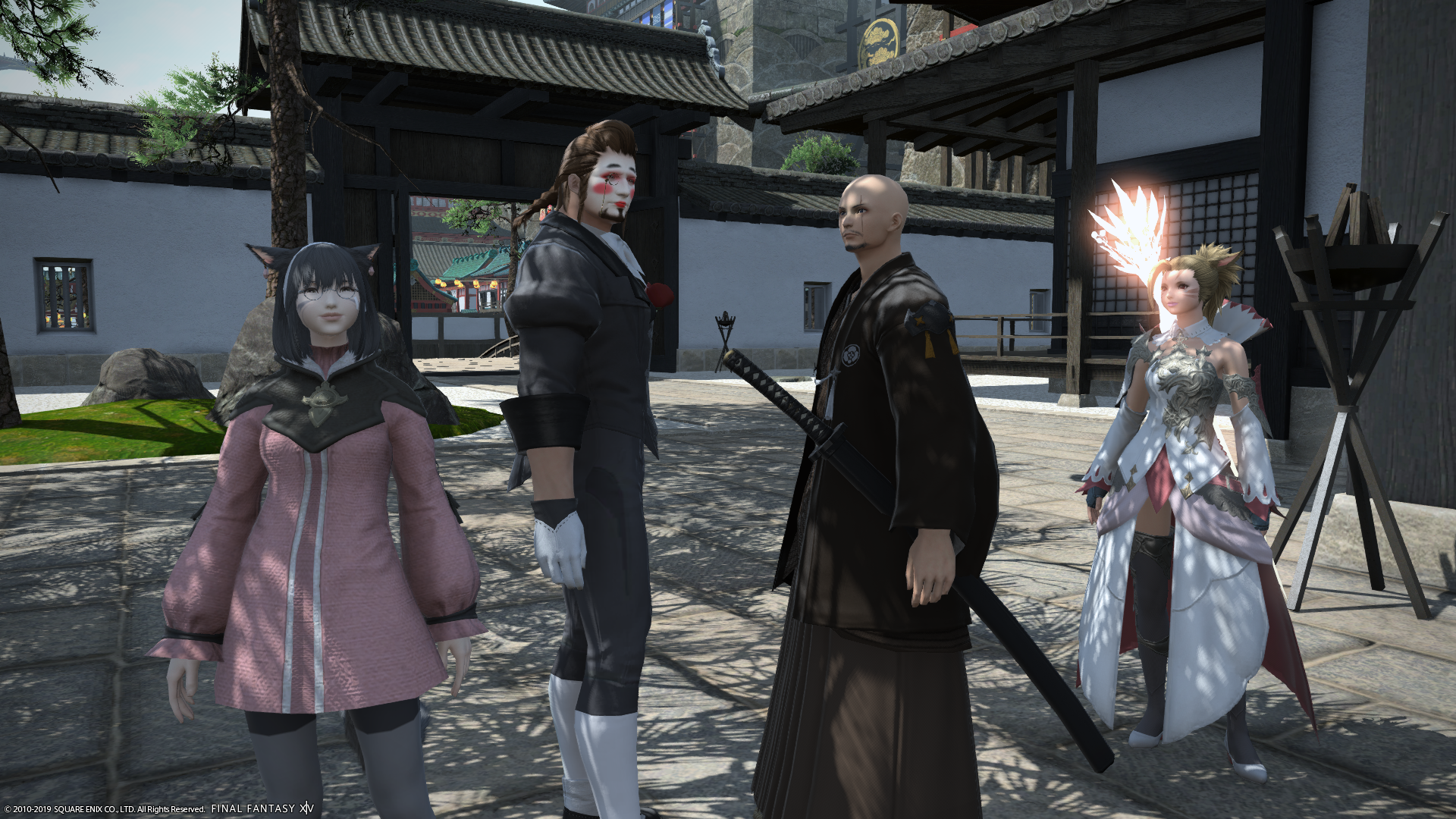 With stress around all my house related stuff slowly declining and with me actively doing less at work I can slowly feel like I'm having some breathing room again. It's not nearly where it needs to be and I'm still really conflicted about my work situtation and how to handle all of that but I can see some light at the end of the tunnel. And for that I'm grateful.
Due to me feeling like I'm slowly getting room to breathe again I'm also more motivated to spend my free time doing things other than lying in bed and sleeping all evening/day. I've made some real progress in FFXIV these past two days so I can start pushing things off my bucket list.
I've reached my goals for the month of getting all my crafters to atleast level 30, finishing off Leatherworker last. I'm also going to tick off the goal of getting my Carpenter to level 50 tomorrow. I only need about one more round of Ixal dailies to get that done and I'm sure I can even save up a few quests for the next crafter I'm planning to level up this way: Goldsmith. It's not the fastest way to level up your crafter but it's a steady stream of experience and it gives you 1-2 levels per day depending on how high your level at the time is. Due to getting fishing dailies aswell my Fisher is about to hit level 45, the nice little push that I needed so Im able to start doing Mor'Dhona levequests for this particular job. All in all I'm happy that I've reached a few of my goals this early on in the month and I hope I can hold on to this momentum when it comes to leveling my crafters.
Next to all the leveling I'm also focusing on cleaning up the endgame content that I still have open. One of these was the Hildibrand quest chain. I had started it and did a few quests here and there but never really sat down and just straight up finished all the quests that were available. Since today is Sunday and I had nothing planned for the day except a few chores I figured it would be the perfect time to sit down and grind out those quests. I'm glad I did because once again they are brilliantly done by Square Enix. It's taken me a few hours but I'm all caught up to the most current chapter and am now having to wait with everyone else untill they release the conclusion to this questchain. The next big thing I want to be working on is completing the Ridorana Lighthouse raid. I've never actually set foot in there and it's about high time that I did. It's kind of odd going in blind this late into the expansion but nonetheless I don't want to be spoiled too much on the story or the fights so I don't plan to read up on stuff before I queue up for it. It's one of the things that I want to do next weekend when again I will have a bit more time to play than during the week. They may be baby steps but it's so nice to see the quests go from my quest log…
Finally I've been busy completing hunt bills around the A Realm Reborn zones. Having the two-star mount speeds for the zones that I have to do my Ixal dailies in is just too nice to not have. As of right now I've attained all the scrolls I needed for that, Mor'Dhona/Coerthas/North Shroud, but I don't want to give up on buying those scrolls yet. I'm probably going to dial back the amount of time I'm going to spend on gathering Allied Seals but eventually I do want to unlock two-star speeds in all the old zones starting with the Shroud. I'm not sure how much I will get done for the rest of the month but I guess I'll inform you guys once March is over.
As final note I'm finally sure of my move date. I get my key April 5th and I hope to be all settled around Easter (which is two weeks later). I'm not sure when I will have internet then and I can't use my PC for a while since I simply don't have a place to put it. So this month will be the last month of my WoW subscription for now and I'm not sure when I get to play FFXIV again after I move. This means that most likely for April I won't make a gaming goal list and I will be blogging much less aswell due to not having access to my PC. All of this is still a few weeks away though so untill then I hope I can make a ton of progress in WoW and FFXIV aswell as retain this blogging mojo and keep you guys informed.