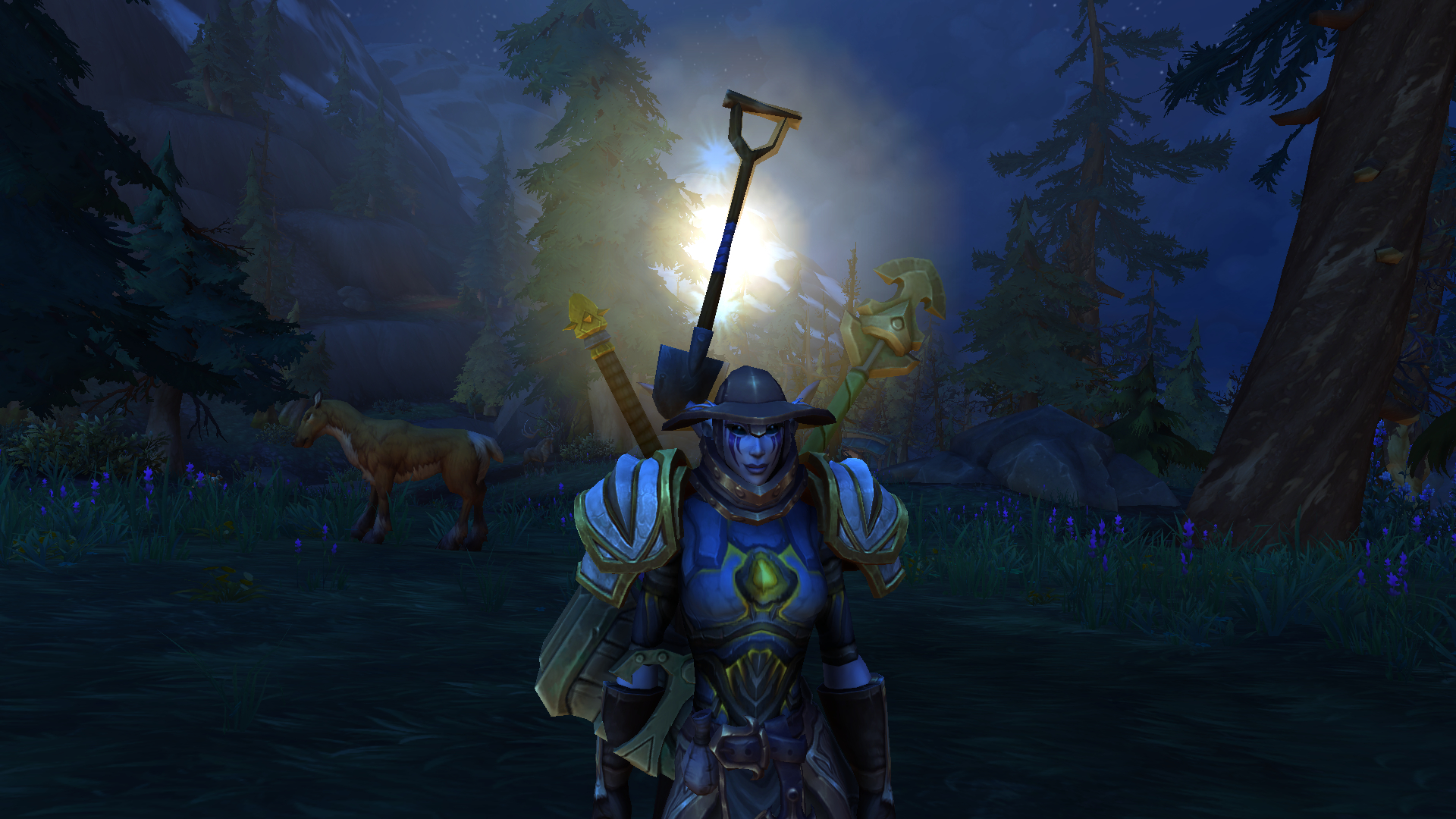 Is it February already? Where did the time go? It feels like January only lasted two weeks this year. Maybe it's because I've been extremely busy at work and dealing with emotional turmoil due to my friends' illness. Maybe it's because I've taken up working out again, making some of my evenings and weekend mornings fly by aswell.
All in all it's been a chaotic month for me and on the work and personal front it seems like that's not going to end anytime soon. But I don't want to look at my personal stuff in this post, but instead look back at the goals in gaming land I set for myself and see how I fared…
In FFXIV:
Get more battle classes to level 80. I have 6 to go, with Ninja currently being 77. I hope to get Ninja and atleast two others to 80 by the end of the month.
Work on getting my first crafting classes to 80. With Ishguard restoration this shouldn't actually be too hard. My Carpenter is 77 as we speak so that should be able to get to 80 fast. Ideally I want 3 Crafting classes to 80 by the end of the month. Let's say Carpenter, Weaver and Leatherworker?
Level up Fishing. I'm currently sitting on level 64 and I want to get atleast to level 70 this month.
Level up Blue Mage. I want to hit atleast level 20 by the end of the month.
Complete all the side quests that are still up in the First
Work towards rank 3 FATEs in Ahm Araeng and the Tempest. Preferably I'll have both done by the end of the month
Wow. I really thought at the start of the month that I would be able to do this. However because of work and other stuff I've actually barely logged on to FFXIV the past month. I've been slowly chunking away at leveling my Bard, she's level 75 right now, with Trusts. And I have to say that leveling Trusts is boring and grindy and probably the reason why I've been logging less than I wanted to. I did the New Year's event, Heavensturn, and will probably do the Valentione Event somewhere this week but man. Maybe I should just drop this whole leveling Trusts thing for now and just focus on doing stuff I enjoy while leveling up instead. I did get Ninja to 80 at the start of the month so there's that. I really need to think long and hard about what I want from FFXIV in February.
In other MMO's:
Make progress in LOTRO. I'm level 3 and at the absolute beginning of the game. I have no idea about the layout of this game yet and how zones and other stuff works so I just want to head out and explore and see where that ship strands.
Finish off the current zone I'm in on my character in Guild Wars 2.
So I discovered this month that I just really don't have the time or patience to start from scratch in a new MMO. Just having to relearn everything from the bottom up is not something I've enjoyed. So my little experiment with LOTRO will end here. Maybe when life isn't as chaotic and I've found my perfect gaming rotation schedule I will put this back on the menu. For now though both LOTRO and GW2 will be put back into the closet. I may break out GW2 on occassion to atleast unlock the episodes of the living story but that's it.
On the other hand I started playing WoW again. I want to see the new 8.3 content and start working on the Legendary cloak. Instead of picking up where I left off on my Rogue though I've decided to take my Warrior to 120 instead and play her. I missed the Warrior too much in the end and I want to do the Legendary stuff on her for now. I managed to get to level 120 a week ago, with the final level solely on doing Archaeology digsites, and now I'll have to focus on gearing up so I can start the 8.3 content. I'm still very casual and basically only play on the weekends for now but atleast I'm enjoying myself!
In single player games:
Finish the Pokémon post-game questline
Get 200 Pokémon registered in my Pokédex (atleast!)
Pick Spider-Man back up for my PS4 and play through/finish the game
I actually rocketed through Pokémon and got both the goals ticked off pretty fast. I actually had a blast doing it aswell! I've been keeping up with the Max Raid events that they have been releasing. I'm also hoarding up Pokémon that evolve through trading so I can trade my friend when he comes over and fill up my Pokédex even more. I'm definitely putting this game back on the menu for my February goals because I want to keep working on my Pokédex. Now if only I could finally catch a Ditto…
Spider-Man has been a bust. I've barely played on my PS4 to begin with this month and all the time I did play on it either went to FFXIV or, last week, to playing the Kingdom Hearts 3 Re:Mind DLC. Instead though I've started playing through Cat Quest on my Switch and having a ton of fun doing that instead. It's a short game and if I play like I've been doing I'll probably finish it somewhere this week. Because it's such a short game I think I'm actually willing to try for 100% completion. Even though the Switch version has no trophies like the PS4 version I will have to use a guide for it, but that's fine.
All in all I got a few things done, which I'm happy with, but less than I had planned. I dropped one MMO in favour of another and I once again realised that my moods are heavily influenced by what goes on at work and in real life. It is how it is, better luck next month?