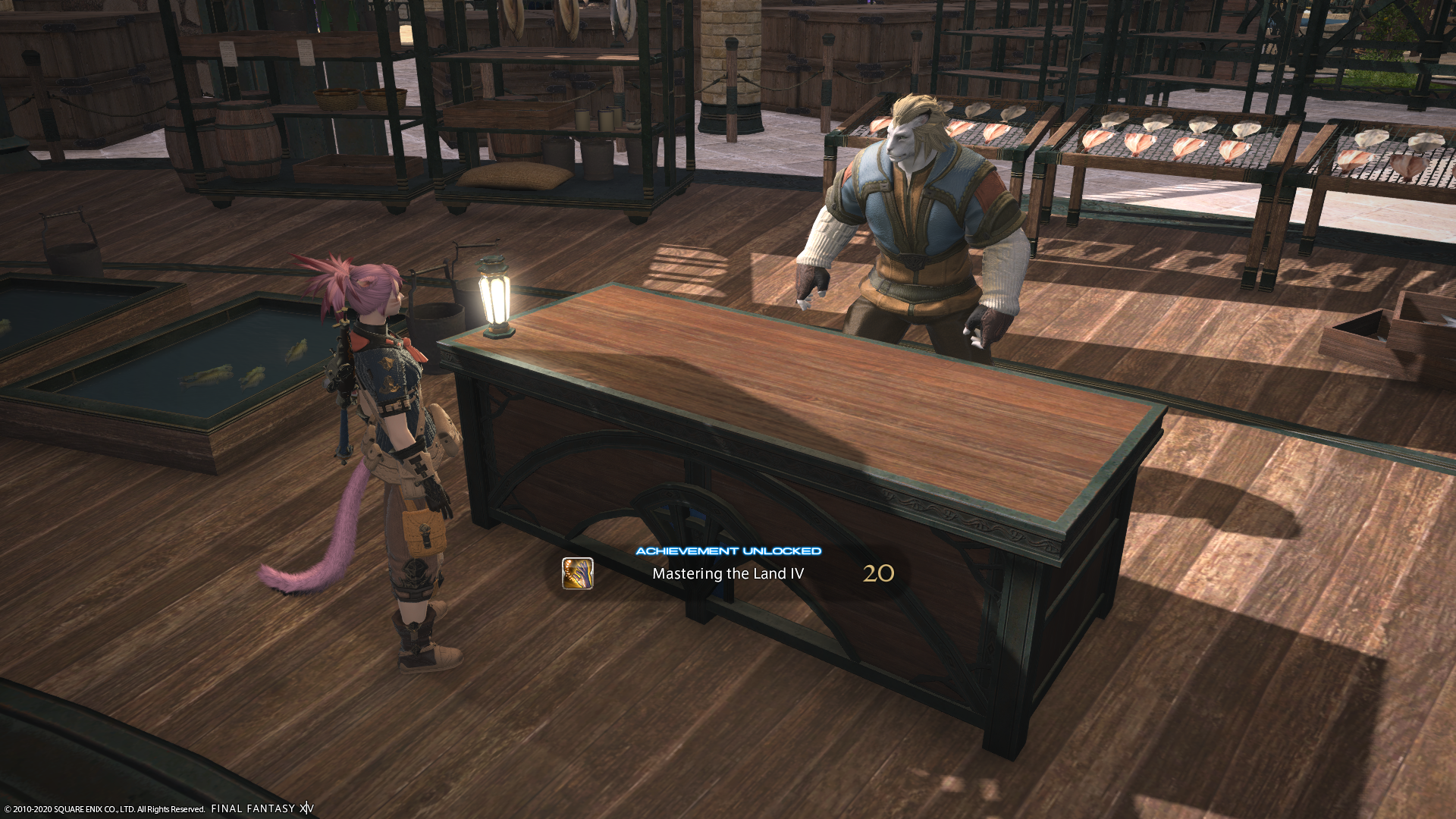 What a long strange week it's been. I've been sick. There was a lot of watching League of Legends and a lot of playing Final Fantasy XIV. Even though I guess I wanted to take a bit of a break from farming a lot in this game I couldn't resist the pull and have been spending this past week back on the leveling grind. This time for my crafters and Fisher, which was the last gathering job I didn't have at level 80 yet.
Of course that couldn't stand, so I looked at where I was on my Fisher and started tackling, haha, the Fisher quests from level 60-70 that I hadn't completed yet. I also used a few levequests to get to 70 and then I started doing the gathering dailies that were added a while ago to supplement my Fisher with even more experience. And today I handed in the final few fish for the Crystarium questchain to push me over the edge and get to level 80. Another job leveled and another notch on my belt in FFXIV.
This leaves me with figuring out what my daily routine in FFXIV will be. I expect to spend a lot of time here untill Shadowlands launches at least, seeing as I don't think I'll play that much during pre-patch. Of course I'm going to do the event but I've already chosen my class so apart from getting used to "new" rotations and talents I think I'm all covered on the WoW front. So that brings me back to FFXIV. Since I'm leveling my crafting jobs anyway the Dwarven beast tribe dailies will stay a daily item on my list. Other than that I'm focused on gearing up my battle jobs so Expert Roulette will be a daily occurence aswell. I may throw in other roulettes aswell, even if it's just to earn Poetics so I can buy the last few Shadowbringers relic weapons that I'm missing. All together that should provide me with about an hour to an hour and a half of time that I "need" to spend on FFXIV to get my stuff done on a daily basis. Not too bad at all, especially considering the fact that I've picked up Xenoblade Chronicles 2 again and want to spend some time getting properly into that game and hopefully finish it in the forseeable future.
Next to the daily stuff I want to finish off the Crystarium quests for Fisher and unlock the title that comes from that. If it's as easy as the ones I've had so far that should be a breeze and probably doable in a single evening or day. There's also some other Crystarium stuff that I can still do that is related to my crafting jobs. I may look into that aswell. All of this is not that urgent though, but a "nice to do" type of thing. With having all my battle jobs leveled and, hopefully, soon all my crafting jobs aswell I'm rapidly approaching the point where I really need to think about what I want to be doing in FFXIV, especially since I don't really tackle endgame content there. However my time will probably be cut short by Shadowlands at that point, so I will deal with that once I get there.
All in all I'm pretty happy with my progress in FFXIV and I hope to be able to keep it up and get everything to level 80 sooner rather than later. For now I've happily cleared out my inventory of all my old leveling gear and can enjoy the look of a mostly empty armour bag again. Now I just hope I can keep it that way.