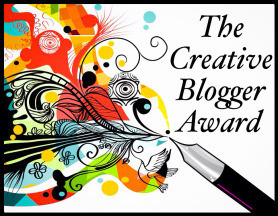 Today, or well technically yesterday, the lovely Chestnut of Gamer Girl Confessions nominated me for the Creative Blogger Award. Apparently this means I have to write a post! I'm not fuzzy about it though since I'm still laying low on the gaming side due to being tired and not wanting to hurt my wrist more than I already have. So here I am writing this post instead!
I got in touch with Chestnut during the Blaugust month last August and I've been following her blog ever since. I love how passionate she is about Wildstar and I would probably play the shit out of it in her guild, if I wasn't literally on the other side of the globe. Which makes me sad. Not having the same timezone sucks!
So yeah, apparently this CBA comes with rules.
First one: thank the person that nominated you for being nominated (thanks Chestie!) and include a link to their blog (points up).
Second: Post five facts about yourself.
Number three: Nominate 15-20 ppl of your own (never going to make that)
Fourth: Notify the ppl you have nominated
Last: Post the rules so everyone will know what to do!
Now that we have that out of the way…
Fact number one
I am notoriously bad with finishing games. Like really. I will buy a game, play 3-4 hours of it, will love it to death and then shut down and never look back. I have so many games lying around with a few hours into them that I want to finish but never do… And instead of going through my backlog of games I keep buying more and more. I'm a disaster!
Fact number two
I am addicted to Diet Coke (or Coca Cola Light as it's called here).  I can't go without it for even a day. Although I have brought down my daily intake to two glasses a day now I still can't seem to just stop drinking it. I guess it's the combination of caffeine and coke!
Fact number three
Even though the post count on this incarnation of the blog goes back to 2013 I have actually been blogging longer than that. My old blog is deleted however, so I can't really look back on what I did before Aeternus Gaming, but my blogging career stretches back way into 2011.
Fact number four
I'm actually a very huge lover of make-up despite having bad, dry skin. I've invested a lot of money into building a decent collection and my favourite make-up item is lipstick and lipbalm. Especially Baby Lips by Maybelline has been a bit of an obsession for me and I have about 7 of them lying around my room and bags. But lately I've been buying more expensive brands, branching out into MAC and Clinique.
Fact number five
If my ex didn't introduce me to World of Warcraft I probably wouldn't be a gamer right now. Before WoW I would only casually game in the form of some Sims or Zoo Tycoon. WoW became a real addiction and even though I play much less than I used to in general, it actually turned me into a Gamer and, consequently, a Gaming Blogger. So thank my ex for me being here!
Now onto the nominations. I actually don't have that many people I follow, but the few I do haven't been nominated as of yet (I think?)
Missy of Sparks in the Horizon
Belghast of The Aggronaut
So that's it folks! Hope you enjoyed the read.