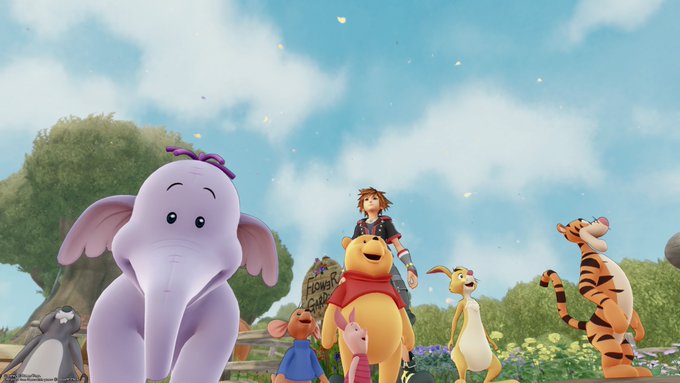 With it being tropical humid temperatures outside I've spent my Sunday so far bunkered down in my house, playing games and just not really doing anything that would make me sweat. I've done enough of that yesterday when I went into town to do some shopping/get my eyebrows done and cleaned my house before my uncle and aunt came along. So today it's a day for some relaxation, gaming, and doing not much of anything in general. Which is good because it has allowed me to put a few hours into Kingdom Hearts 3 again.
Last time I played I was about halfway through Monstropolis and still in monster form. I've finished that world now, and got the keyblade from it, and moved along to Arendelle with a sidestop in the 100 Acre Woods. It's a small adorable world that consists of mini games to get through. As added perk you earn fruit/vegetables from playing said minigames so I see myself going back there again to earn more ingredients for the whole cooking mini game. Before I went to Arendelle I went back to Olympus to find all the King's Emblems (imprints or shapes that look like Mickey Mouse's head) and take some pictures the Moogles asked for. It's really fun to go back to these worlds after you're done with them. In Olympus you see Thebe being rebuilt and areas that were previously inaccessible are now free to roam. There's still Heartless spawns to consider though, you can't just run around the world without being attacked.
All in all I've spent around 3 hours playing and I feel like I've been making decent progress again. It's the start of what I'm planning to do more on weekend days where I don't have any other plans. Although I need to watch that I take regular breaks when playing and that I don't forget to eat and drink, which has happened today. I'm not sure how long it will take me to finish up Kingdom Hearts 3. From what I'm aware of I still have atleast three more Kingdoms to play through: Arendelle from Frozen, San Fransokyo from Big Hero 6 and The Carribean from Pirates of the Carribean. I'm sure there's more to explore after that and I can always go back to collect stuff from the older worlds when I don't feel like advancing the mainstory. I think there's a "true" ending as well, although I'm not sure how to get to that just yet. For now though I'm happy to get a few hours of play in, make a bit of progress and then put the game down untill next weekend when I have time to devote to it again.
As part of my goals set for this month I've also started up a game on my 3DS again: Detective Pikachu. It's a game I had for a bit but never really touched up untill now. I've seen the movie two weeks ago and even though I know it's inspired by the game, it's quite a bit different from the game itself. I'm also of the opinion that, so far, the game is really hand-holdy and kiddie like in how it plays. I'm only 1.5 hours in, finishing off the first chapter, but I hope it becomes a bit less easy as the game comes along or that the story gets interesting enough that I don't really mind the gameplay. I guess the main thing bothering me is the fact that the game forces you to go through things in a certain way, even though you've figured out the "case" early on. I guess it adds flavour and story to the game to do it like this but I also feel this game may have not really been for people like me who see the answers immediately and still have to go through the motions.
As final bit of news. I dinged level 70 on my Carpenter in FFXIV yesterday and managed to finish up both the level 68 and the level 70 job quests, so I can honestly say I'm completely done with that crafter.
If all goes well my Goldsmith should hit level 50 after reset rolls around today… Meaning I can move her along to Moogle dailies and start Alchemist on the Ixal ones. I've come to realize that the Ixal dailies can be done quite fast if you just ignore the fishing ones and pick up  everything else. It may sound silly but I just really, really dislike the fishing ones so I dodge those when I can. It's made the Ixal dailies much easier to deal with for me personally so I think I'll just keep to this strategy as I level more of my crafters.
Finally I've started to partake in the Moogle Tomestone event that is going on in the game from now up untill Patch 5.0. My goal is to get the Pegasus mount atleast and maybe the Namazu earrings. I've chosen to run Labyrinth of the Ancients for now because I want the tank set from there for glamour purposes. Once I get that set I will probably move on to Syrcus Tower so I can get the healing set from there. Unless I'm really lucky I think a bunch of runs will be in my immediate future just to acquire all the pieces of these sets alone. Since these particular instances only reward two tomes per completion I'm aiming to run multiple of them during week nights after I finish my crafting dailies. I'm not really sure yet what I'll be running when I get both the sets, but I'll see when I get there.
For now I'm happy with how this weekend is turning out for real life stuff and gaming stuff, and I can't wait untill it cools down tonight so I can open all the windows and my balcony door and let in the cold.