Literally getting my feet wet
When I came home on Wednesday evening I was in for a nasty surprise. Getting upstairs and into my bedroom after dinner I discovered quite an amount of water on my bedroom floor, courtesy of a leak. A combination of a partially clogged gutter near my skywindow and a ridiculous amount of marble sized hail proved to be a fatal combination to handle for the outside works thus "flooding" my room with water.
Luckily for me the area with my bed, desk and clothes closet was spared, thus leaving me breathing a sigh of relief as I saw all my electronics being intact and not having to deal with a wet bed. The only real victim of this whole ordeal has been the rug I used for under my deskchair, which is now sitting in the outside garbage bin because it was completely soaked. It didn't give up without a fight though, seeing as it left behind quite a big chunk of rubber remains that I have for the most part scrubbed off the floor yesterday.
All in all not the best two days for me personally.  I have been quite sore all over today due to having to scrub the damn rubber off the floor and assisting my dad with maintenance work on my roof. Having to hold a tilted skywindow over your head for about 20 minutes is a real test to your arms, can tell you that much.
Picross Madness
I posted earlier this week about My Nintendo, Miitomo and the rewards program and mentioned that I had gotten The Legend of Zelda Twilight Princess: Picross game.
I really love Picross. It's one of those games that has you think about your moves and keeps your brain healthy. Combine it with a game series I'm really starting to get into and you have a gem of a game. I'm currently over 2/3rd of the way completed when it comes to the game. There are three modes of play: Picross, Mega Picross and Miicross.
Picross is the original game with the numbers and squares. You can opt into hints or not and after the inital tutorial there are 45 puzzles to complete ranging from 10×10 squares to 20×15 squares.
Mega Picross is the same puzzle buildup only with a twist in the puzzles themselves. Instead of having rows and colums seperately with numbers they have replaced some of them with numbers that span two rows or colums at the same time, making the puzzle a bit more challenging to complete (See picture below, it's from Pokémon Picross but the same idea).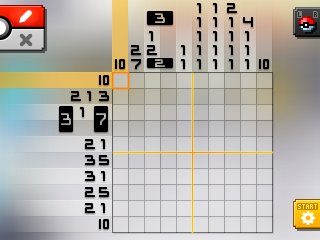 The last play mode option, Miicross, is a very large picture broken up into about sixty 10×10 puzzle grids. Solve them all and you unlock the picture.
So far I've completely solved the normal Picross mode and the Miicross and am now steadily working my way through the 10×10 grids in Mega Picross mode.
I find it a really nice puzzle game to play. I play it at home to relax after work or when I just don't feel like starting up any of my machines. It's also a nice way to spend the 15-20 mins on the train every day, making me be at my destination before I even notice.
The music is nice and not too annoying when played constantly and the graphics, as far as they matter, look good. The only downside so far has been that with the bigger puzzles the squares you need to tap to fill in get smaller and especially around the bottom edge of my screen it sometimes doesn't really tap the right square, causing me to make an error and thus giving me a time penalty.
Time is  a thing is this game in so far that if you go over 30 mins in solving a puzzle you will not unlock the coloured picture. Going over 30 mins has proven to be almost impossible though, unless you keep on making mistakes so they have been really easy with that.
All in all I've really been enjoying this game and I feel like it's a very good way to spend my first 1000 platinum points of the My Nintendo system. I'm currently saving up to get WarioWare Touched aswell, because free games are always awesome! And it will leave the programme at July 1st. With harking in around 200 coins every week though I should have that game on my 3DS in no time at all and have room to get both the Mario and Donkey Kong themes for my 3DS aswell.