Spring has finally arrived in the Netherlands and seeing as we don't have that much sun in our country, I felt like I needed to take the opportunity to enjoy the warmth and sun. So after spending yesterday walking around in the shopping area, getting my eyebrows done, shopping for new clothes and a new phone cover and picking up sunscreen for this year, I felt today was perfect to pick up my 3DS and sit in the backyard and play while trying to get some tan on my legs.
So I did just that and played about 2 hours of Pokémon Blue, defeating Misty in the second gym and talking to Bill to get my S.S. Anne ticket. The average level of my Pokémon is now 18, which isn't too bad after gym number two. My team currently exists of Wartortle, Bellsprout, Pidgey, Nidorina, Geodude and Jigglypuff. I'm hoping to replace the Jigglypuff and Nidorina with a Fire and Electricity or Psychic type Pokémon, but for the third gym Geodude will be amazing, so I'm definately keeping him on my team.
Playing through the first Pokémon game I realize how easy the later generation games have become. Training Pokémon and beating trainers on Blue is significantly harder than it is on Pokémon X and Alpha Sapphire, the two latest installments I have from the series. It's really nice seeing this oldtimer again though and I'm having as much fun playing through it now as when I had when I was 10 years old.
My coworker has picked up Pokémon Red and we're kind of navigating through the game together, picking opposite things so we can trade Pokémon to eachother later on for completion of the Pokédex. Ofcourse there is no way to get them all without atleast a third person with a third game around, but we do our best.
Another game I've been poking around on my 3DS in is The Legend of Zelda: A Link Between Worlds. I bought this game heavily discounted thanks to My Nintendo and I have to say it's a lovely game to play. Having only seen Majora's Mask and The Windwaker so far this feels like a more real Zelda game than the other two. I've only just started so for now I've only seen the top-down gameplay, but it's cute and simple and something I can see myself putting time into and even finishing within the considerable future. Together with Pokémon Blue though this takes up most of my "handheld" game time, leaving little room for other games to be played.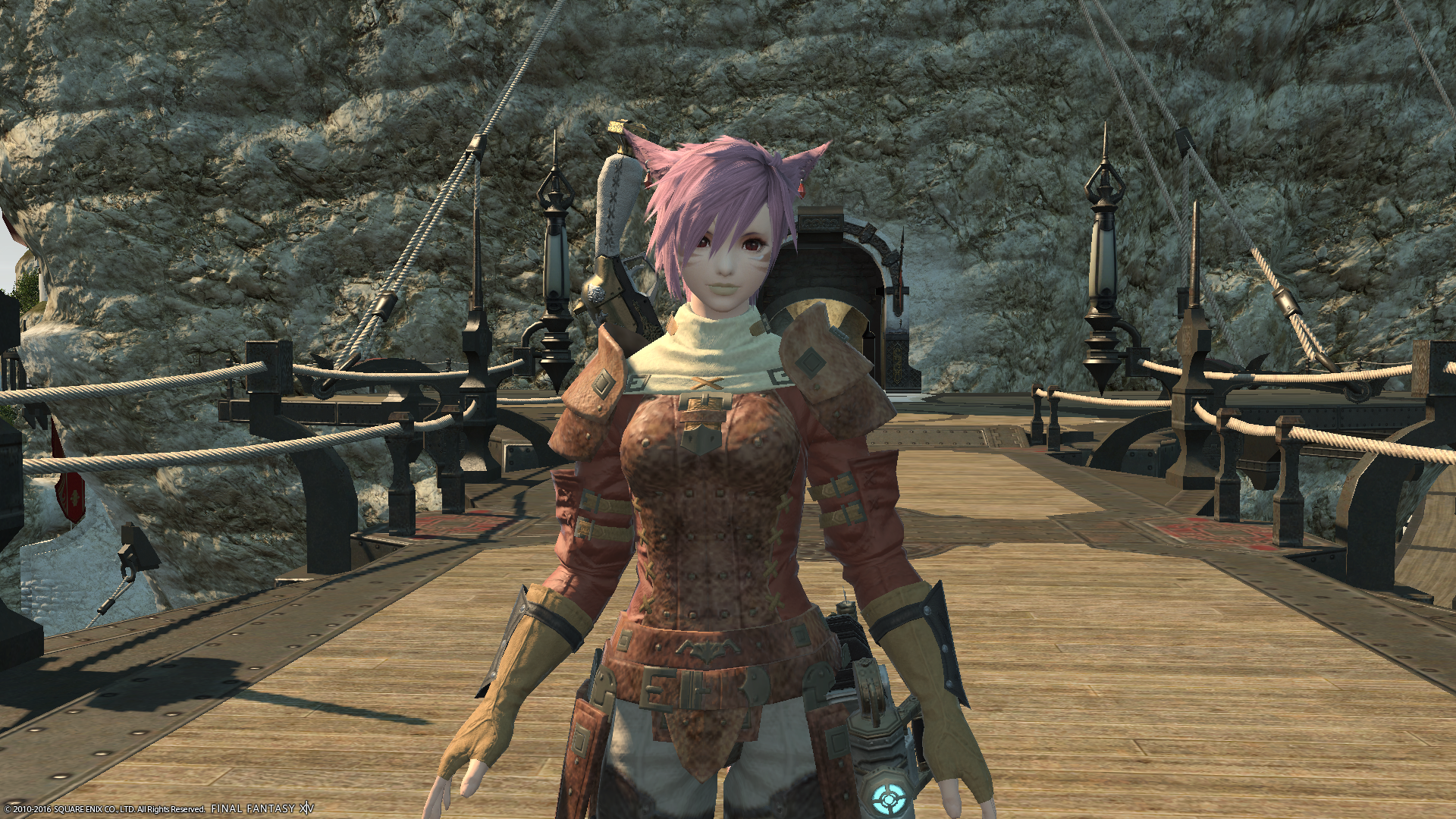 Progression in FFXIV
I gave my Miqo a new haircut. Normally I'm not fond of short hair, but this particular cut is super sassy and I love it on her. Pixie cuts are cute and if you have the right face for it they can look amazing, something FFXIV shows. I also am a huge fan of bubblegum pink hair so naturally I had to dye it that colour. Although the gear looks horrid (level 35 leather gear just doesn't do it for me) I love the way she looks right now and I don't think I will change it for a while.
So about that progress…
Yesterday I dinged level 40 on my Machinist. It's kind of funny that the more skills I unlock, the more I seem to enjoy the class. It's kind of what Bard was in the last expansion, only with more gadgets and more cooldowns to keep your eyes on. Playing Machinist is quite intricate, but if you play it well and use your cooldowns wisely you can pump out much more damage than meets the eye.
At level 40 you also get your first turret, the Rook variety. It has two forms, an attack form where it performs single target attacks on the same target you're using weaponskills on. If you upgrade it, it turns into a TP restoring turret, which is really nice if you run with melee. I immediatly got to take the turret for a testdrive versus Svara in the Coerthas Central Highlands. Yes. That Svara. I'm not really sure why Square Enix raised her from the dead just for a Machinist quest, but I'll take it.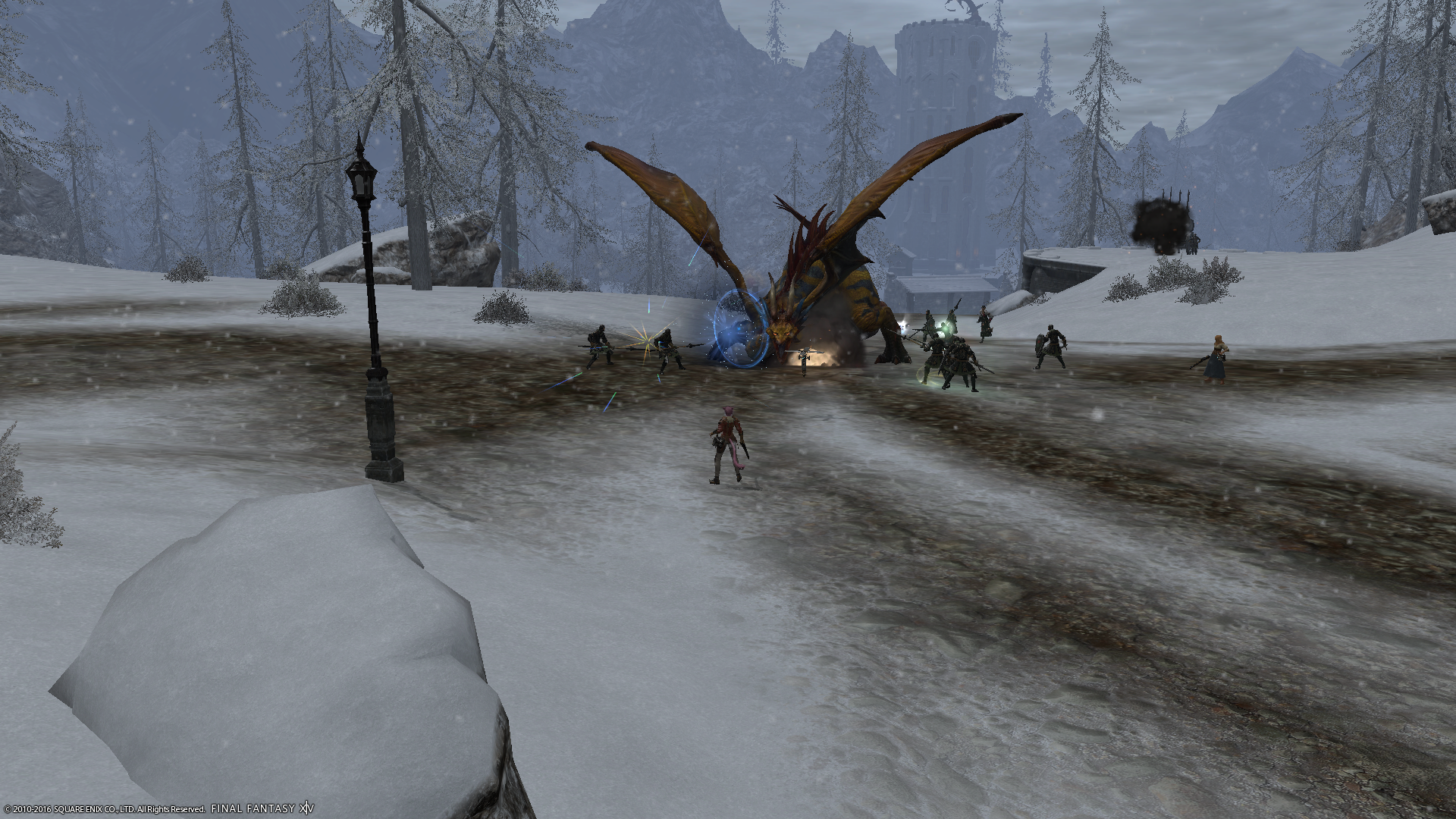 We took her down as a bunch of Machinists and all was well.
Having my Machinist on level 40 means I can focus on the Monk a bit again and bring that to the same level. Although Monk as a class isn't new to me, I'm still happy to play through the jobquests again and unlock the skills that turned Monk into the best Melee DPS in the 2.0 expansion.
All in all I had a really nice, relaxed weekend. I got to play through a bunch of Pokémon Blue and The Legend of Zelda and got some nice personal time in, which is about as important. I noticed that I can still lose myself in a game, I just need to actually sit down and play. And with that knowledge I hope to be able to push through a lot more stuff over the coming weeks.