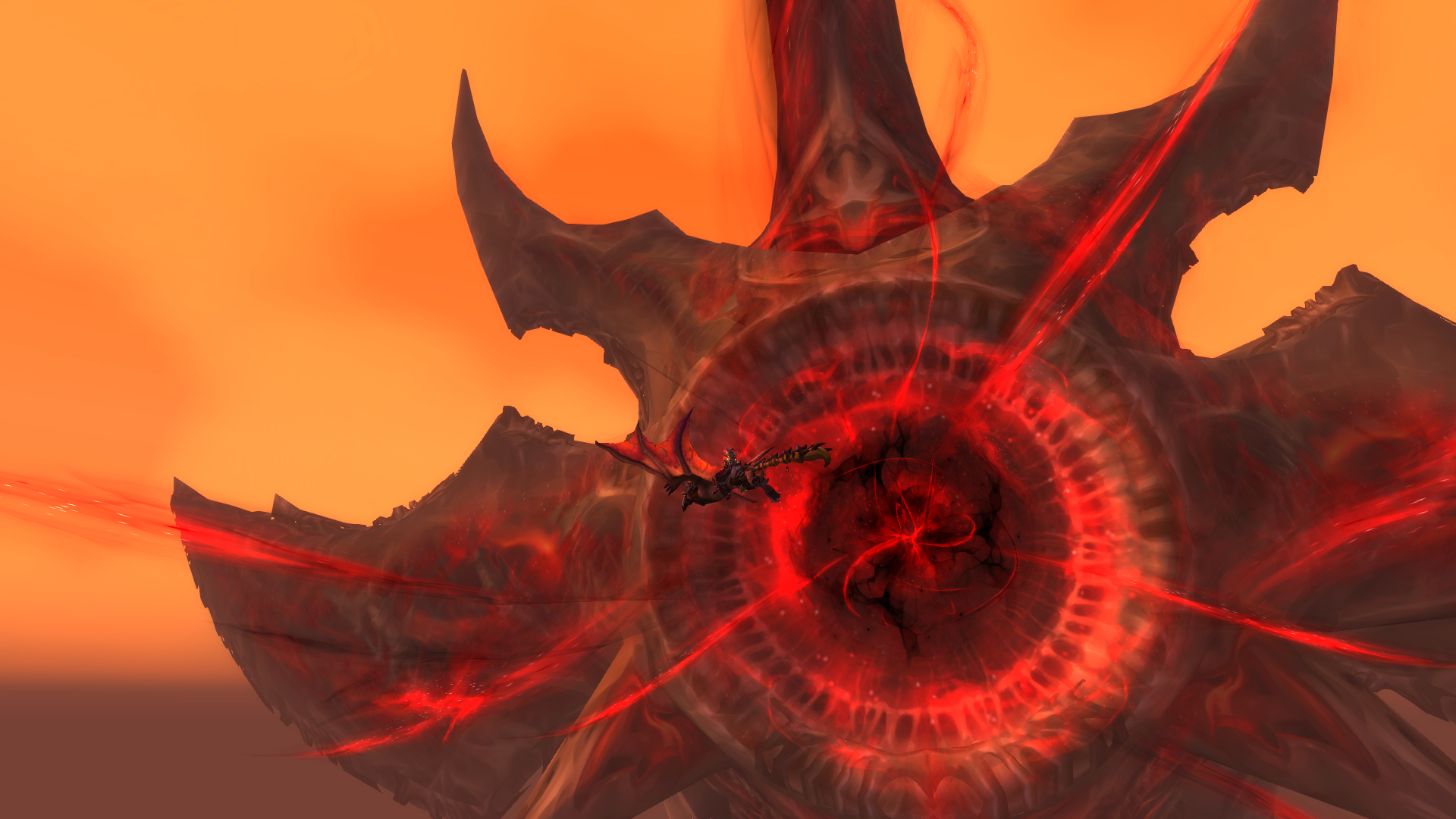 Today I want to talk about the Battle for Azeroth prepatch, the currently live War of the Thorns, my perceived ending of it and build a case why I think Malfurion Stormrage may indeed die and why the Alliance burn down their own tree. SPOILER WARNING!!! I will be talking about the prepatch quests and the "Before the Storm" novel by Christie Golden, aswell as reference some of the comics that Blizzard released aswell. If you still want to read the book or if you do not want to be spoiled, turn away now.
If you follow me on Twitter you may have seen that I've recently posted a bit of a thread where I explain that the Alliance may actually burn down Teldrassil themselves and why Sylvanas may not be as evil as Blizzard is portraying her to be. I want to dedicate this blogpost to that theory, why I came to that theory and what I think may happen in the BfA expansion. So without further ado, my very first tinfoil hat post!
Legion ending
We start my theory where Legion ends. Sargeras has driven his gigantic evil sword into the heart of Azeroth. Even though we beat the corrupted Titan, we suffered an extreme blow to Azeroth herself. In the wake of this event Azerite is discovered and we are sent to Silithus to investigate on both sides. We speak with Khadgar and Magni who tells us that Azeroth is suffering. In the narrative it seems that Sylvanas (and mostly Gallywix) were the first to discover Azerite. Gallywix tells Sylvanas of this amazing stuff coming up around the sword and he sends his goblins to start mining it (how he knows it's mineable will become clear in a few mins of reading time!). On the Alliance part of the fence Anduin is informed of Azerite aswell and the fact that the Horde has already begun with digging it up. So it makes sense for Alliance players to scramble to Silithus to stop the Horde effort.
This is basically where the ingame story ends for Legion. We have this huge sword that has exposed Azerite and Alliance and Horde will be fighting over this precious material.
Comics and Before the Storm
After we have restored peace to the galaxy a chain of events is set in motion. Sylvanas retakes Windrunner Spire with her sisters and they all realise they can never be a family again. This comic also shows that Sylvanas went into the meeting with more evil intentions, she had assassins ready to kill her sisters, and that the Void seems to be aware of an aspect of Sylvanas that no one else seems to notice, referring to her as a champion of "Death". We also see Jaina again and see the struggles of Magni Bronzebeard as he deals with Azeroths' pain.
The "Before the Storm" novel starts around where Sylvanas and Anduin both get a touch of Azerite in their hands. We see their reactions ingame but in the novel it's a bit more detailed. Azerite seems to boost your brain and give you amazing and terrible ideas. On Anduins side it is exactly like how it plays out in the ingame cinematic. On Sylvanas' side though, it seems a bit different. Gallywix doesn't actually hand her the Azerite but shows her the tip of his staff, that's made from it. He also reveals that Deathwing probably wasn't the reason for the Goblin home island volcano to blow up but the fact that the Goblins had been digging too deep and probably hit an Azerite vein.
Sylvanas orders Gallywix to find people to make weapons for her, which he does, while Anduin decides he wants to visit all the people that helped defeat the Legion and plans to make a tour to all capitals. He also for the first time enters the Netherlight temple, the Priest Class Hall, and sees that Priests of all races have no issues working together including Humans and Forsaken. He also learns that Calia Menethil is still alive, Arthas' sister.
I don't really want to go into details too much when it comes to this book but I do want to talk about the two major plotlines. The first is the Azerite race and how the Horde and Alliance deal with it. Basically it comes down to Anduin wanting the Cenarion Circle, Earthen Ring and Priests to go to Silithus and try to heal the wound at the behest of Magni Bronzebeard. Sylvanas however sees an opportunity to make powerful weapons so she can finally execute her master plan: Ravage Stormwind.
The second plotline is Anduin still hoping for some sort of peace. After seeing the priests of the Netherlight Temple working together in harmony he sets up a plan for Forsaken and Humans to meet eachother. On the Forsaken side of things a governing body, formed in the absense of Sylvanas, is all too eager to accept this invitation and after deliberations by both faction leaders (Sylvanas and Anduin) the meeting takes place and, as to be expected, goes horribly wrong. Sylvanas kills her own people that are trying to defect and kills Calia Menethil. Anduin manages to stop an all out war starting right there and then but doesn't prevent Sylvanas from realizing that she's not universally loved among her people and this probably angers her more than anything up untill that point. For Sylvanas this meeting was a moment of humiliation and defeat, defeat brought by a boy and a girl who was supposed to be dead.
Fast forward: War of the Thorns
So that leaves us with the prepatch. We have powered down Sargeras' sword as champions by giving up our artifacts and Sylvanas has come up with a plan to take Teldrassil. She explains her motivations to the player ingame, Teldrassil is the biggest harbor for the Alliance in Kalimdor and by capturing it she effectively cuts off Stormwind from obtaining Azerite. It is a great tactical move which is fueled in part by her desire to take revenge on Anduin after humiliating her. She is not planning to destroy it, she does not want to kill all the Night Elves except for one: Malfurion Stormrage. And even that is a tactical kill. She wants to defeat the Night Elves greatest champion in the hopes that they will break and she has a very easy time capturing Teldrassil. What follows are a series of quests that get their own twist depending on whether you play Alliance or Horde. The narrative is largely the same though, with the Horde having some knowledge that the Alliance do not.
Playing from the Alliance perspective you are surprised with the attack by the Horde and scramble to save whatever is left of Ashenvale outposts and Darkshore. You fight the Horde eventually and come to a stalemate at Wellspring River after which you tactically retreat and wait for reinforcements. From the Alliance PoV the Horde is the aggressor in every single way and you are scrambling to stop them.
Playing from the Horde perspective you start your war campaign by taking all the Night Elf outposts in Ashenvale and then regroup at Zoram Strand after it's clear that the Alliance is making a stand in Darkshore. Sylvanas however orders Saurfang to find an alternate route through Felwood and take a big chunk of the army with him. She takes the rest of the army and invades Darkshore and comes at a standstill at Wellspring River.
This is where the current story ends. Playing from both perspectives you can see how Blizzard wants to influence the Horde vs Alliance narrative. As Horde you only kill the guards in Astranaar. As Alliance you come there to find all civilians dead. As Horde you find Alliance already mining away at Azerite in the Master's Glaive. As Alliance you arrive to find the Horde doing the same. It's interesting and it's really pushing the "Us vs Them" narrative in a smart way.
So what happens next?
From all the information we have I can conclude a few things. Next to seeming a tactical move, Sylvanas started this war to show who's boss. After realizing she doesn't have universal control over her own people, let alone the entirety of the Horde, she needed to do something drastic to prove she's someone they should respect and be afraid of. The Alliance are actually caught unawares by this move, even though Anduin could have known Sylvanas would be up to something after their disastrous meeting in the Arathi Highlands.
With the next batch of quests coming out next week I'd like to make a prediction as to how this will all turn out:
Saurfang will be succesful finding an alternate way to Darkshore via Felwood and will have the Alliance in a two tailed grip. Sylvanas will come from the south and Saurfang will come from the north. Alliance reinforcements will arrive but it will effectively be too late as the Horde will have captured Darkshore in it's entirety. As last desperation move the Alliance retreats to Teldrassil, beckoning the Horde to follow. Malfurion will engage/distract Sylvanas and Saurfang as her army descends on Teldrassil. Sylvanas kills (or mortally wounds) Malfurion and makes her way to Teldrassil just in time to see how it is set ablaze with the Horde army trapped. The majority of the Night Elves escapes as the Horde army perishes in the fire. Sylvanas escapes back to the Undercity, taking Saurfang with her as she needs to recover from this loss.
Anduin, outraged and struck with grief over the loss of Malfurion then orders the Siege of Undercity and that will be the starting point of BfA.
So yeah. That's my version of how things will turn out. I know that it's a lot of buildup to basically only a paragraph of predictions but honestly we don't have THAT much material to work with here. I am eager to see how the story will turn out and if I am right in my predictions. I guess we know in about 14 days!