I arrived in Tremor Ridge in Algoroc before logging of from levelling Verana last time, but since it was already late then and I didn't feel like pulling an all nighter I decided to continue levelling yesterday. And I took pictures!
Coming in from the Northern Wilds you get a bit shocked when you arrive at Algoroc. It's prairie/farm country and suddenly a very suitable climate for short shorts and sheep!
Rowsdowers are a peculiar species to see. Spacesheep essentially. I've seen them already on my Aurin but not really as I've seen them here in Algoroc. According to game lore they appear to be quite resistant for anything so that they can be kept in hot and cold climates. They're mostly just silly to see.
I hopped into questing straight away and was sent up a ledge to collect Loftite Crystals and discovered a camp at the snowy top! It appeared one of the spaceships crashed and started leaking radioactive material. This led to radioactive creatures which weren't very happy to see me (maybe because I was smashing their eggs?) and some vessels of radioactive material spread out over this particular zone. And yes those did hurt when you got close to them. It was also the first bit of underwater questing I had to do there. It seems Mordesh have a bit longer before they run out of breath than other classes but even then it was nice to have streams of air bubbles under water.
After supplying Tremor Ridge with Loftite I went on my merry way to the next big town in the zone: Gallow. Where the first part of Algoroc is mostly prairie and cliffs, and apparently still some snow, the second part as you head to Gallow transforms into green farmland surrounded by woods…. With cows! Which ofcourse were under attack by wolves and predatory birds. Go figure.
Gallow is a lovely village, probably as rural as a space village in Wildstar can get. They send you on various quests, from saving cows to tracking down townsfolk to protecting the town against Dominion forces. A small note: When it turns night in Wildstar and you are in this zone you get a very fun challenge… Cow Tipping! When I activated that I laughed my ass off while running for my life because tipping apparently makes sleeping cows angry.
Unfortunately as you try to protect Gallow from Dominion Forces a lot of innocent townspeople are killed. Even the funeral isn't safe which leads to coffins with corpses in there just standing at the graveyard.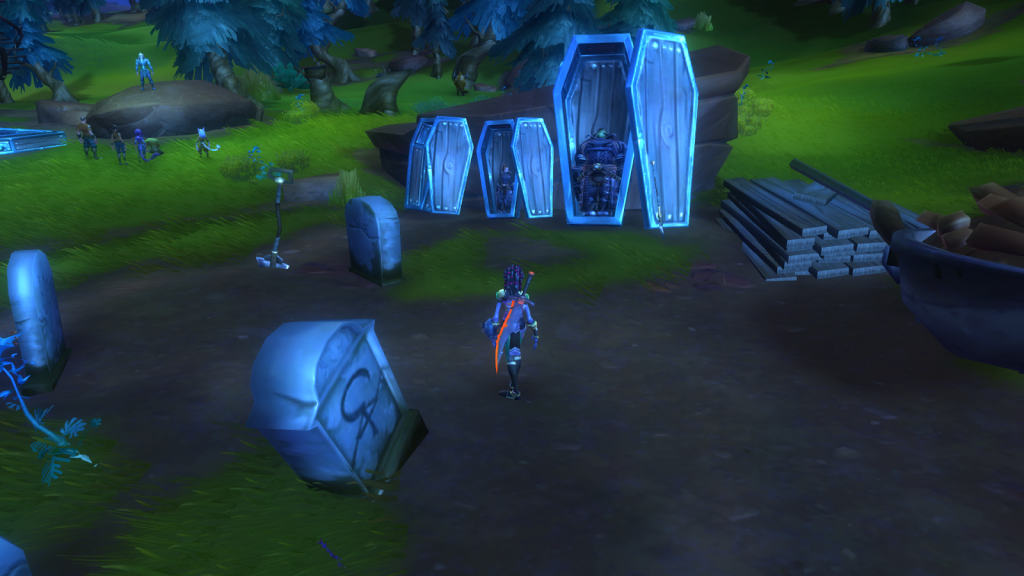 Kind of creepy.
I didn't manage to do the entirety of the zone unfortunately. I was outlevelling the main story quests fast because I got distracted by many sidequests and didn't want to be stuck in Algoroc forever. So I saw some area's that I didn't enter, like this mysterious arch.
The ending of the zone is quite epic and a first real encounter with the Eldan. There is this monstrous robot, the Annihilator, wreaking havoc and it's your job to find a way to shut it down.
Funnily enough most of my Scientist path missions were in that particular zone. So far I'm enjoying the Scientist. There is a lot of lore involved and you get to know a lot about the wildlife on Nexus aswell. It can be a bit tiresome to find all the data cubes in a zone, I didn't find all of them in Algoroc, but apart from that it's a fun path.