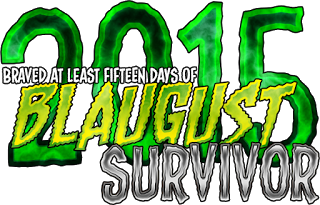 So. Belghast did a nice tally on his blog yesterday and I came out of the bus as one of the Blaugust Survivors. Which means I've written atleast 15 posts during Blaugust. I'm pretty happy with it. I had hoped I would make it to the full 31, but as I explained before my real life got in the way of things and well that was that. Even then, posting 24 posts on a blog that normally sees only about 7-8 posts a month is pretty amazing in my book, so I'm pretty happy with myself.
September Gaming Goals
As promised, here's the actual purpose of my post. My gaming goals for september!
Blizzard Games:
Finish Legendary ring on Sarelly in World of Warcraft

Battle my way to the highest rank possible in Hearthstone

Unlock wing two of Naxx and BRM in Hearthstone

Get my Seasonal Crusader to level 70 in Diablo III

Continue Heroes Project. 100 games on Valla. Pick up new hero.
Other games
Level WHM to 50 in FFXIV

Finish off act 2 in Mickey's Castle of Illusion
Play through FFX on PS4 (as far as I can).
As you can see, a much shorter list than my previous ones and it's mostly evolving around Blizzard games. I seem to spend most of my time there anyway so I guess it's only logical.
I think the biggest challenge from these will be finishing off my legendary ring on Sarelly and leveling my Seasonal Crusader on Diablo. My motivation to do either is very low at the moment. I'm half and half burned out on WoW (I really only log it to raid these days) and Diablo is on and off for me. I log for an hour or so, do some bounties or a rift and log back off again. I don't really feel the need to play with anyone either (seeing as that will only turn into boosts atm) and I'm mostly grumping and sulking my way through the game. But I really want the seasonal rewards so I guess I'll just have to suck up and level at some point.
Another thing I really want to start doing is play through one of my many console games. I bought FFX/X-2 remastered and barely touched it. The same goes for Thief, FF Type-0 and Destiny. Seeing as I'm in a bit of a solo mood I figured I'd pick one of the Final Fantasy's and just start playing from there. I really want to start finishing off games before I invest into new ones. This goes for my PS4 and PC equally since I have a Steam Library filled with games I barely touched as well. And there we land at the Mickey game. I really wanted to finish Act 2 last month, but I guess I'll have to do it this month.
I'm unsure why I'm so fussy about playing solo/offline games. I really like them, I just can't seem to focus my attention on playing any of them though.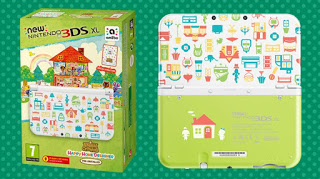 The big spend
I really, really, really tried to keep my spending to a minimum this month. I wanted to build up a reserve with all the money I earned from having a job… But when I saw this Animal Crossing edition of the new 3DS XL I caved and pre-ordered it.
I still have an old 3DS (the first version actually) and although it works fine I notice that it's aging. It's slow, the games take longer to load, the internet connection is slow and the screen isn't as clear as the newer versions. So yeah. I caved, I preordered and it cost me a bit of money… But it's too damn cute to let slip!