A part of me wants to go to bed and a part of me feels like I should atleast write a short blog about Bfa day two. Yesterday I've done all of Drustvar in one day and I wondered how long it would take me to finish up Tiragarde Sound. It seems to be an overall smaller zone with less quests and less space to cover. However I've already discovered tons of sidequests and finished off a few of the amazing mainquests the zone has to offer. All in all I think Drustvar still has the edge when it comes to storytelling and atmosphere but Tiragarde introduces us to many unique characters aswell. We also get a taste of the Old Gods influence and I got to perform in a jousting show on a horse.
The best part though was this adorable little hunting dog that was bringing me the birds I shot out of the sky during one of many sidequests Tiragarde has. I imagine it's sort of modeled after a Jack Russel Terrier although I'm not quite sure. He was kind of difficult to get a good screenshot off, especially because it was rather dark in game when I did these quests but the one above should give you a decent indication.
The darkness thing is something that caught me a bit off guard aswell. I don't think any of the zones get as dark as the ones in Kul Tiras have been getting. I think Blizzard may have amped up the weather or, and that's more likely, I'm noticing it more now that we are running about in zones that are more open and feel more natural than the Legion ones.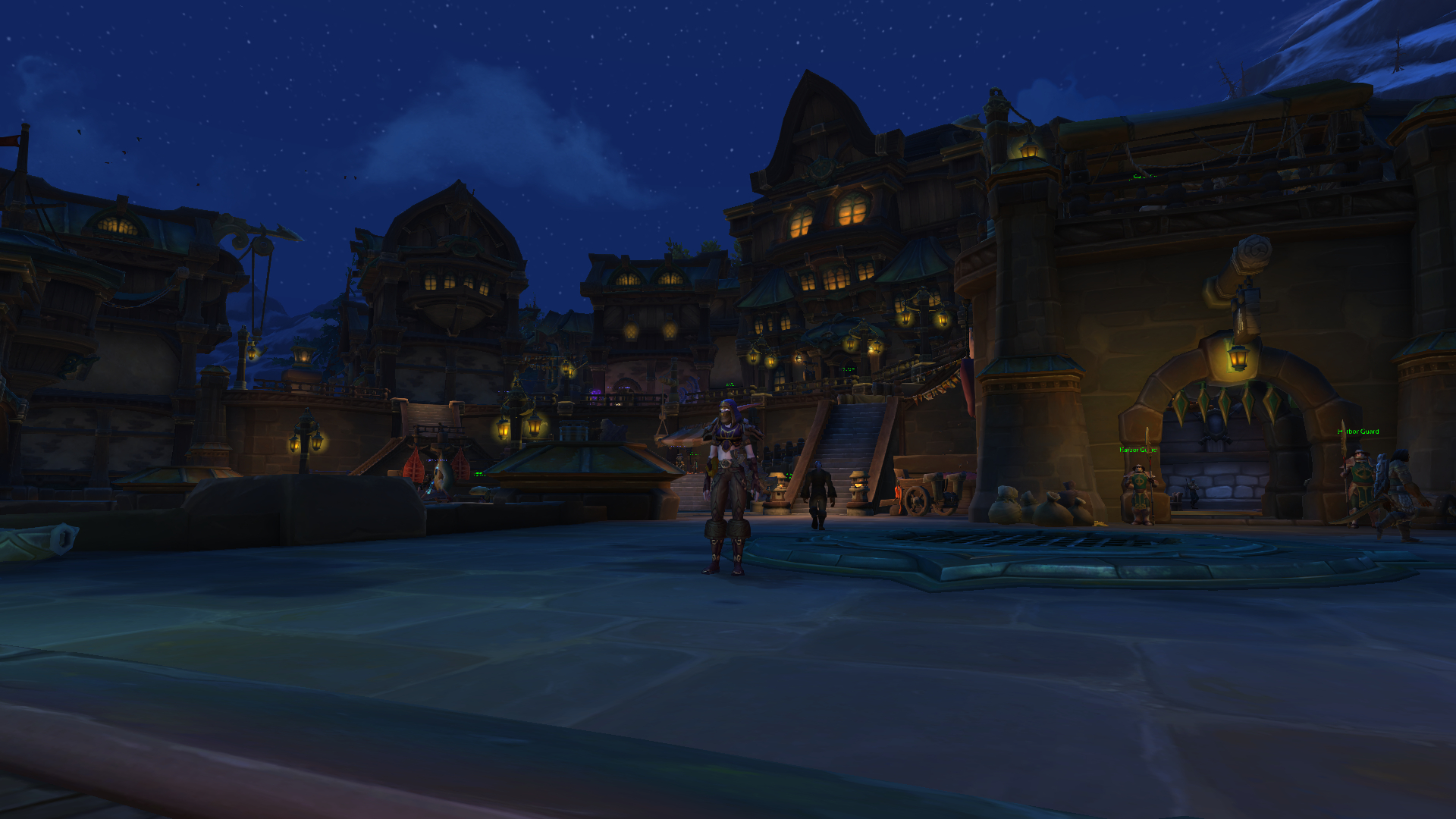 All in all I'm still having a blast and I'm starting to find my way through Boralus as city aswell. I've been completing a few Mining quests, I'm really happy these come from the trainer now instead of randomly dropping from nodes, and I've been pouring all the ore I've been mining into leveling up my Engineering aswell. Although I'm only on 25 skill level at the moment. There's so many little details that I could go on and on about but honestly it comes down to the fact that Blizzard once again made an amazing zone with beautiful landscapes and good lore. Even the War Campaign makes sense next to the questing in Kul Tiras. I've established two camps over at Zandalar right now and I've unlocked my Island expeditions. They seem like mini scenarios where you race the opposing factions to get to 500 Azerite per island first. Unfortunately I've not really gotten the time to figure that out yet but I will. For now I'm going to focus on finishing off Tiragarde and moving on to Stormsong Valley the next few days and hopefully ding 120 around Friday evening.