Before I start about what I want to do in October, I want to look back at September first.
I did really well on my goals this month so I hope to be able to push that further!
World of Warcraft
Finish off the remaining quests on my Rogue. Done! I have one dungeon quest left and one regular one which I'm not attempting for now.
Get my BfA reputations to Exalted on my Rogue. Nope, I'm stuck on Revered on all of them but it's a work on progress.
Finish off the last remaining zone story on my Paladin. Done!
Gear my Paladin and get her ready to run Mythic+. Done!
Get Alchemy and Engineering to 150 BfA skill. Nope. Stuck on 125 Engi and 118 Alchemy.
Final Fantasy XIV
Level my Machinist to level 70 and do all job quests. Done!
Level my Weaver to level 70 and do all job quests. Done part one, still need to do 70 job quest.
Pick another Battle class to level and pick another crafting/gathering job to level after completing my first two goals. Done! Started leveling my BLM and am going to pick up Carpenter.
Make progress in a single player game and blog about this. Nope unfortunately.
Next to these goals I've also started to seriously level an Allied race in WoW with a friend. I'm currently sitting on level 53 on a Nightborne Mage. Even though I'm not in a rush I would like to keep on leveling this character and maybe start leveling another one just so I can unlock all those sweet Heritage Armors.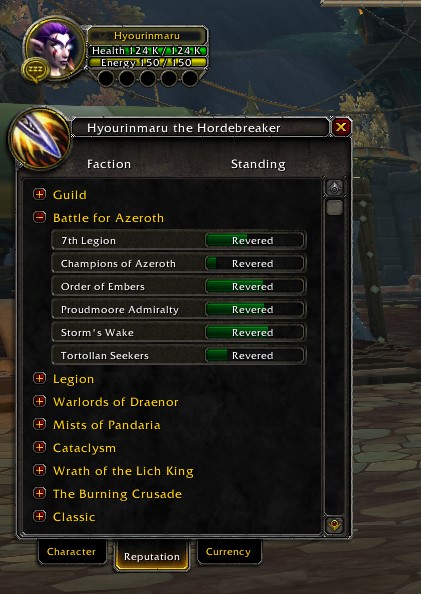 Now looking forward, what are my goals for October 2018?
World of Warcraft
Keep hammering away at the reputations on my Rogue. As you can see in the above screenshot I have them all on Revered atleast and I want to really start getting things to exalted.
Clear heroic Uldir on my Paladin. I have a raidteam now so I can see it happening soon.
Keep pushing Mythic+ on my Paladin. Not a set goal but I want to start getting higher than +2 and +3.
Level my Nightborne Mage. Not sure to what level but I want to keep pushing her up.
Final Fantasy XIV
Level my Black Mage to 70 and finish all job quests.
Level my Carpenter to 70 and finish all job quests.
Work on gearing my WHM
Finish up opening up all the content I still have to do.
Other Games
Finish one of the three games in the Crash Bandicoot N'Sane Trilogy
Make progress in Xenoblade Chronicles 2
Make progress in Professor Layton and the Miracle Mask
Again I'm trying to keep my goals decent. The biggest challenge will be leveling my Carpenter in FFXIV since it's only level 37. I'm pretty sure that once I hit 50 I can easily level it up with collectible hand ins and beast tribe dailies so once I hit that golden mark I'm good. In WoW I'm mostly putting my Rogue on the backburner when it comes to any content but reputation. I'll probably just make sure I do my Emissaries every day and see from there. I should be able to make it to a few reputations exalted atleast.