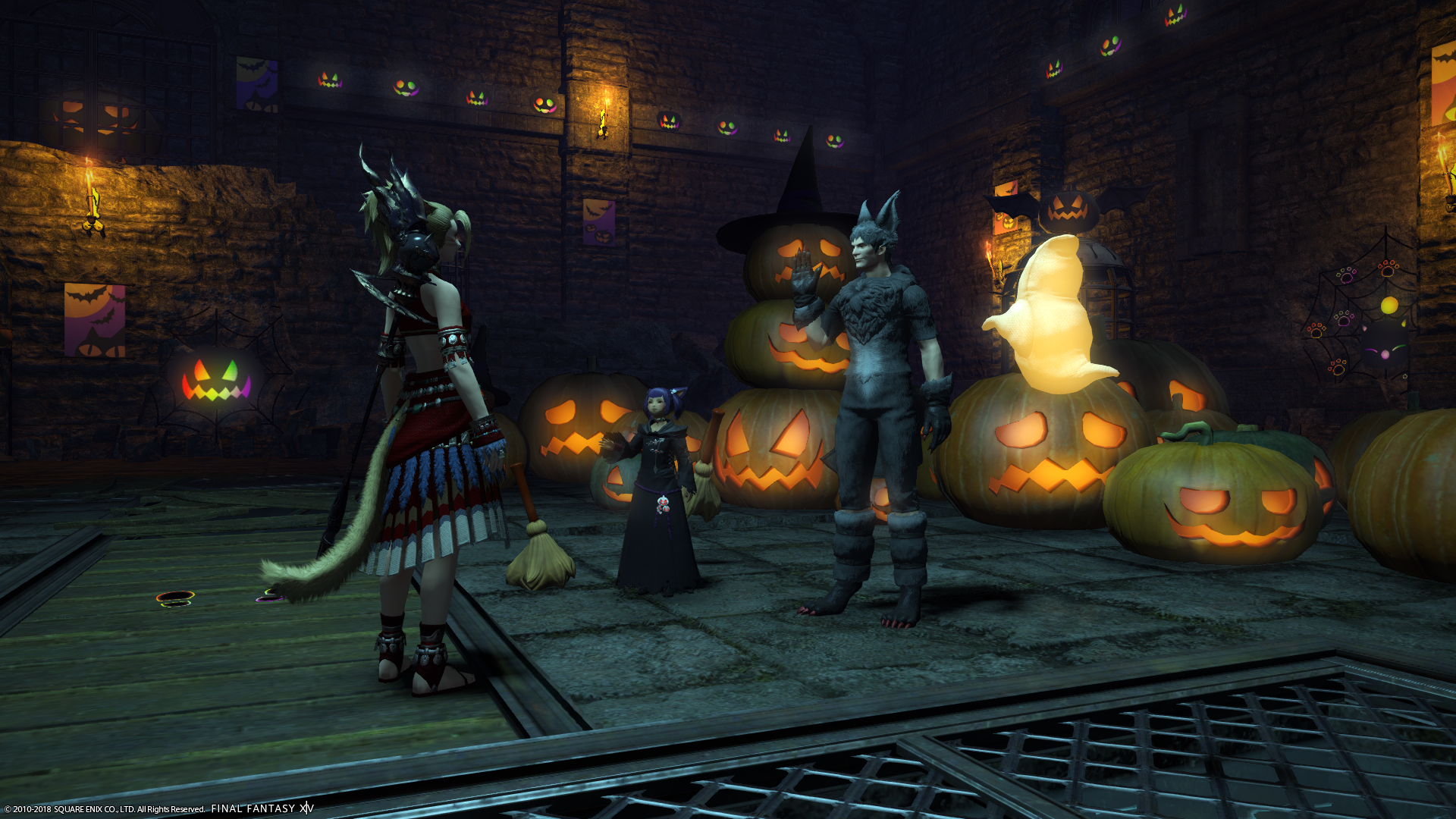 As October is drawing to an end I find myself back in the world of Eorzea. World of Warcraft is slowly going on the backburner. I raid, I do my Emissaries but that's it. My interest in the game is at an all time low and I mostly keep playing because of friends. One of whom is quitting at the end of the year himself and the rest are slowly burning out on the game aswell. So as my interest in one MMO wanes the other one waxes. I feel the motivation to level so much that I've managed to push my Black Mage from level 60 to level 63 in a single day. I've done every single roulette available, did my beast tribe dailies, caught up on all the job quests for Black Mage and dove headfirst into the Hallow's Eve event.
All in all it feels good to be back in Eorzea. Good enough to set a rather ambitious "end of year" goal for this game. As you may have seen throughout the year I've been leveling my classes on and off. Right now I'm only missing seven more battle jobs at level 70, six of which are melee/tanks and one caster (the Black Mage in question). My goal for the end of the year is to have all of them at level 70 so that I can finally get rid of any sub level 70 gear from my bags. It's a rather ambitious project seeing as I'd almost have to level a job per week to get this far. Add to that the fact that five out of the seven jobs I'd still need to level hover around level 50, meaning I'd have to do 20 levels instead of 10. The one big advantage is that I've saved my Tanks for last. They have the fastest queues thus probably the easiest time leveling out of all the jobs. As it stands I'm planning to level via Roulettes, Beast Tribe dailies and Palace of the Dead/Heaven on High. It's the most reliable way to get experience fast and I should have the time to do this six out of seven days per week. I'm raiding in WoW on Wednesdays so that evening is kind of off limits.
Right now my progress is as followed:
Black Mage: 63
Dragoon: 60
Monk: 53
Warrior: 53
Paladin: 50
Dark Knight: 50
Samurai: 50
This is also the order I'm planning to level these classes in. I hope to have my Black Mage to level 70 somewhere next week so I can start working on Dragoon, which I'll probably mostly play on my Playstation aswell as Monk. For some reason they just play better on a controller than on keyboard+mouse. As for my tanks, I'll probably switch that up between PS4 and PC since I don't really mind playing them on either. Samurai is going to be dead last purely because it's the only job I've not properly played thus I will probably have to figure out how it works when I start leveling. I already apologize to the random groups that get my Samurai slotted in, I'm probably going to be terrible at it. Just like I'm slightly terrible at Black Mage, hence I just want to get that job out of the way as soon as possible. That it will also grant me the "Goddess of Magic" title is, of course, a bonus.
My ambitions for FFXIV don't stop here however. Next to having my Armoury Chest cluttered with various sets of battle gear it's also filled to the brim with gathering and crafting gear of different levels. That will be my big goal for the New Year: level up all my remaining Crafting and Gathering jobs. I have Botanist, Miner and Weaver at 70 so I can cross atleast three of the jobs off my list already. What remains is scattered between level 21 (Alchemist) and level 44 (Fisher). I'm planning to level up my Crafters simultaneously, meaning I want to get them all to level 30 and then all to level 40 and level 50 and so on. Ofcourse once I hit level 50 and can start doing Beast Tribe dailies and handing in deliveries things will speed up quite a bit. I'll be quite happy to get to that point though, because the pre-50 grind is still agony.
For now though it's running Roulettes and hoping I don't get shitty fights on my Black Mage.