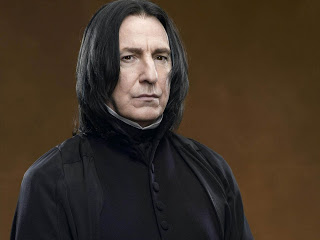 I wanted to blog about a completely different topic today, when Alan Rickman's death suddenly popped up in a Whatsapp group chat. I couldn't believe it, immediatly opened my news app on my phone and was sadly confirmed that he had indeed died at the age of 69.
With losing David Bowie earlier this week and Lenny of Mötorhead it feels like the start of 2016 has been a really bad one, in terms of celebrities dying. Although all deaths are tragic and to be mourned, especially by their loved ones, the Alan Rickman one hit me a bit harder than usual.
I grew up reading and watching the Harry Potter movies, and I hold the firm belief that he was perfectly casted for the role of Severus Snape. Snape had always been my favourite character in the books, way way back to when I started to read the first one and when I saw which actor portrayed him… I was so happy. He played him so well.
Ofcourse Snape isn't the only big role he played. I especially enjoyed him as Metatron in Dogma and also as his role of Alexander in Galaxy Quest. Hell the only reason I knew who he was in Harry Potter was because I had seen him in these movies before. He was one of my favourite British actors and personalities, right up there with Stephen Fry and Hugh Laurie. Alan has always struck me as a kind and friendly man, even though he has portrayed a lot of villains in the movies he was in. He was a brilliant actor and I hope he is now free of the pain that his disease must have caused him.
He will be missed dearly by a lot of people.
Half a toe
I haven't really been online over the past week in general. Work has been busy and I've been feeling exhausted when I got home, so mostly I spent my evenings staring at my PC and not getting much done of anything really. Going out to dinner last night kind of ruined my plans for the entire evening aswell, but did make me realize I had to go see my GP. You see I have a very painful spot on my pinky toe, I think the correct English term is a "corn"? Not sure, The skin is hardened anyway and it hurts and no matter what I do… It doesn't go away. I can't really be comfortable in any of my shoes anymore so I had to face reality last night as I was walking to the restaurant… And was almost crying because it hurt so much. Seeing my GP in the morning we both came to the conclusion that it needs to be cut off… Which will mean I will roughly get half my pinky toe cut off on monday (yes the spot is THAT big). Which also means I can't go to work after seeing as I got the advise to let my foot rest as much as possible… Which is kind of hard if you have to get to work 3 days after you get a surgical procedure like that done.
So next week I'll be sittting at home, with my foot up on a stool, hoping my toe will heal correctly and that I'll be rid of it forever. This will also probably be the ideal time for me to catch up on a lot of things… Including some university stuff that I've been waiting to wrap up forever.
Although I'm happy I'm getting some time "off" I'm bummed I can't go to work. It's less income for me that way… And I can really use the money. Not to mention I'm majorly stressing out about the healing itself since from the 25th till the 30th my agenda is absolutely swamped. I'm going to an Ellie Goulding concert (luckily with tickets for seats) and I have two wedding parties to attend. And I really don't want to cancel all of that because of a stupid thing on my foot.
I'll keep you guys updated on how things go… And spare you the nasty pictures.