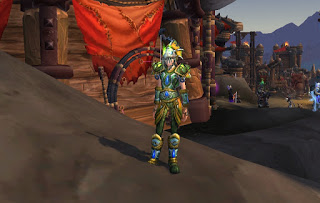 I'm still playing World of Warcraft casually and have mostly put my focus into one Horde and one Alliance character for the moment. My Warrior (the Ally one) has been played for very long, has gathered many things and is just my veteran character overall. I have a lot of transmog sets on her, some more complete than others, and no problems switching them around. The Hunter however is a different story. Even though she is almost as old as Sandrian (the Warrior) she has much less in the way of cool sets to transmog. So today I decided to head out and get me some stuff to make my little Huntress look cool.
The first complete set I have gotten you can see above. It is kind of cheating since you can buy all this gear off of a vendor in Orgrimmar, but I've always been partial to the T11 hunter set. I like the bright green colours and, after leaving the vendor, I only needed the belt to drop from Cho'Gall in normal Bastion of Twilight. So I entered, wreaked some havoc, and got my belt to drop. First good transmog set: succes! Now I just need a bow to go with it…
Some of the other gear I'm chasing is the recolour of the Shaman T2 set. It drops in various Outland Heroic dungeons and I spent a good hour running them, hoping to see something drop. I managed to get the chestpiece from that set, but not much more. I did however get three items dropped from the Hunter T2 recolour, so there's that.
All in all I'm happy to run my Murloc set until I can get my hands on the Shaman recolour. I will probably be farming those dungeons on a daily basis for that, but for now I don't really mind.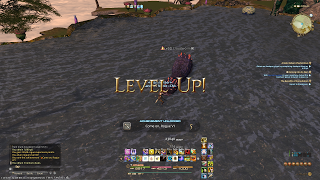 All growns up!
I managed to finally ding my Ninja to 60 on FFXIV today, which means I can stripe the first thing off my huge gaming goal list for 2016. I had planned to do this earlier during my "holidays" but never really got round to commit myself to doing roulettes. So over the past weekend I just went full throttle and did all the roulettes plus Vanu Vanu dailies plus hunts. I also grinded some FATE's for about an hour and a half to help a friend out for his crystal farm, which netted me a decent amount of experience aswell. Today after everything reset I finally managed to hit 60 and I'm very pleased with myself. I could immediatly equip a lot of level 60 gear that had been waiting for me and am now ilvl 164 on my Ninja. I'm being dragged down by the lack of proper rings, but that's nothing a trip to Idyllshire can't fix! I have enough Esoterics to buy atleast one ring and almost enough Law to buy the other. I should be able to run atleast expert roulette then and hopefully Void Ark so I can start gearing for real.
I also picked up the Anima relic quest again. Although this time I'm not really planning to farm FATEs for crystals, instead I am hoping to finish my Dragoon Zeta over the course of this week so I can hand that in and skip that grindy part… So I can go straight into the dungeons. Untill then I'm perfectly happy wielding the Law weapons… Since they look seriously awesome on a Ninja!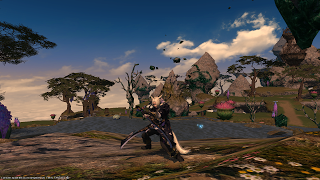 On what class I'm going to level next? Well for the moment I'm casually duo-leveling with a friend. He is a Dark Knight, I'm Astrologian. Sitting on level 35 at the moment, but not really planning to bring it up in a hurry. Instead I think I'll focus on getting my Bard to 60 aswell. I miss being able to do some shooty from afar and Bard turned very interesting with Heavensward, so can't wait to see what the level 60 gameplay looks like. For now though I need to head back into FFXIV and do my level 60 Ninja quest… I kind of forgot it existed!
New year, old friends
To end this blogpost I have been doing a little cleaning on my friends list for the New Year. I have so many people sitting on my Battle.net ID that I don't actually talk to anymore… So I've started to weed through them and ended up deleting a few off my friends list. After that I jumped to FFXIV and did the same. I had so many people there who were either not playing anymore or that I don't interact with anymore… It feels kind of nice, letting go of a lot of that stuff.
In line with this I'm also kind of done running after people to get their attention. I want 2016 to be a good year for me and I don't want to spend my time wasting energy on people who can't give the same back to me. I'll probably come over as grumpy writing this, but it's exhausting to always be the one that needs to engage in conversations or appointments. If you are truly my friend it would be no big deal to ask me how I'm doing for once. I might lose some people like this that I have known for a very long time, but honestly… I don't want to be dragged down and feel like I'm not worth anything to people anymore.