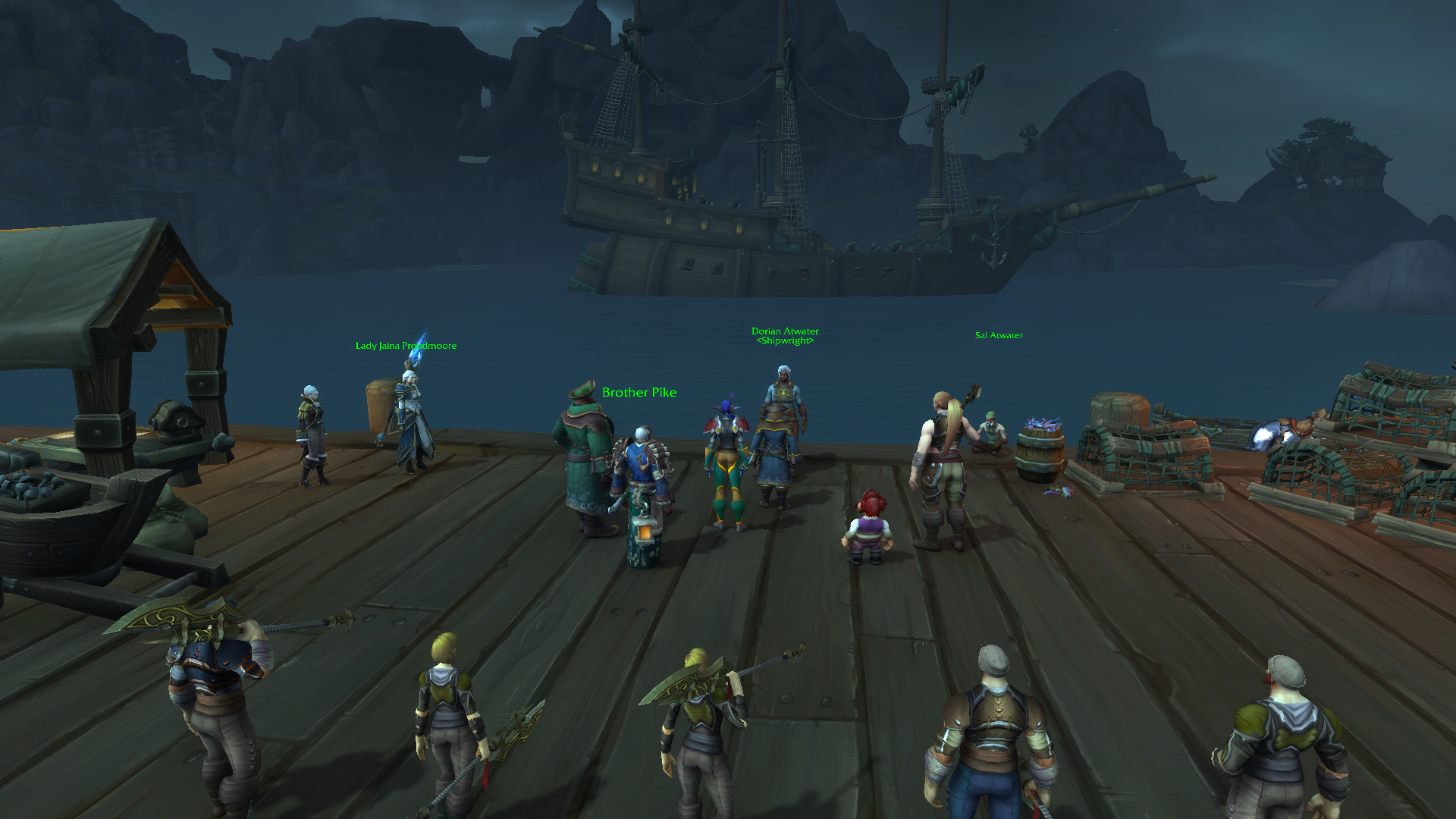 So I've spent the majority of my Friday evening and Saturday playing World of Warcraft. Maybe I got spurred on by the fact that I only have a few days remaining on my sub or maybe I just had this urge to play a comfort game. In any case I've been running around on my Rogue and my Paladin and have been making a ton of progress in the Battle for Azeroth story.
I've now finished up the War Campaign story for both factions including Tides of Vengeance. This means I got to unlock Kul Tiran humans on the Alliance side and I got a shiny mount for finishing the campaign on both Horde and Alliance side. I'm currently less than 250 reputation removed from unlocking Zandalari Trolls so that will be my main focus this weekend. After that I only have the Draenor Orcs left to unlock but I'm in no rush to do so simply because I know I will probably never play said race.
Having said this I'm probably not going to reach the goals for WoW that I initially plotted out at the start of the month. I may be able to get my Mage to level 120 but I won't have the time to gear up/catch up to current content. The same goes for leveling the Hunter, she's still sitting somewhere around level 55 so there is no way in hell I'll be able to get her to 110 before my game time runs out. In theory I could purchase another month of game time, but with my move coming up in three weeks I doubt I'll have much time to play. It's simply not worth the money for me to maintain the sub if I can't play for half of the time that it's running. So I'm just going to let it run it's course and get my time's worth as my remaining sub time counts down to zero.
Going back to me finishing off the War Campaigns (so far) I'm still more enamoured by the whole Alliance part in Battle for Azeroth than I am with the Horde part. Clearly Blizzard is steering towards some sort of schism in the Horde or maybe we will see Sylvanas depart alltogether in the next patch. I don't know. All I do know is that most of the quests I'm performing are making me rather unhappy to play Horde side story wise. Turning people into Forsaken isn't the most fun there is and honestly I'm kind of happy that the Alliance seemed to have come out with the upper hand after the Battle of Dazar'Alor. It was interesting to first see the Alliance point of view, how they set up the trap for the Horde in Nazmir and left Blademaster Telaamon behind to lead the decoy army against the Horde while the Alliance attacked Zuldazar directly. I felt a pang of guilt as I killed said Telaamon on my Paladin because I had seen the Alliance side of the story. His sacrifice was not in vain.
Seeing the time that I have left in WoW I probably can't see all the current content. I may be able to squeeze in the Battle raid on my Paladin because I'm a tank so my queue will probably be fast. I'm probably not going to be able to see the Alliance side of things so I guess I'm going to just put that on hold untill I get my PC set up in my new home. For now my goals in WoW are simple. Unlock Zandalari Trolls. Get my Mage to level 120 (only 3,5 level to go) and maybe take a peek inside the raid on my Paladin as time permits. We'll see how far I've gotten after my sub runs out.
Next to making progress in WoW I've also made a ton of progress when it comes to my house. Most of the things have been arranged now so I will have running water, heat and electricity from the day I get my house keys. I'm insured and I've ordered all my furniture. If all goes well I should have the majority of my stuff in the week of April 8th. That's when my furniture will arrive and when I will go shopping for a washer/dryer and a TV. I expect that that first week will mostly be filled with me cleaning the house from top to bottom and slowly moving my non-essential stuff over. So I can start with putting all my stuff in the kitchen, buying things like a mop, vacuum cleaner and other cleaning items. After my furniture gets assembled I can start moving over other non-essential items like my books, towels, winter clothes, games and consoles I don't currently use. I hope that by that time the internet is working as well so I can test it out with my PS4 and Switch. All in all I hope to have completed my move around the Easter weekend. Obviously not everything is in my control when it comes to this. Seeing as it is a new apartment I will have an inspection on the day that I get my keys. Anything found that needs to be fixed or replaced will need to happen in the weeks after. I really hope that there aren't any major flaws but you never know. It would really suck to have my careful plans ruined because my windows need to be replaced or some sort of other big fix that needs to happen.
I also can't believe that I will be standing in my own house in a little less than three weeks. Time really has flown by because I feel like they only started building on site a month ago while it's been over a year. A lot has happened in that time and I'm more than ready to leave my old living situation behind and embrace the new one. I hope it brings me a fresh start in life which I can use to turn some bad habits into good ones. I've taken some time off at the start of May to just enjoy living in my house but also to start working on new routines. I want to regularly visit the gym again and the plan is to start going every day when I'm off work and then tone it down to 3-4 times a week when I do work. It's a bit of an extreme step but I hope I'm able to build up a good start in those two weeks that I'm off and work from there. My weight has been detrimental to my health for a while now so I need to start shedding it one way or another and working out is a surefire way to get that started. I also want to figure out a new morning routine where I show up at work a little better looking than I do now. I want to wear more make-up and do more stuff with my hair than just simply brushing it. I also need to fix my skincare and oral care routines because I'm noticing that what I'm doing now is not working. And what better time to do that when you're starting fresh in a new home?