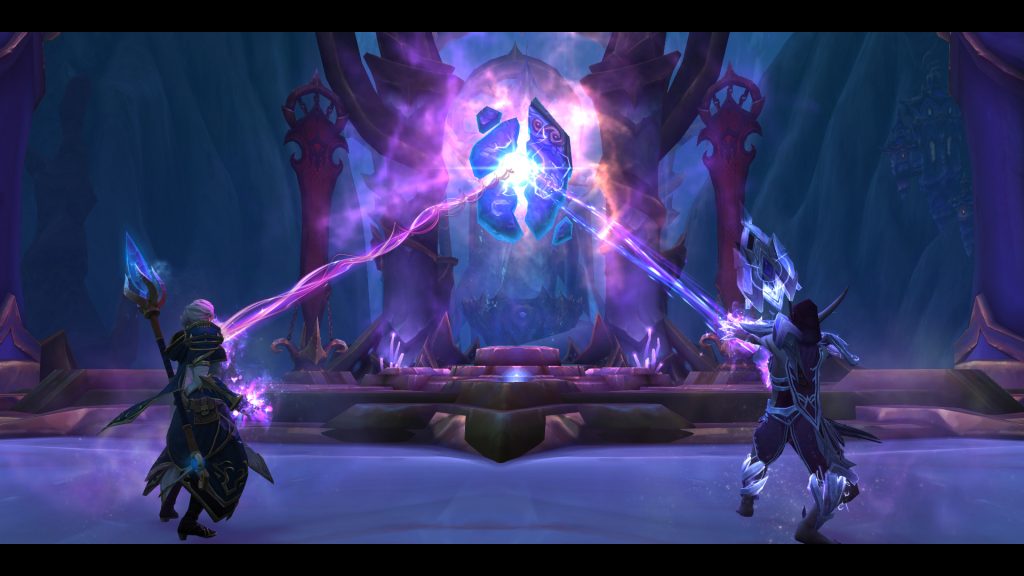 After me complaining two days ago that progress was going very slowly in World of Warcraft when it came to the reputation grind, I apparently completed a quest that opened up a very long and interesting questchain. It culminated in the picture shown above where Jaina and First Arcanist Thalyssra open up the way into Aszhara's Eternal Palace and give me the quest to go and kill her. Because of this, and because of all the World Quest and dailies that I did on the side, I'm suddenly finding myself only 100 reputation away with Revered when it comes to the Waveblade Ankoan. Which means I only have to do two more WQ's to get there.
I feel like a bit of a weight has lifted off my shoulders here. Grinding for flying is sucky enough but since I gave myself the deadline to obtain it before WoW Classic launches it meant I had to spend a lot of time playing WoW the past few weeks. More than I had anticipated and it was starting to make me resent logging on. Knowing that I'm basically only a few days away of unlocking flying, I'm currently also almost 9/12k into Honored with the Rustbolt Resistance, has made me much more relaxed with my time spent here. All in all it means that I should be soaring over the Battle of Azeroth zones by Wednesday, assuming I play enough every day to get the Mechagon stuff done aswell. Coincidentally this occurs together with me finishing off the Mechagon spider mount, which is only three quests away for me aswell! It will be nice to add another mount to my collection. I'm definitely planning to do the Eternal Palace raid somewhere next reset aswell since I think all wings should be available in Looking For Raid then. Or perhaps I should do the Zuldazar raid first since I completely skipped that…
All in all I'm quite happy the end is in sight for my flying in Azeroth goal. Of course the next step is to get my reputation up to Exalted with both factions, and earn my 90 reputations Exalted achievement, but that should be much easier when I can just fly from quest to quest instead of making my way to flight points and then barreling past mobs hoping they won't daze me off my mount. I also may want to dabble in leveling up my Engineering more seeing as I got my mining to 175 skill, which is the current maximum, but my Engineering is stuck at 131. It probably has something to do with the fact that Engineering as profession just majorly sucks to level up. You don't really get many useful things from it and everything just takes so much materials to craft that I've kind of thrown my hands in the air at some point after I made myself the helmet/goggles, which weren't even upgradeable at the time. But I digress. Let's see if the final two WQ's I need for the Ankoan spawn somewhere before I go to bed so I can finish off that reputation today and otherwise I will definitely finish it off tomorrow.