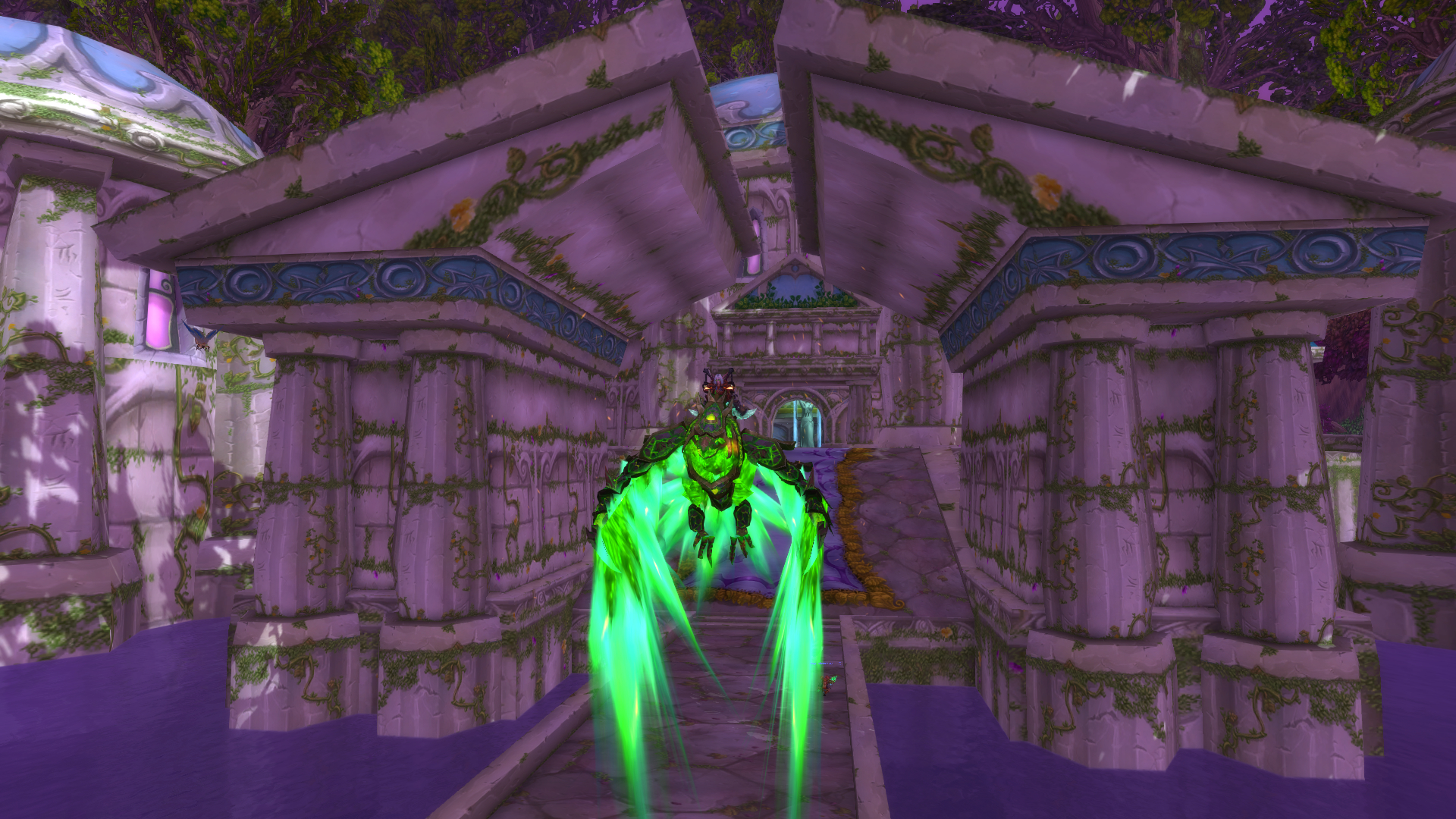 I have waited to write this post untill after I did the next leg of the War of the Thorns quest (SPOILERS AHEAD). I found it fitting to take one last screenshot on my Warrior in her home before it would burn. I knew it was coming and I knew it would be heartbreaking from the Alliance point of view and it most definitely was. I have to admit that at the end when you collapse after trying to rescue citizens and are directed back to Stormwind while the Night Elf Priestesses stayed behind had me tearing up. It's such a sad event and I'm particularly mad at Blizzard at the way they chose to write this. Sylvanas burning the tree in a hissy fit? Really? Even though I know I should wait to see how this plays out I find it very disturbing that Blizzard pulled off this particular move and am beyond disappointed at the writing team right now. I can't even bring myself to do the Horde side of things because I'm just so… so mad and emotional. I don't want to aid her in burning the World Tree. I don't want to have to do anything with Sylvanas at all at this point. Hell even my decision to go Horde for BfA has been heavily affected by this whole scenario. Even though all my friends play Horde I just can't bring myself to go over to that side right now. It just feels wrong and evil and I want nothing to do with it. There is a reason my main character is a Night Elf and I will do her proud by keeping on playing one into BfA and crush as many Horde as I can. I also know that Blizzard is playing with our emotions like this so we really get into the faction conflict. Well for me it has worked. Nobody touches my tree!
August 1st will always be the day that the Night Elves lost their home now, but it's also the first day of Blaugust! With a very lively Discord and lots of participants this year I'd love to see how everything turns out. We have game bloggers from all directions of the earth and from all sorts of games. I personally will probably be writing a lot about World of Warcraft the coming weeks, the BfA launch comes at a great time for me, and I want to dedicate a small series of posts to Octopath Traveler which has smoothly worked it's way into my top 3 favourite single player games of all times. For a full list of participants I'd like to direct you all to this post by Belghast who is once again doing a fantastic job in managing all of this. It's also his 20th wedding anniversary so drop by and congratulate him!
I really had a long awesome post in the works for the start of Blaugust but my day went a bit different than I thought it would. I ended up with a bit of a headache after being slightly overheated at a barbecue and I honestly can't formulate sentences very well right now. So my awesome post will be postponed untill tomorrow. I will recap what I loved and didn't love about Legion and what the status of my goals set untill launch are! So goodnight for now and I will see you guys tomorrow!