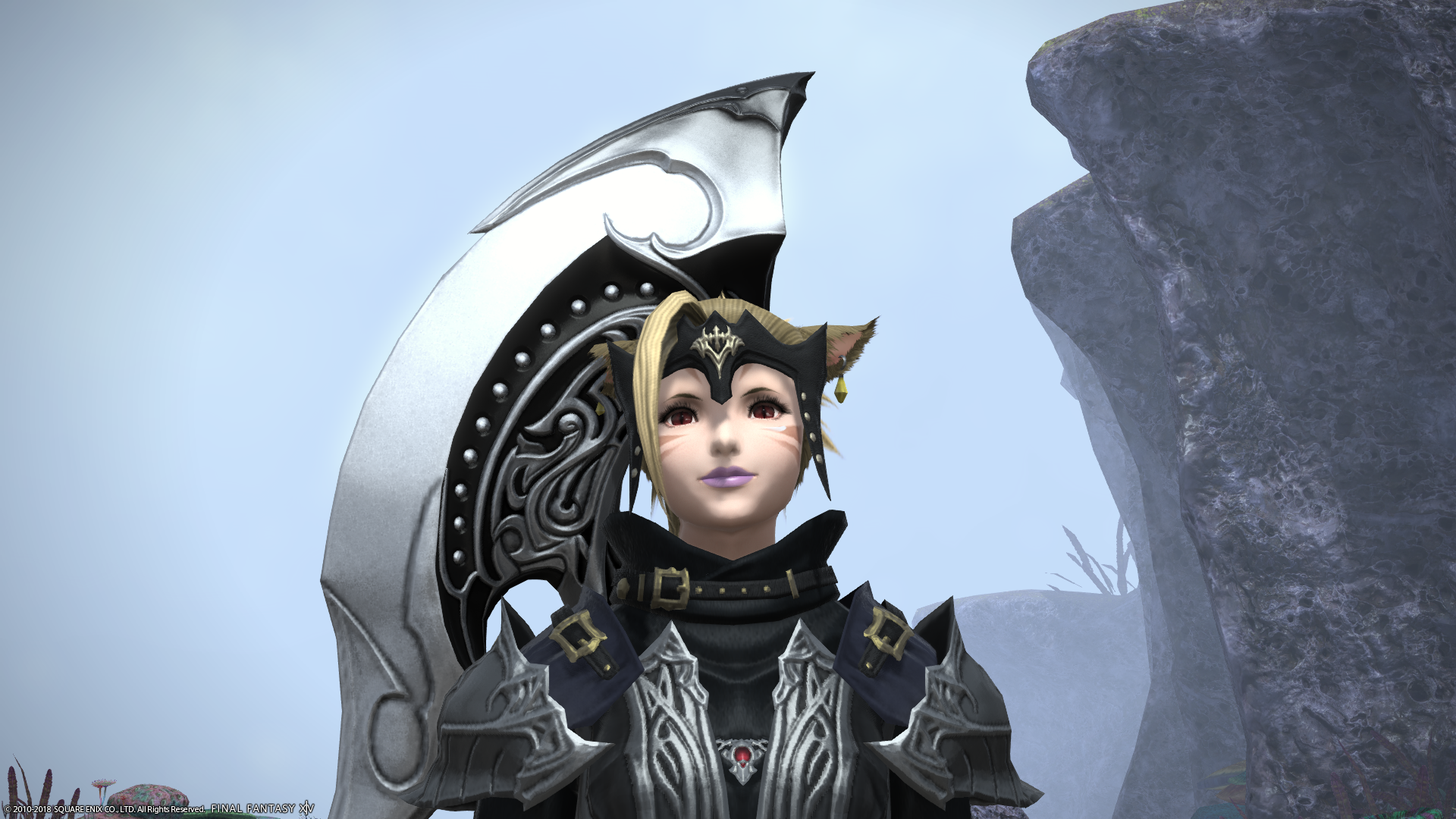 Progress, progress, progress! Hello again!
I've been quiet over the past week, I know, so I figured since it's now Sunday, and I actually have time to sit down and post, I'd give you all an update about what I've been busy with throughout the week.
The above screenshot was taking during the cutscene of the level 60 Warrior quest. I will admit I have been less active on FFXIV the past week and the reason will be given below in a few minutes. However I have been slowly chipping away at my Warrior levels and have landed in the 60-70 territory which means I can pick up Beast Tribe dailies again and Hunts. It also means I have been enriched with a ton of new cool abilities, including Deliverance Stance, and that I can finally wear the set of Shire gear which I've purchased specifically for the leveling process.
I've been enjoying the tanking on Warrior even though I'm not that good at switching stances yet. I know the whole gimmick of Warrior is to get aggro in Defiance stance and then switch to Deliverance and start dishing out a ton of damage yourself in 4 man dungeons. The damage Warrior actually does is quite surreal for a tank and I'm probably going into full Offtank mode when I get level 60 Alliance roulettes or level 60+ trials. It's just fun, and satisfying, to see those high numbers while swinging an oversized axe around. Luckily for me I've not had to do this leveling process alone, I have a few friends who are slowly coming back to FFXIV and I'm bantering with them on Discord as we run our roulettes. All in all I'm quite happy with the progress I've been making thus far and I hope to have my Warrior at level 70 by next weekend.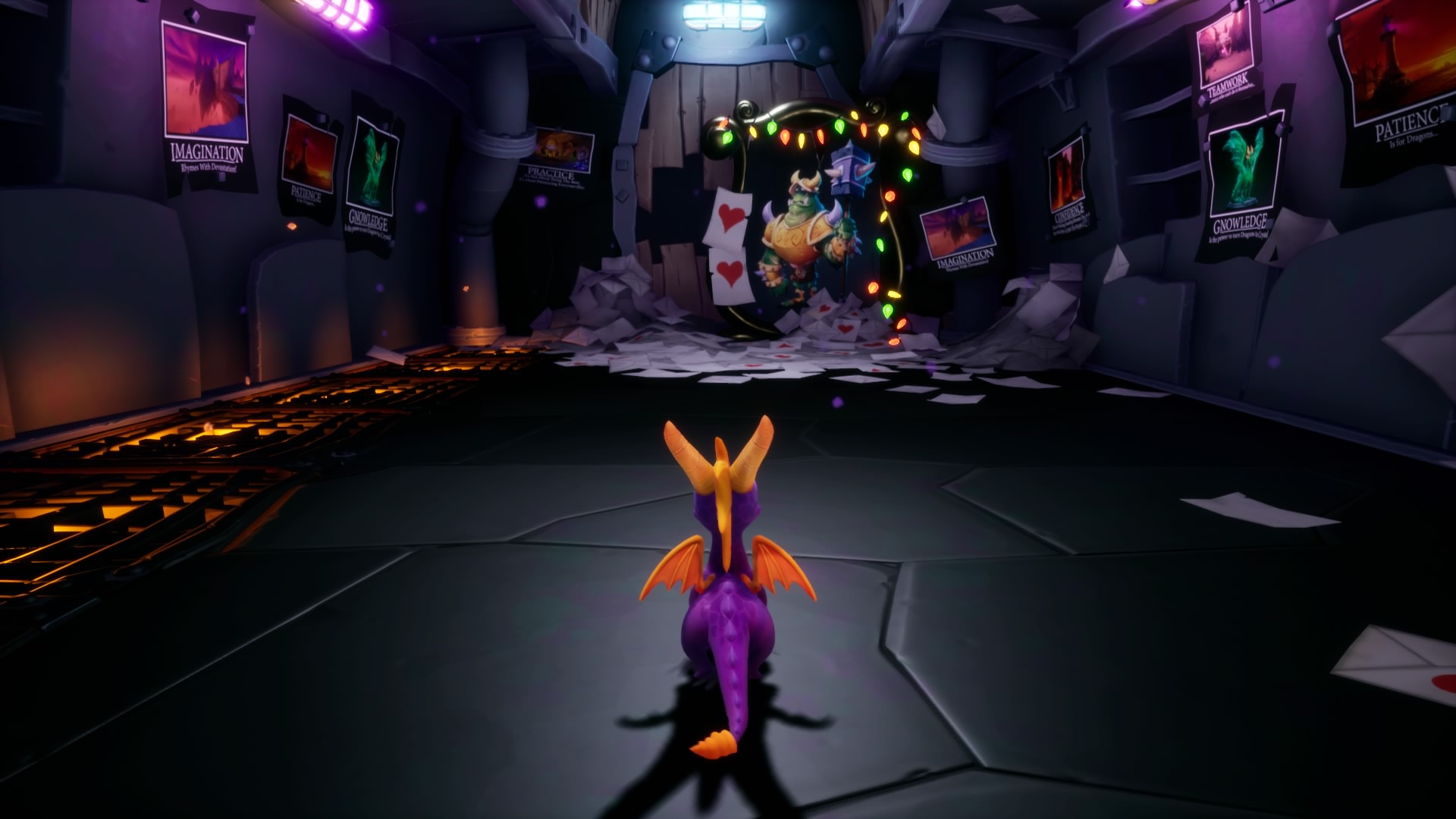 Now onto the real reason I've not been playing FFXIV that much.
Last weekend I bought the Spyro Reignited trilogy on a whim. I never had a Playstation myself when I was a kid, my parents bought me a Sega Megadrive (Genesis in the US) that I to this day still adore. However my best friend and her little brother got a modified Playstation as combined birthday gift. I say modified because it had been chipped to be able to play copied game discs meaning that their parents wouldn't have to pay full price for the games they wanted to play. A lot of my good memories of rainy days come from either playing with her on our attic on the Sega or us playing Playstation games in her brother's room. This is where I got introduced to Spyro, Crash Bandicoot and Tekken among other games. And although the memories of the original Spyro are kind of vague I knew I wanted to play the HD remakes to see if I could capture that nostalgia and to see if the remakes were any good.
Well I can confidently say that the purchase hasn't been a waste since I've managed to completely finish the first game in the trilogy within a week. According to my save file I'm around 10 hours played after finishing everything there was to do in the game. I've beaten the game 120%, the extra 20% being the Gnasty's Loot Cove level where I took the above picture. I've obtained every single Playstation Trophy that was attached to this game, leading to my very first Platinum trophy. Finally I managed to knock out obtaining all the Skill Points and thus unlocking an extra art gallery with a ton of pictures of concept art for the various dragons and other creatures you come across in the first game.
All in all I've had a ton of fun playing Spyro. The first game doesn't have learned skills like the later games do and also have a lot less in the way of guidance the later games do but that makes it even more enjoyable to play. Apparently you can toggle a minimap while playing which, as you can see, I never had on. I wanted to explore all the levels on my own and when push came to shove I'd look up the final thing(s) I missed on Youtube. It was a heavy 90's nostalgia blast and I'm happy I picked up the games even if it goes against my self-imposed rule of not buying any new games untill I've atleast finished some of my existing backlog.
I've already started the second game in the trilogy after finishing the first and I hope that I'll enjoy that one just as much as I did this one but I'll see once I'm a bit further into the game. So far I'm enjoying myself there aswell, even though the game is a bit more hand-holding than the first one. I already hate having to buy skills with gems though, then again it gives the gems a purpose besides just "collecting".
As positive as my gaming week has been I'm unfortunately not this happy in real life. Work is being an absolute disaster. I'm in a team of three although it's basically two and a half because one of the three only works for three days a week due to being a new mom and cutting down her hours, which is totally understandable. However my other colleague has taken three weeks off to move house and basically on Thursdays and Fridays I'm the only one around from my team. Which means everything ends up in my inbox/on my plate. It's been a struggle to handle this and it's basically made me come home completely broken on those two days. Add to that the fact that I'm having some issues with dinner and stomach pains and it's not been a very fun week. Unfortunately for me this situation will last for two more weeks so I'll just have to grit my teeth and get through. If this means less time for games and other hobbies and more time for sleeping and making sure I feel well then so be it. It will also probably mean my next post won't be untill the weekend again because frankly I'm just too tired to sit down and write during the evenings.