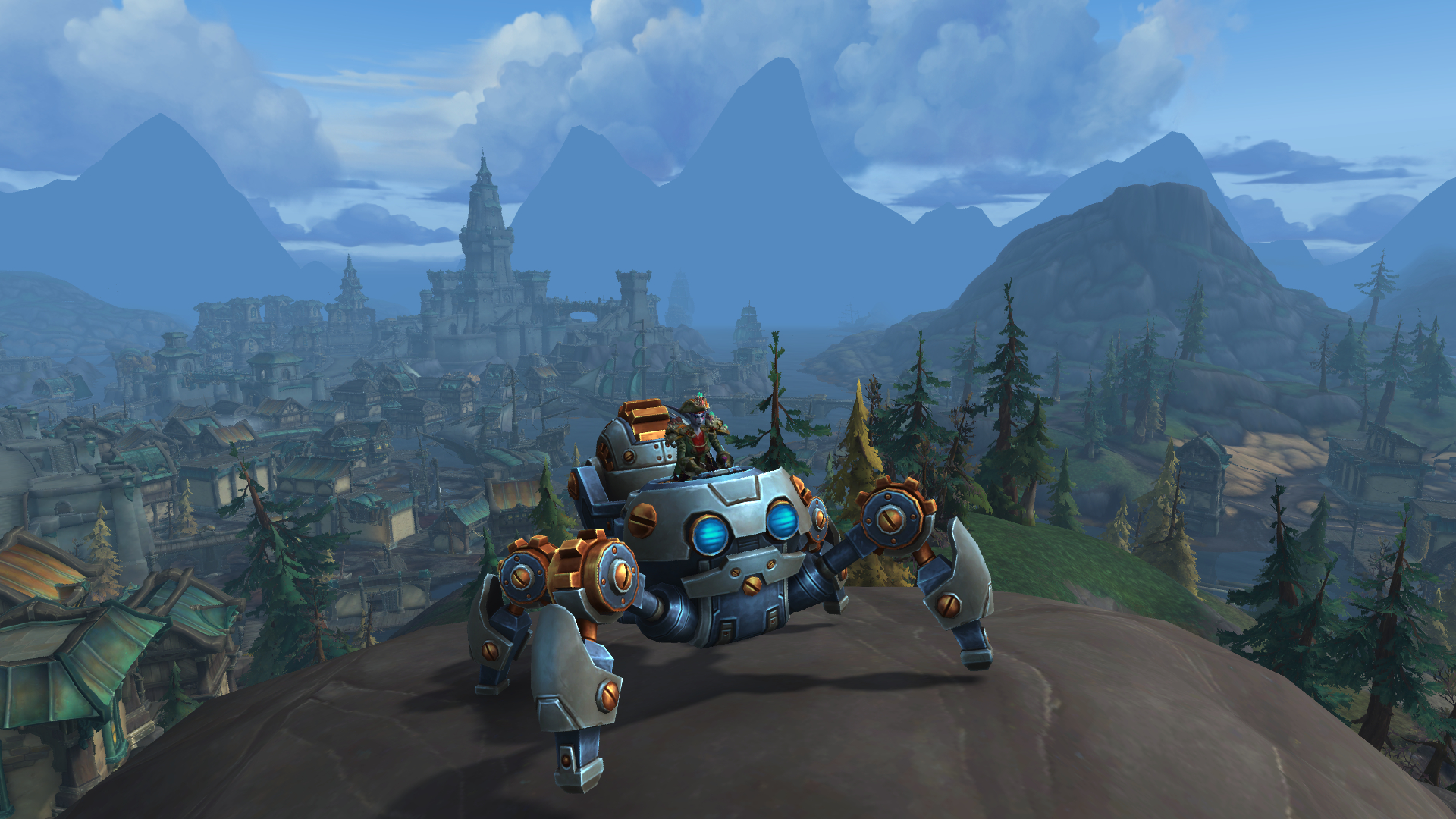 The weather has turned here in the Netherlands and Summer is officially over. Where last weekend we still had 24-25C degree weather we've had a week full of rain wind and cold last week and it seems it will be like this for the forseeable future. We are slowly moving towards the "dark days before Christmas" as we say in Dutch and this has gotten me thinking about what I want to achieve before the year is over. I know we are still three months out but time moves very fast so it's Christmas and then New Years before you know it. As such this is really my last "chance" to set some more long term goals.
It's been an odd year for me so far. I've moved out into my own home at the end of April, although I began moving at the start of that month, and I'm still trying to find my routines for many things. Adjusting to living alone has gone more smooth than I hoped although sometimes I do miss living with my dad and just the general company of having other people around. At the same time I got a steady contract and, a few weeks ago, a promotion to a more demanding position at the company. This has left me with less energy the past few weeks but I'm slowly getting settled again and I'm not as exhausted anymore as I have been.
Due to this I've not really played as many games as I would have liked to this month. When I do my goal post for October you'll notice that I've barely met any goals I set for myself in September, but as the French say "c'est la vie". With this post though I want to outline my future gaming (and real life) plans untill the end of the year to provide myself with a roadmap for the coming time and something to look to when I'm in an indecisive mood.
So without further ado, let's set up my End of Year Goals!
Final Fantasy XIV
I've actually not spend as much time in FFXIV as I hoped this month. I've barely leveled anything except maybe Culinarian and a bit of Monk. Last year I had a massive race against the clock to get as many classes to level 70 before the New Year. This year I'm actually not setting the bar as high. These are my plans for FFXIV untill the end of year.
Level Monk, Samurai, Dragoon and Ninja to 80 and complete associated Job quests
Level Blacksmith, Leatherworker and Armorsmith to level 70 via Beast Tribe quests.
Level Fisher to 80
Complete the White Mage Animus step for the ARR relic
Clear Innocence Ex and maybe farm for mount from both that and Titania Ex
Clear out remaining quests from my log
I think all of this should be doable in three months time. All the battle classes I'm describing are level 70. I've chosen to just level up the Melee group next because I already started Monk and I would be doing Samurai next any way. I might aswell get Dragoon and Ninja out of the way then aswell and close that part of leveling. After that I only have the ranged jobs and tanks left. I'm currently nudging Blacksmith through the Ixali dailies while my Culinarian is about to enter Namazu territory. If I just keep doing Ixali dailies on the regular I don't see how I wouldn't be able to get my three remaining crafters through this part and into the easier zones that are Moogle and Namazu dailies. As far as Fisher goes.. It's sitting at level 48 and is the only gathering class not at max level. I just have to sit down and get to it.
The rest of the goals aren't that big. I'm already doing Animus books on my White Mage. I don't think I will have much issues clearing Innocence Ex when I just sit down and find a group to do so. I have a few outstanding quests that I want to tackle, and a ton of sidequests still left in Shadowbringers. Ideally I want to just get them all out of the way so my maps don't have any quests left on them.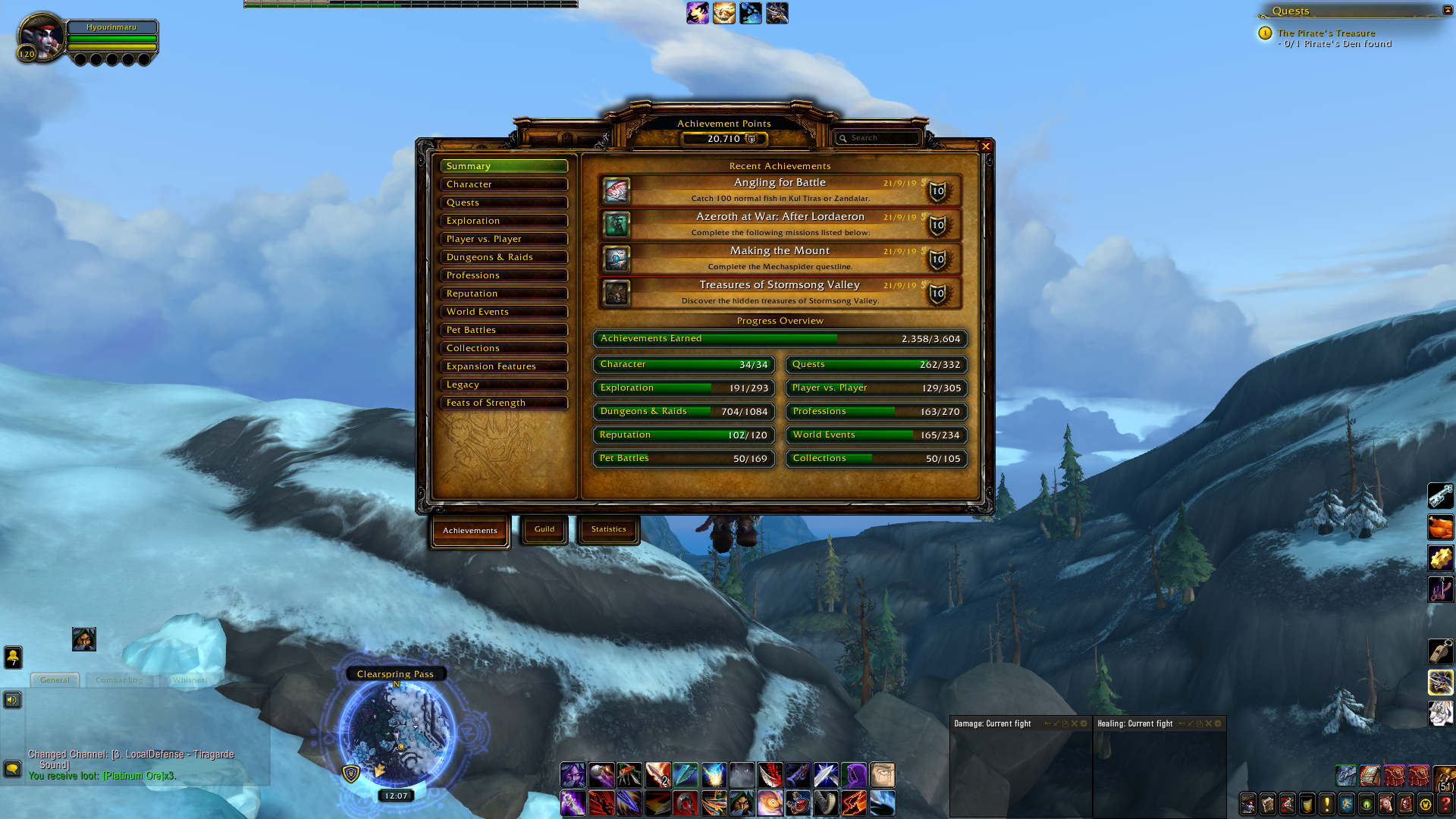 World of Warcraft (Classic and Retail)
With Classic launching a few weeks ago and me going back into Retail a while back WoW is fully on my radar again. I foresee myself spending time in Classic mostly during the weekends when I feel like it and more time in Retail because there is specific stuff I actually want to get done there. Here are my end of year goals for the World of Warcraft!
Get a character to atleast level 40 in Classic
Do all the raids/dungeons I've not yet done in Retail, this being the Battle of Dazar'Alor, Mechagon, The Eternal Palace and Crucible of Storms
Level my Warrior to 120 in Retail
Level my Void Elf Hunter to 120 in Retail
Finish all the Rare killing and Treasure achievements in BfA
Get Exalted with Mechagon and the Nazjatar faction
In Retail my main focus will be catching up with content. Even though I've done the War Campaign I've actually not touched a single raid after clearing Uldir. I really want to do the raids just so I can see the fights and cutscenes I've missed. I will also be able to clear those quests from my questlog (yay) and feel like I've truly caught up. I'm also still needing to do Mechagon as a dungeon so I can finish off that questchain.
After that I want to turn my attention to leveling some characters. My poor Warrior has been glossed over for this expansion and she needs some love. I also want to unlock the Void Elf heritage gear so that means I should pick up my Hunter again and level her up. Other than that I want to chase some achievements and work on reputations.
On the Classic side of the coin I want to get atleast one of my characters to level 40. This is basically the mount level and it would be awesome to get there. Why not push for level 60? Maybe I will but for now I'm just not feeling Classic that much and I can only take it in small amounts or whenever the mood to play it strikes me.
Other Games
Of course I don't want to spend all my time in just FFXIV and WoW. There's other game to play that deserve playtime aswell. I'm still determined to get through my backlog aswell so I want to focus on single player games next to my standard two MMO's.
The big goal here is that I want to have finished 3 games before the end of year. These don't have to be epic big games like Persona 5 but I would like to be able to scratch stuff off my backlog. If I'm able to tackle more than that fine but the minimum is three. This tallies down to one game per month. Right now the first game on that list is Link's Awakening which I'm currently invested in. Another game will be Pokémon Sword since I've already have that on preorder and it's a game that I've been actually excited for. The third game is undecided as of now but I'm looking at something to play on my WiiU since that has been my most neglected console and it deserves some love.
Guild Wars 2. I've logged it occasionally the past few weeks, mostly to get a ton of anniversary gifts on my older characters. Some have been around for 6 years already and if I didn't go on a delete spree a long time ago I would've had an original old character aswell. Oh well. I've been logging my Ranger again since it's the class that I enjoy playing the most. She's somewhere inbetween level 25 and 30 and my biggest goal is to just start getting through zones and getting some levels. Maybe do a dungeon. But atleast make some sort of progress.
Offline Goals
Next to gaming stuff there's a few offline goals I want to work on aswell. These mostly pertain to my physical health but I also want to get out of the house more. I need to be around people more than I am now and I just want to experience new things in general. So these are things I want to work on or get a start in before the end of the year.
Visit my cousins in their new homes. We've been semi close growing up but ever since we've gotten to adulthood we've drifted apart. I want to visit all three of them and just have a nice day to look back on.
Go to a city I've not visited before. Dutch infrastructure is great and it's easy to get everywhere by train. I want to visit a city in the Netherlands where I've never been before and walk around and take pictures and have a nice day.
Set up a healthy sleep schedule. It's still all over the place. I know that I will feel much better when I just get enough sleep so that's quite high on my priority list.
Set up and maintain a gym schedule. I've recently bought new sports bra's and sports clothes in general. Now it's just to get my ass to the gym itself. I'm a candidate for breast reduction surgery that gets fully or mostly covered by my insurance but one of the stipulations is that I lose some weight since I'm currently on a BMI of 32 which is 2 points above what I need to be to qualify for surgery. In reality this means that I need to lose around 7kg atleast to get to that point. That will be my starting goal weight and I will see from there.
Finish decorating my house. There's a few things that still need to be done and most of it is hanging up shelves and a coat rack. I want to get this done sooner rather than later.
So there you have it. My end of year goals. I will try my best to actually get most of them, if not all of them, done. It's a nice roadmap for me to look at when I'm a bit lost and it helps me move forward. For now though it's time for some Timewalking.