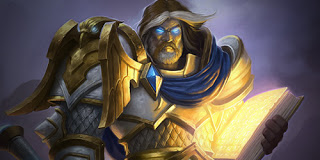 Today after a very long time I did an Arena run on Hearthstone again. I picked up a Paladin deck and, with the help of Heartharena.com, managed to put together a fairly decent aggro deck.
I haven't dabbled in Arena for a very long time. I'm still struggling to learn all the classes in Hearthstone (Paladin being one of few decks I have no experience with) and I'm still not very good at knowing what to do on what turn and when. I have a tendency to either go face too much or clear minions too much leaving me usually with an empty hand or an empty board. This results into many losses on my side.
It's one of the reasons I choose to focus on Priest and Druid since those are the two decks I've been playing the most and feel the most comfortable on. I really wouldn't know what a good draft is for any other deck, but this week I had no choice since all three champions were ones I wasn't comfortable on. So I consulted a friend, picked Paladin and went through a pretty long draft phase while tabbing back and forth to Heartharena to see which cards I should pick up. I did that all on Wednesday evening after the raid so I could focus on actually playing the Arena tonight.
The same friend who helped me discover Heartharena has also guided me through this particular Arena run. He is a good player, albeit a little inexperienced with Paladin, and he has been helping me out here and there. With his guidance (and me making misplays here and there) I managed to get this deck to a 4-3 arena run, which is about a 200% improvement over anything I ever did on my own. I got a nice TGT card pack and 75 gold as rewards and overall I feel a bit more confident in playing Arena as a whole.
With my friend guiding me I've gained a bit more knowledge on when to trade, when to play certain cards, when to go for face and that brainfarts are seriously bad.
All in all I'm pretty happy with the result though and I think I might want to try my next Arena run on my own. With enough practice I should be able to get a good result eventually right?
Ongoing game issues
Being almost fulltime (and fullitme next week) at work has shown me how utter impossible it is to keep up with two MMO's and a bunch of other games without some planning. Monday and Wednesday are my WoW nights since I raid then. Tuesday and Thursday should be my FF nights since I plan to coil then. This leaves me with only Friday, Saturday and Sunday for the rest of my games. Which is actually really sucky. It feels like my days and evenings fly by and I can't get enough time into games for it to be really satisfying. It doesn't really help that I go to bed at 23.00 every night, but I really can't stay up longer or I'll be a zombie at work.
It's messing with me and making me slightly cranky. I used to have all the time and freedom in the world to do what I wanted and that is gone now. I guess I really need to start planning my nights better or give up on raiding in one of my MMO's. And I really don't want to do the second…